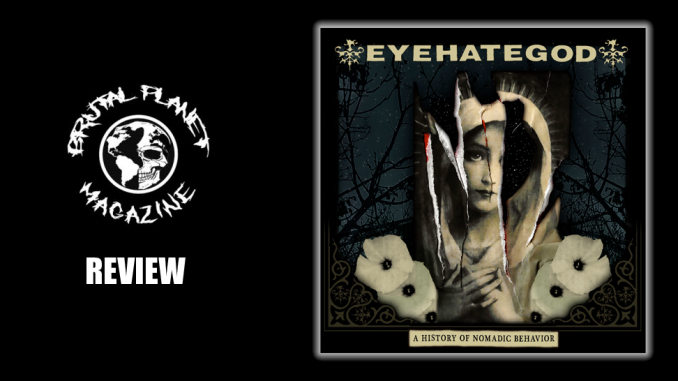 Eyehategod is a metal band with real longevity and credibility. The band was formed in 1988 and released two critically acclaimed albums in the early 90's (1993's Take As Needed for Pain and 1996's Dopesick). Guitarist Jimmy Bower plays drums as a member of DOWN – a project that features Phil Anselmo of Pantera, Pepper Keenan of Corrosion of Conformity and Kirk Windstein of Crowbar. The band's first new full-length in seven years, A History of Nomadic Behavior, is a blowtorch-distortion and blues-saturated combination of mostly mid-paced songs pierced with scarring pain and disconsolate fury. In other words – it's another great album.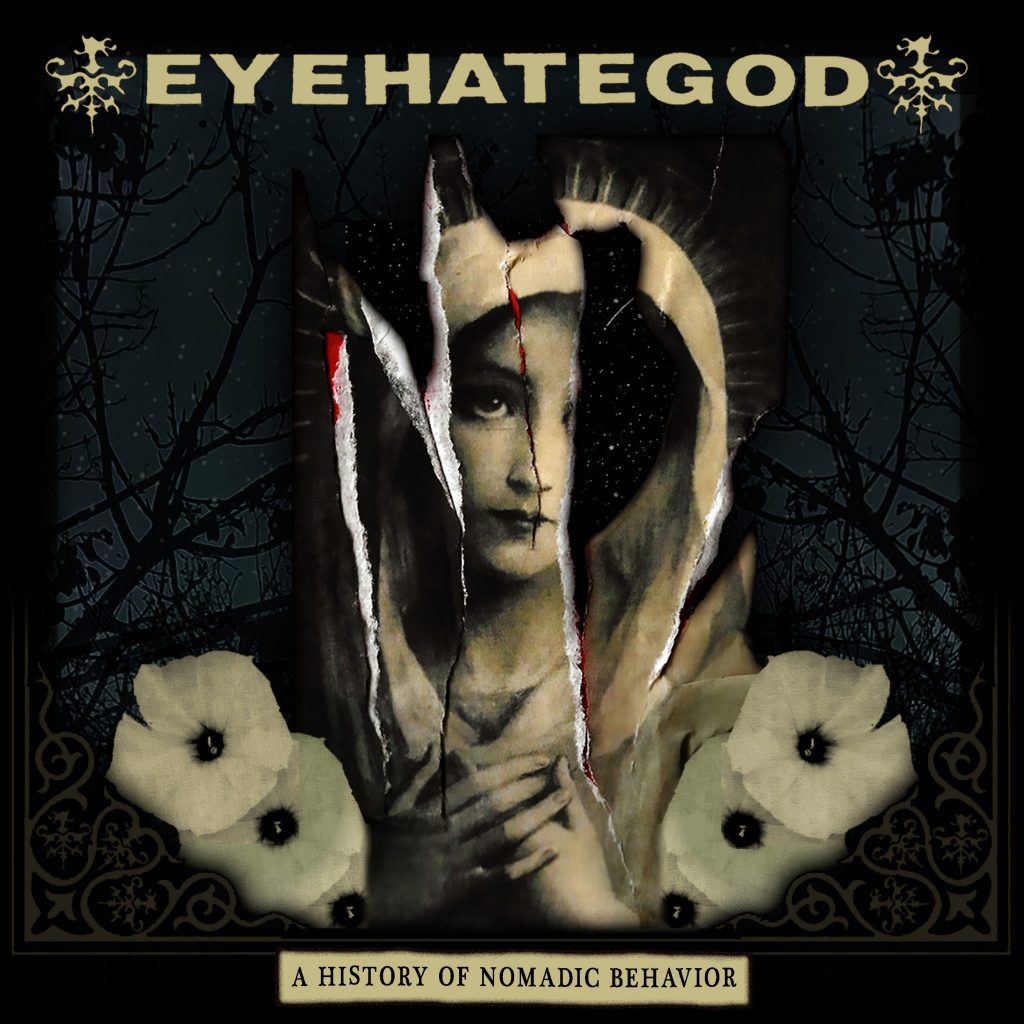 The record opens with a brief squeal of guitar feedback and then directly plunges into the first track "Built Beneath the Lines." This song is big and noisy and seems to lumber along aimlessly until it eventually ends. The 2nd track "The Outer Banks" has a similar feel at the outset. It also starts out sounding very loose and disjointed but eventually comes together in a fast and focused riff that speeds up the pace.
The jarring 3rd track "Fake What's Yours" is one of the highlights of A History of Nomadic Behavior. It begins with a low-frequency buzz before shifting into an off-kilter start-stop riff that leads into the spoken line, "Silence was their trademark / won't say it, never talk."
"Three Black Eyes" starts with a bass guitar and breaks open into a big, dirty riff that jumps. At this point it's starting to sink in. The band does an incredible job of creating these walls of sound that are somewhat disjointed and fragmented. It's ultimately what makes them stand out and gives this record it's unique yet heavy edge.
"Current Situation" is a typical Eyehategod song with a really messy breakdown that is almost entirely feedback and screaming. It almost seems as if everything has fallen apart and nothing makes sense. A situation eerily similar to the height of the COVID-19 pandemic and likely what the song's title and lyrics are making reference to.
"High Risk Trigger," is the first single from the album and it completely encapsulates the filth and damaged beauty of the band. The song starts with a chugging groove reminiscent of SST-era Soundgarden before erupting into a doomy minor pentatonic passage that wouldn't sound out of place on an '80s Saint Vitus album. Lyrically, the song — like most Eyehategod ditties – is cryptic and abstract, but it touches on the all-pervasive fears bred by an invisible germ storm sweeping through the nation and a society sickened by police brutality. ("Infection is the way, disruptive crowd takes aim / Burn down the rail yard house, destroy the U.S.A.").
"We're not a political band, but it was hard not to be affected by the news from the past year," Vocalist Mike IX Williams says. "During this recording, I thought a lot about how stupid humanity has become and how America is now completely divided with these people who don't believe in science and blindly follow liars and nonsensical ideologies. Some of those feelings may have found their way into these songs, but it is mostly subliminal."
"Anemic Robotic" continues to push the general tone of the album while "The Day Felt Wrong" almost starts out sounding like a Black Sabbath song. The gigantic, fuzzy start stop riffs are more reminiscent of bands like The Obsessed though.
"The Trial of Johnny Cancer" takes a much more decidedly bluesy turn than the previous tracks. The verse riff here is one of the most interesting and unique guitar parts on the album in my personal opinion. The timing of the music and the way Mike shouts the vocals over it in a sort of counterpoint cadence really stood out to me. The next track "Smoker's Place" is a jazzy little instrumental piece that leads into the last two tracks of the album.
"Circle of Nerves" is built around a very doomy opening riff and continues to showcase the bands Sabbath influences. "Intelligence is dead!" goes the lyric and it's hard to argue with that sentiment. The last track "Every Thing, Every Day" has a frantic vibe to it. Mike shouts lyrics like "Kill your boss" as the band delivers the types of huge, dirty, off-kilter grooves you've come to expect at this point.
All in all this is a great album for fans of stoner and doom metal. The material has enough weight that fans of heavy music in general will thoroughly enjoy this album. Out March 12th 2021 – Stream or download it on Apple Music, Spotify or find it wherever you listen to music.