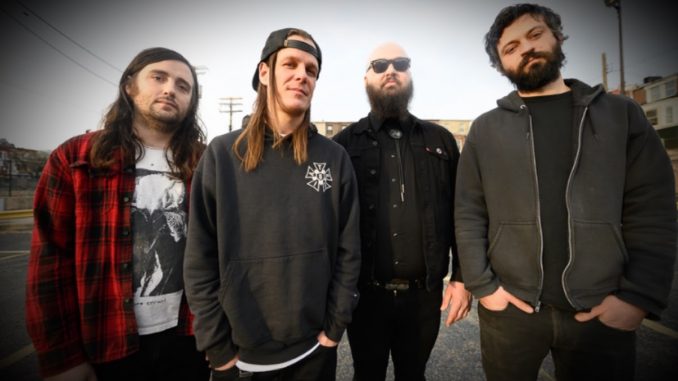 BAND SHARES NEW SONG "DEAD LARVAE" — LISTEN
Eye Flys, who craft a hybrid of noise rock, metal, and punk ugly enough to go toe-to-toe with the darkness of the decaying society around us, have an impressive pedigree, featuring members of Full of Hell, Backslider, and Triac. After garnering praise from Revolver, Invisible Oranges, and more, the Philadelphia quartet — Jake Smith [guitar, vocals], Spencer Hazard [guitar], Kevin Bernsten [bass], and Patrick Forrest [drummer] — have announced their new EP Exigent Circusmtance. It arrives November 19 via Closed Casket Activities.
Listen to the new song "Dead Larvae" here.
Pre-order the EP here.
"We wanted to make it a little less refined and more gross," says Smith about the overall EP. "It was a starkly different approach to the sound. We tried to make it a little noisier, more saturated, and fucked-up-sounding. I think we nailed that."
Following their 2019 debut EP Context, Eye Flys served up the full-length, Tub of Lard, just as the global pandemic consumed 2020. Revolver hailed it as "excellent," and christened the group as "a nasty, gnarled noise-rock crew." Meanwhile, Heavy Blog Is Heavy christened it "an honest-to-goodness noise rock knuckle sandwich." With touring shutdown, the group decided to jump back into recording, producing everything themselves. They absorbed the madness of the present day and surrounding world, using it as a catalyst for inspiration.
Eye Flys are also touring this fall. All dates are below.
EXIGENT CIRCUMSTANCE EP TRACK LISTING:
"Edgar Suit"
"Dead Larvae"
"Exigent Circumstance"
"Circular Motion"
EYE FLYS ON TOUR
WITH INTER ARMA, YAUTIA, + YASHIRA
12/1 — Pittsburgh, PA — Mr. Smalls Funhouse*
12/2 — Cleveland, OH — Grog Shop
12/3 — Detroit, MI – Sanctuary
12/4 — Chicago, IL – Reggies**
12/5 — Columbus, OH – Spacebar
12/6 — Nashville, TN – DRKMTTR
12/7 — Atlanta, GA – The Earl
12/8 — Asheville, NC – Asheville Music Hall
12/9 — Raleigh, NC – The Pour House
12/10 — Harrisonburg, VA – Golden Pony
*No Yautja or Yashira
**Feat. Primitive Man, Indian
CLOSED CASKET ACTIVITIES ONLINE: