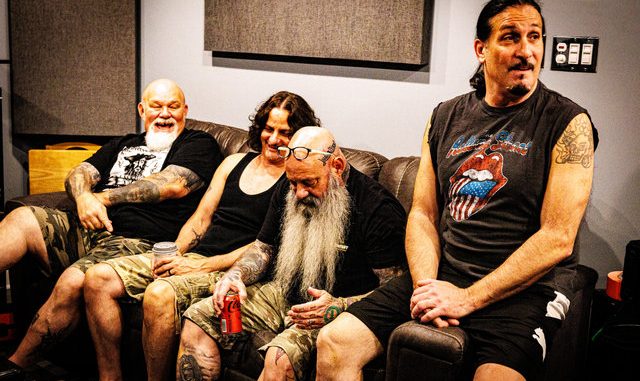 Los Angeles, CA (July 6, 2023) – Pioneering a nostalgic powerhouse classic rock feel with a modern edge, Eye Am a band that features members of Type O Negative and Crowbar, are back in the studio working on a new album. The group has been camped out at OCD Recording and Production in New Orleans working on their next record.
Kirk Windstein says the group was "thrown to the lions, so to speak" for the writing process of the album. While band members have always been on each other's radar, this is the first time they have all gathered to create something together. Drummer Johnny Kelly explains how this experience has allowed them to get "to know each other even though we've known each other for a long time—We're getting to know each other as players."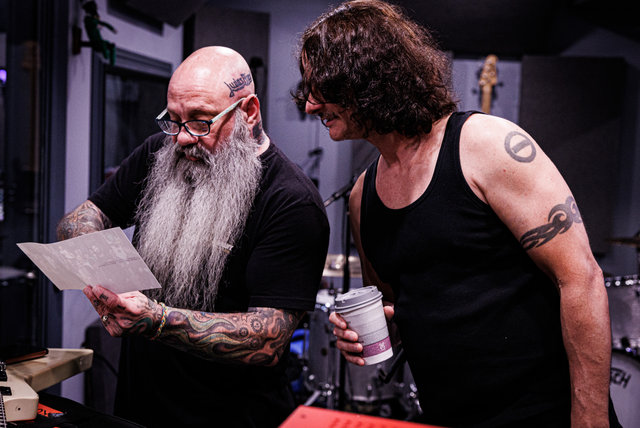 Brought together by mutual friend and record label owner Andrew Spaulding of Corpse Paint Records, the band used their own respective experiences in the industry to create a hit power rock ballad "Dreams Always Die With The Sun" which was released on June 2nd, and has gained over 62,000 streams in only a month. With influences like Black Sabbath and The Beatles, the album promises to deliver guitar-driven rock with a melodic ballad at its core, bringing audiences back for more.
Lead vocalist / guitarist Kenny Hickey says that one of the best parts about Eye Am is "pulling things out of the void," During their studio session, they recognized that there's a certain power that comes from spontaneity, and the band focused on this element as one of the strongest attributes of their unique sound. This shows in "Dreams Always Die With The Sun," as the song sounds incredibly composed while still leaving room for interpretation from its players.
"That's what I love about writing. Not quickly or hurrying on the spot—because you feel like you've accomplished something. Because when you woke up, this thing didn't exist. And then, at the end of the day, you have a recording of it. It's like it's there forever." says Windstein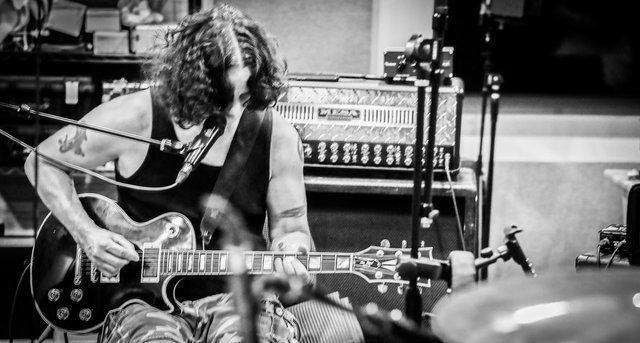 "We all have our writing styles, and the band is really finding our own kind of sound that works for us with this recording session," he continues. "It's original, and it's cool. Of course, it's difficult not to show your style and your influences, but this doesn't sound like our other bands; it sounds like us four dudes. This time we're learning to feed off each other and bounce ideas off one another, and that's when you truly collaborate."
Each member brings something unique to the team. As Kirk puts it, "Everything Kenny writes is pretty. His melodic stylings add their own layer to the music."
Drummer John Kelly says that with bands in the past, he often noticed a lot of overthinking, and with Eye Am, he has seen an incredible amount of spontaneity. He appreciates the input he gets from his band members. "They're not short on ideas. So we'll be working on something, and then somebody will come across something else in a sidebar, and say, 'Hey, try this.' And then it works."
This is the true talent of this group – by tuning into their intuition and own spontaneity they create a truly authentic and powerful sound, and their new project promises to bring equivalent power in their songs to come.
"Dreams Always Die With The Sun" was released on June 2nd and the band has since entered the studio at the end of June to finish off the project.
Now the team is preparing for another single to follow up in October / November with an EP / album release slated for Spring / Summer of 2024.