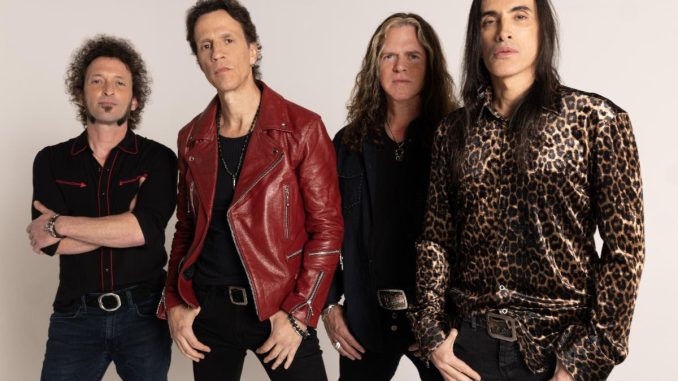 EXTREME
REVEAL FOURTH SINGLE
"OTHER SIDE OF THE RAINBOW"
FROM UPCOMING ALBUM
'SIX'
DUE JUNE 9 VIA EARMUSIC
WATCH THE MUSIC VIDEO HERE
MULTI-PLATNIUM HARD ROCK GROUP
PREPARE FOR "THICKER THAN BLOOD"
GLOBAL HEADLINING TOUR THIS FALL/WINTER
"Other Side of The Rainbow" Single Artwork
Multi-platinum hard rock icons EXTREME have been steadily building the anticipation for their much-awaited new album SIX—due June 9 via earMUSIC—with three previously released heavy-hitting rock singles ("Rise," "Banshee" and "#REBEL"). The band have today (May 31) revealed a fourth single, "Other Side Of The Rainbow," which shows off their more intimate side in the vein of previous singles such as the RIAA gold-certified, Billboard Hot 100 #1 hit "More Than Words," "Hole Hearted," and "Seven Sundays." "Other Side Of The Rainbow" is one of EXTREME's most soulful journeys, taking listeners into the depths of the human heart. Stream/download it now HERE. Watch the "Other Side Of The Rainbow" music video below or via YouTube HERE.
"Every once in a while, we'll harness some kind of magic, and I think we did on this one," says frontman Gary Cherone. "It's a universal theme. It's about restoring someone's faith in love…we feel that it's the perfect marriage of lyrics and melody."
Citing Brian May, Eddie Van Halen, and Neil Schon as particular influences, EXTREME co-founder and guitarist Nuno Bettencourt asks, "How do you play a blistering solo, making it feel like a rainbow?" He goes on to share, "It's a groove we've never done acoustically. It's got my favorite guitar solo it's an up-tempo, moving song."
EXTREME are currently gearing up to perform for audiences across the globe on their headlining "Thicker Than Blood" world tour. It stretches from August 2 to December 16 and will see the band appear across the U.S., Australia, Japan, UK and Europe including specials guests Living Colour (U.S., Australia & UK only) and The Last Internationale (EU only). The tour has already sold-out dates in Hampton Beach, London, Melbourne, Tokyo, Amsterdam and more. Tickets are on sale now at https://extreme-band.com/. See full dates listed below.
"Whatever you think an EXTREME album is after two or even three songs, it's not," states Bettencourt. "That goes for every record we've ever done. True EXTREME fans know to 'expect the unexpected.' I feel like we need a good old school rock album. SIX is definitely modern, but you can put on headphones and go on a journey from top-to-bottom. It's like 'EXTREME 2.0'."
On SIX, EXTREME swing between unapologetic fits of fret-burning hard rock and intimately introspective balladry. For the recording of the Bettencourt-produced 12-track album, the members–Cherone (vocals), Bettencourt (guitar), Pat Badger (bass), and Kevin Figueiredo (drums)–buckled down at Bettencourt's home studio in Los Angeles to channel the electrifying eclecticism that defined their seminal output with a 21st century twist. Preorder "SIX" HERE.
This dynamic affirms the iconic Boston quartet as one of rock's most unpredictable, undeniable, and unbreakable groups whose songs course through the very fabric of popular culture. They're the rare band whose music has appeared in an actual cult series a la Bill & Ted as well as the Netflix juggernaut "Stranger Things." They've sold 10 million records, topped the Billboard Hot 100 at #1, packed major venues on multiple continents, memorably performed at the Freddie Mercury Tribute Concert in London, and regularly average over 5 million monthly listeners on Spotify. However, their dynamic approach hits harder than ever on their 2023 full-length offering, SIX.
SIX Cover Artwork
SIX Track listing:
1. Rise
2. #Rebel
3. Banshee
4. Other Side of the Rainbow
5. Small Town Beautiful
6. The Mask
7. Thicker Than Blood
8. Save Me
9. Hurricane
10. X Out
11. Beautiful Girls
12. Here's to the Losers
See EXTREME live on their headlining "Thicker Than Blood" Global tour:
6/2 Sao Paul, BR – Best of Blues and Rock Festival
8/2 Portland, ME – State Theatre #
8/3 Hampton Beach, NH – Hampton Beach Casino Ballroom # **SOLD OUT**
8/5 Boston, MA – Roadrunner #
8/6 Huntington, NY – The Paramount #
8/8 Reading, PA – Santander Performing Arts Center #
8/10 Sayreville, NJ – Starland Ballroom #
8/11 Hartford, CT – Webster Theater #
8/12 Glenside, PA – Keswick Theater #
8/14 Detroit, MI – St. Andrews Hall #
8/15 Milwaukee, WI – Pabst Theater #
8/17 Gary, IN – Hard Rock Live #
8/18 Minneapolis, MN – Skyway Theatre #
8/19 Cedar Rapids, IA – The Paramount #
8/21 Denver, CO – The Ogden #
8/22 Albuquerque, NM – Revel Entertainment Center #
8/24 Anaheim, CA – House of Blues #
8/25 Reno, NV – Silver Legacy Resort Casino #
8/26 San Francisco, CA – The Regency #
8/28 Portland, OR – TBD #
8/29 Seattle, WA – The Showbox #
9/6 Perth, AU – Regal Theatre #
9/8 Adelaide, AU – Hindley Street Music Hall #
9/10 Melbourne, AU – Forum # **SOLD OUT**
9/12 Sydney, AU – Enmore Theatre #
9/13 Brisbane, AU – Fortitude Music Hall #
9/14 Melbourne, AU – Forum #
9/17 Sendai, JP – Sendai Gigs **SOLD OUT**
9/19 Yokohama, JP – KT Zepp Yokohama **SOLD OUT**
9/21 Tokyo, JP – Hitomi Memorial Hall **SOLD OUT**
9/22 Tokyo, JP – Hitomi Memorial Hall
9/25 Nagoya, JP – Shimin Kaikan Hall
9/26 Osaka, JP – Zepp Namba
11/27 Newcastle, UK – O2 City Hall #
11/28 Glasgow, UK – O2 Academy #
11/30 Manchester, UK – O2 Academy #
12/1 Wolverhampton, UK – Civic Hall #
12/3 Bristol, UK – O2 Academy # **SOLD OUT**
12/4 London, UK – O2 Forum # **SOLD OUT**
12/8 Pratteln, CH – Z7 Konzertfabrik *
12/10 Berlin, DE – Huxleys *
12/11 Cologne, DE – Live Music Hall *
12/12 Amsterdam, NL – Melkweg Max *
12/14 Antwerp, BE – Trix *
12/16 Milan, IT – Alcatraz *
# with Living Colour
* with The Last Internationale