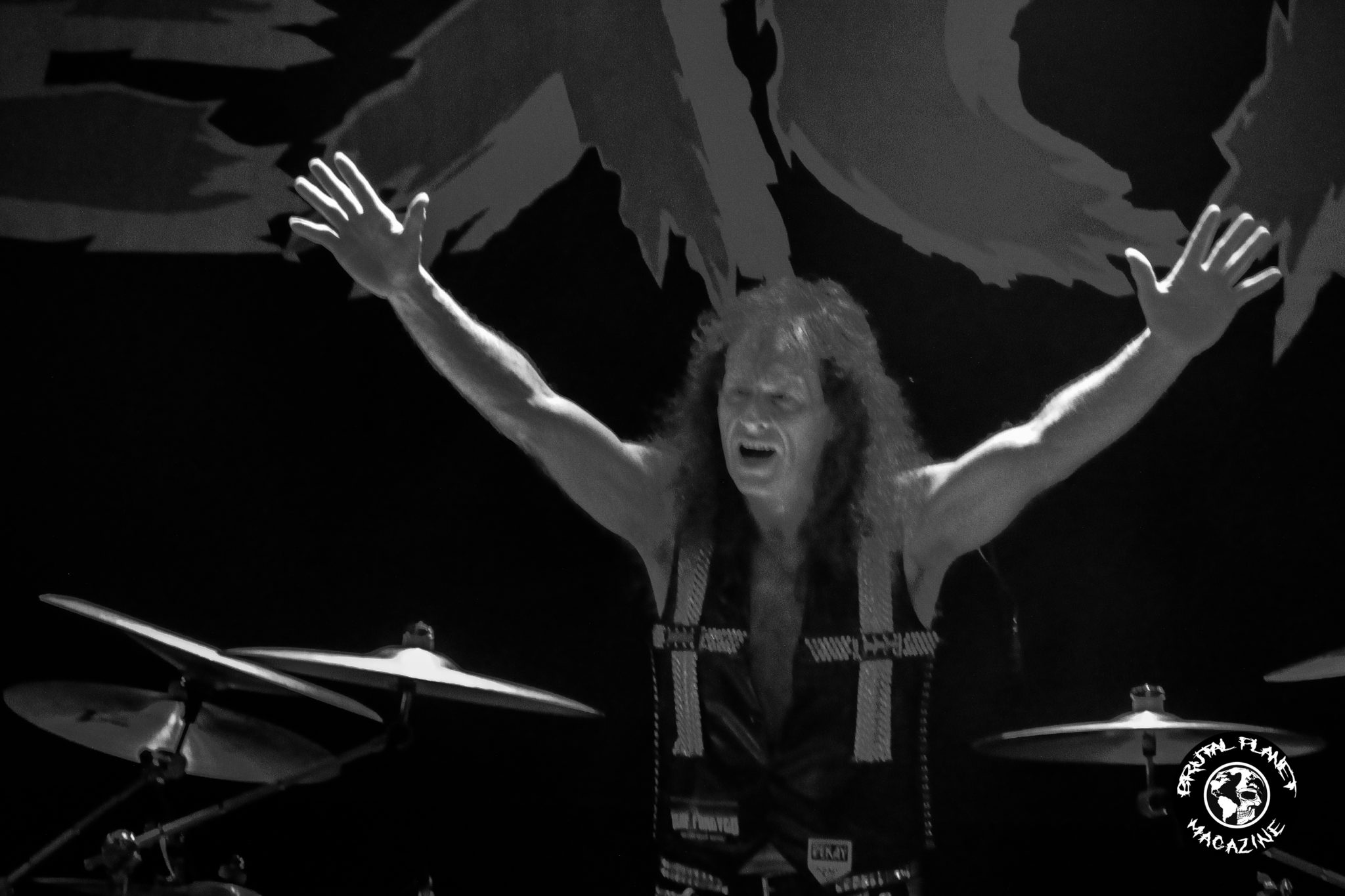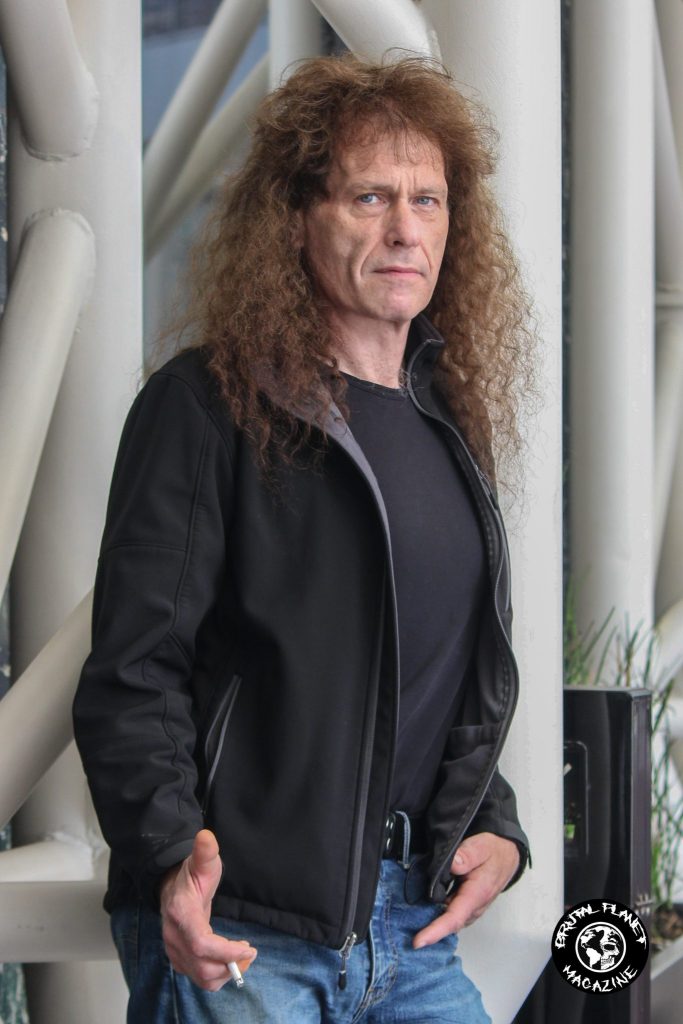 Escaping one of the longest Canadian winters on record for a warmer and more pleasurable climate makes sense but for speed metal legends Exciter, the trek south wasn't for pleasure or a weekend getaway, it was for strictly business. Hell's Heroes II Fest business to be exact and snow stood no chance.
The Canadian speed metal trio landed in Houston some 1800 miles or 2900 km south of Ottawa, Ontario, the band's home base for their appearance at Houston's Hell's Heroes II Fest. It's was the first time Exciter has been to Houston since their Long Live the Loud tour in 1986. A tour which saw the band playing three Texas dates in Austin, San Antonio and Houston but now, the band's long awaited return to Lone Star State was complete.
Sitting in the lobby of the downtown Houston Hyatt Regency high rise hotel, Dan Beehler, Exciter drummer, vocalist and co-founding member said, "It feels great to be down here."
"It's pretty crazy after all these years", Beehler added, "I know Texas had a real connection with Canadian bands that goes back to the 70's with bands like Rush and Moxy. And I know with us, we took off in the early days more in Texas than any other state in the beginning."
According to Beehler, the excitement level of the band being back in Texas has been cranked to 10 since their arrival the day before where they caught fellow countrymen Voivod that night.
With the reformation five years ago of the classic Exciter lineup, making their way to Texas just didn't occur even though the Hell's Heroes II Fest appearance was originally booked with guitarist John Ricci.
"We always wanted to come back to Texas. It just never happened in the past five years and when we found out it was absolutely shocking. We're going back in Texas. It's great", Beehler said with a big smile.
And with Exciter's appearance at the Hell's Heroes II Fest, the "New Era of Exciter" as Beehler put it has officially launched.
The New Era
Exciter brought into the ranks Daniel Dekay or just Dekay as the band refers to him, a Canadian guitarist and co-host on Banger TV to replace John Ricci who abruptly departed in October 2018.
According to Beehler, Dekay is no stranger to Exciter at all. The decision to bring Dekay on board as a new family member was a no brainer.
"He's been an Exciter fan his whole life. And his father before him. He's originally from Ottawa. We knew him before we got him into the band."
There was no pressure for Dekay to learn set material. Beehler said, "He came into rehearsals. He knew everything perfectly. And we've had a great time."
In preparation for the upcoming Texas date and debut of the new Exciter line up, each time the band would rehearse, they would run through the set twice.
"He just slipped in." With a laugh, Beehler added, "He knew the material better than Al (bassist, Allan Johnson) and I"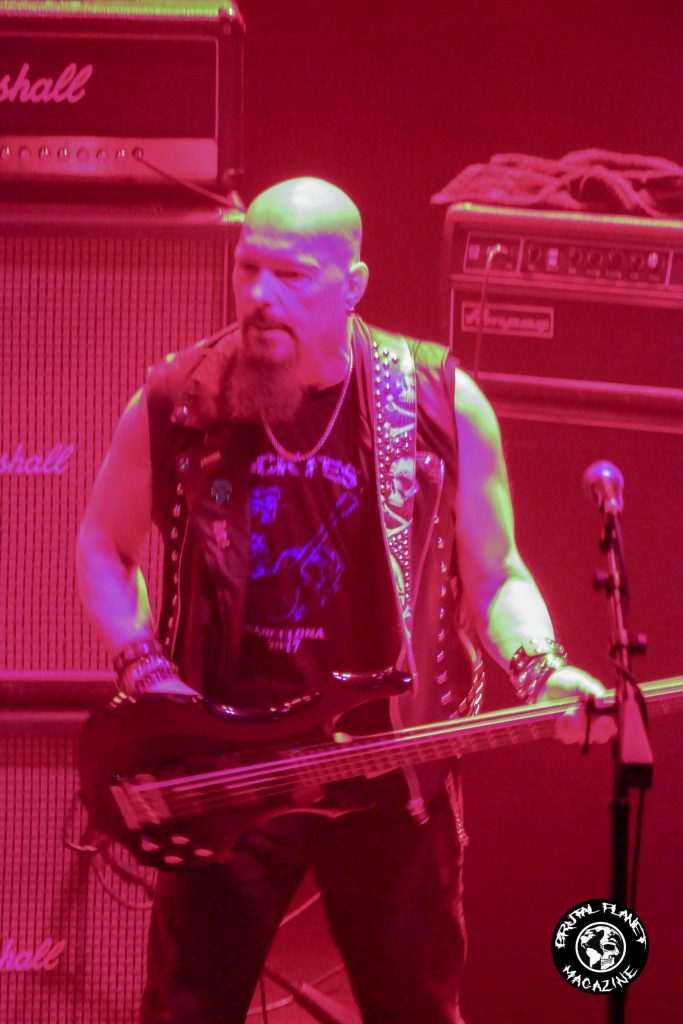 "We feel great with Dekay. Al and I have been playing together for many years and now we're just really looking forward to it."
The addition of the much younger Dekay brings a lot of energy and dynamics to the band.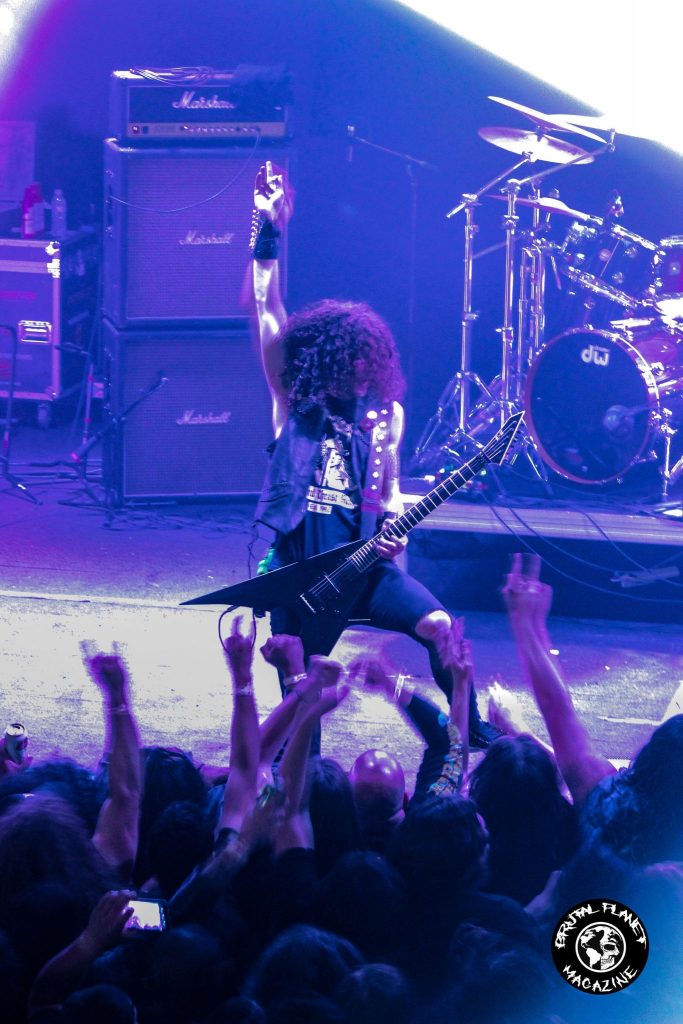 "John was a totally different guitar player than Dekay. Dekay's a little more controlled. We feel he's tightened the band up a bit. It's great." Beehler added, "He definitely did bring another dynamic to the band as far as Al and I are concerned. We will see what the fans think. He's an amazing guitarist."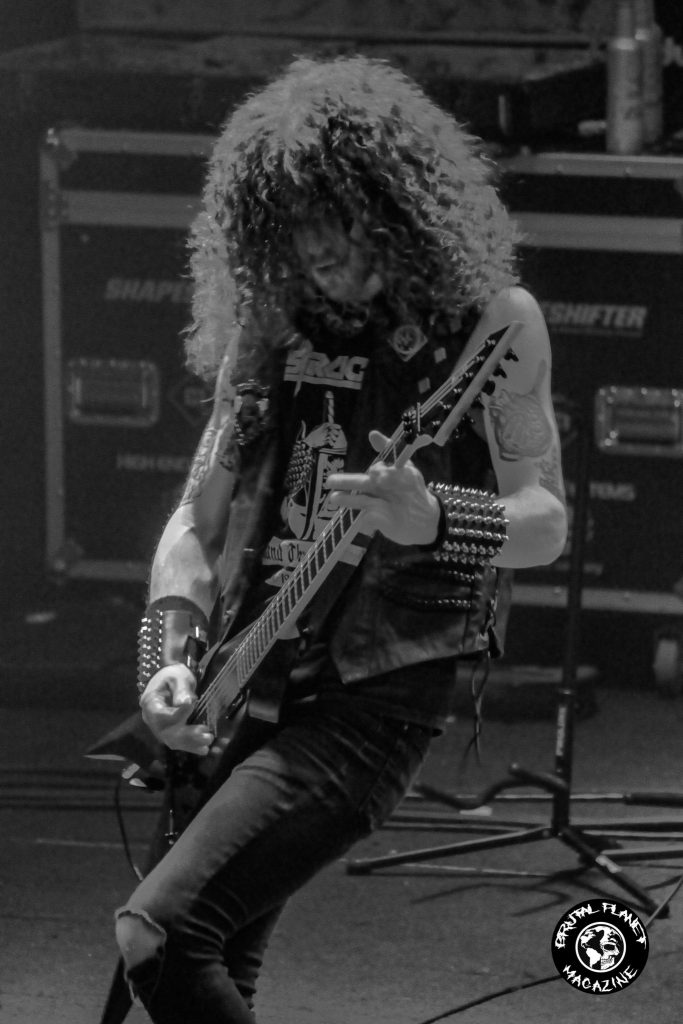 Live material will continued to be worked for a handful of upcoming dates in Sweden and Norway towards the end of May on the Scandi Mania tour. Beehler said. "There's a lot of fans over there."
Exciter will also knock out a pair of shows in Germany as well as shows in Vancouver and Toronto.
There's desire for more dates and according the Beehler, "We can do stuff here and there but we're a little more flexible now than we were with John." In other words, Beehler wants to get out all over the world and get to the Exciter fans as much as they can.
Fortunately the desire for additional dates is not putting the writing process of new material on hold.
New Material
As for new material, Beehler said, "It was supposed to be the past five years with John. We were writing but we never really got that far and it just wasn't meant to be with John I guess." He added, "But Al and I wrote tons of material that we never presented to John so we still have that. Al and I are going into pre-production really soon to start laying down our ideas then we'll work Dekay in. He just joined the band. He's got the live stuff to work up but there will definitely be a new album. Things are moving really fast now that Dekay's in the band."
With a hint of gleam in his eyes, Beehler said, "We're really happy with the songs written so far and we're going to work DeKay in. We get him in a little bit more on the writing and maybe we'll put out a teaser song before the album is up. Throw it up there so people hear it and then put the album out."
Beehler did say, "I can't talk about it. There's definitely interest. I don't think there will be a problem releasing it. There's a few legalities here and there."
Beehler did say Exciter is looking at a 2020 release of the new album. With confidence, Beehler stated, "It's one of the main priorities."
Dekay's Duties
Along with handling guitar duties, Dekay will also be handling and building the band's presence on social media.
Beehler said he isn't the social media guy in the band but he understands and knows how important the role of social media is for a band.
"As far as a band these days, you have to be and use it to your advantage", Beehler continued, "It's very important. I mean I should do it more but my life at home doesn't really permit not much time for social media but Dekay and Al, they do it and love it."
And so do the fans.
"Total respect from the fans. They're always there for us. Always corresponding always, great things. Obviously some negative stuff. There's always a couple of idiots but overall the respect factor from the fans is overwhelming," Beehler said.
As one of the pioneers of speed metal, Beehler said people come up now and say thank you. "It's a little different than it was the 80s as far as I'm concerned that is a big respect factor. We really appreciate it."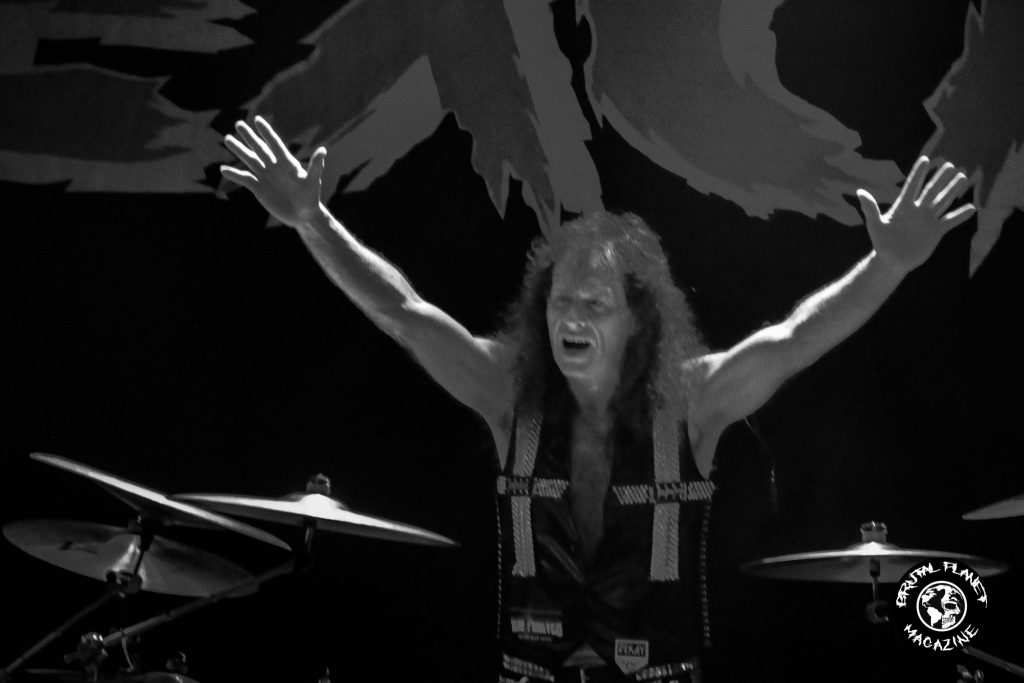 Along with Dekay's social media duties comes making official Exciter merchandise readily available to the fans.
"It's all in the works now. Dekay is doing a lot that for of us."
Beehler said, "We have shirts, pins and patches. All of the merch stuff is coming together, more professional that it was before and the online (store) will happen soon."
Beehler added, "You have to have your merch together. That's something we never really had it together in the past couple years but now it's all coming together."
The demand for Exciter merchandise is there. The limited supply of 80 shirts the band took with them to Houston sold out in 30-minutes. In fact, there were only a few pieces of merchandise, such as four, red enamel Exciter logo pins tacked to a piece of white cardboard remaining by the end of the night. The other available merchandise, the four guitar pick sets and iron logo patches sold out as well.
It is apparent Exciter has always sincerely appreciated their fans and at the rate the Exciter merchandise was scooped up by the fans, the feeling is mutual.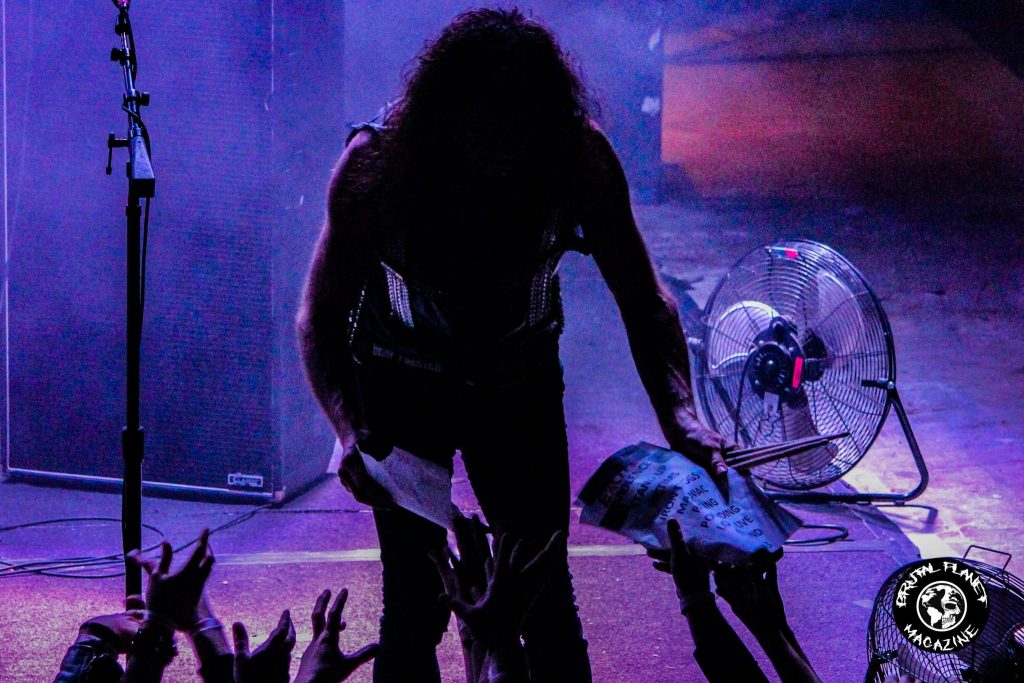 Following the band group hug before storming the stage to the infamous words, "Stand up for Exciter…" that's what the fans, new, young and old did whether upstairs or downstairs. They stood, they thrashed, they brutally moshed and they dove from the stage into the sea of Exciter maniacs.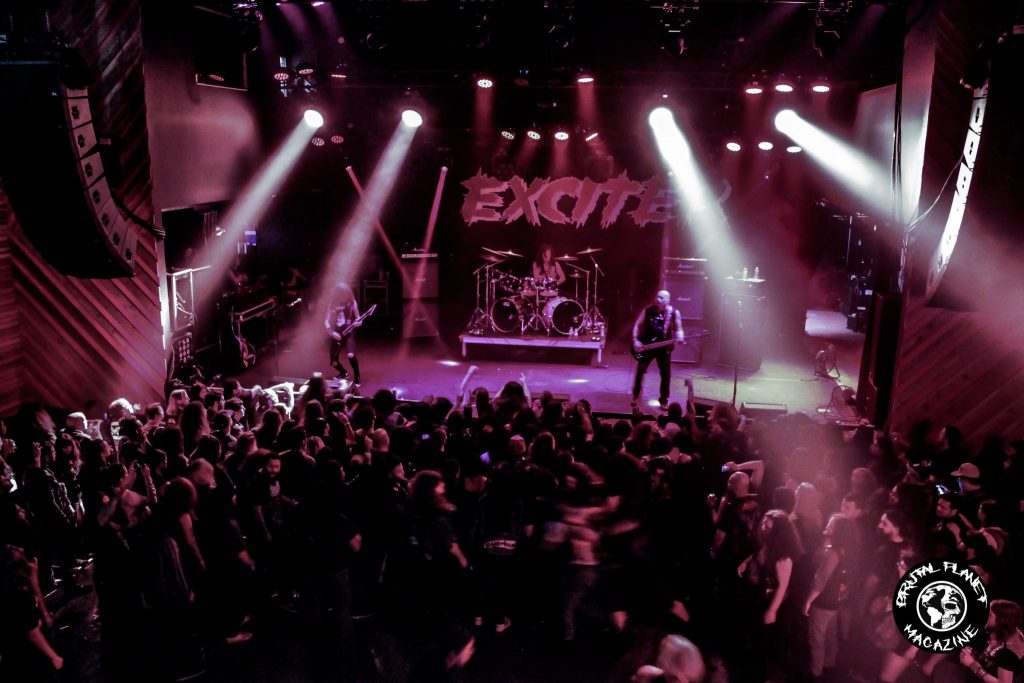 With the New Era of Exciter officially launched, a new generation of Heavy Metal Maniacs will be enlisted. There is no question about that.