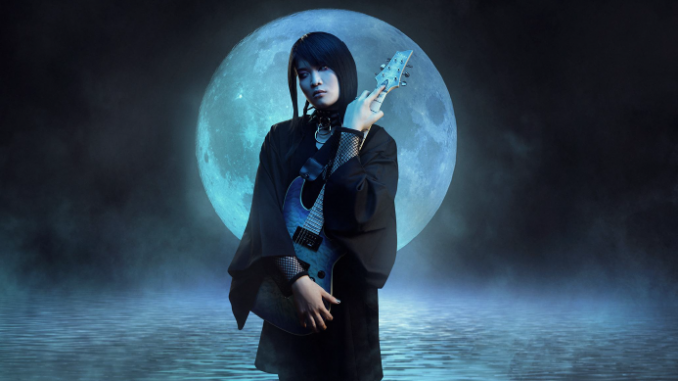 Plus Remastered Music Video
"Leviathan 2.0 (Enhanced Edition)"
Friday, February 18, 2022 – London-based Japanese electronic metal band Esprit D'Air has today released their latest album, 'Oceans' (out via Starstorm Records) which features appearances by Ben Christo from gothic rock legends The Sisters Of Mercy and remixes by Heavygrinder and Shirobon. In celebration of today's release, Esprit D'Air has unveiled a remastered music video of the
"
Leviathan
"
music video, "Leviathan 2.0 (Enhanced Edition)". Prior to today, the band dropped their latest release
"
The Abyss
"
featuring Ryo Kinoshita from Crystal Lake. Stream 'Oceans'
here
, and watch "Leviathan 2.0 (Enhanced Edition)"
here
or at the link below.
WATCH: Esprit D'Air's Music Video "Leviathan 2.0 (Enhanced Edition)"
Oceans

Esprit D'Air

Track Listing:

1. Into the Oceans

2. 津波 (Tsunami)

3. Leviathan

4 Ocean's Call

5. The Abyss feat. Ryo Kinoshita

6. Dead Zone feat. Ben Christo

7. Nebulae

8. Amethyst (Album ver.)

9. 双方ライアー (Souhou Liar) feat. UmiKazeTaiyou

10. 漣 (Sazanami)

11. Guiding Light (Reimagined)

12. Calling You

13. Distant Waves

14. Glaciers

15. Moonlight Tides

16. 出逢い (Deai)

17. Leviathan (HEAVYGRINDER Remix) – bonus track

18. 紅 (X JAPAN Cover) – bonus track

19. Serafine (DEAD END Cover) – bonus track

20. Leviathan (Shirobon Remix) – bonus track
Reformed in 2016, Esprit D'Air is a Japanese electronic rock/metal solo project led by vocalist, multi-instrumentalist, and producer, Kai. As featured on Loudwire, HuffPost, BBC Radio, Kerrang! & Louder, their sound is unique and fresh, bringing together hard-hitting aggression with melodic vocals and electronic synthesizers. In 2018, Esprit D'Air won 'Best Metal Album' at The Independent Music Awards in New York, for the release of their debut album, Constellations, judged by an esteemed panel featuring Slayer, Amy Lee (Evanescence), Sepultura & more.
Kai is not seeking a major record label but instead, follows a strong DIY ethos and produces everything himself to be as self-sufficient as possible. Consequently, they record and produce their own releases in their own home recording studio. In late 2020, Esprit D'Air released their single, "
Leviathan
", receiving support and praise from
Loudwire
,
Kerrang! Radio
, as well as members of The Sisters of Mercy, and The Birthday Massacre. In 2021, Esprit D'Air committed to releasing new material every six weeks made possible via their fans on
Patreon
. Esprit D'Air will release their 2nd album, 'Oceans' on February 18th, 2022, collaborating with members of the iconic gothic rock group The Sisters of Mercy and Japanese metalcore band Crystal Lake, plus remixes by Heavygrinder, and Shirobon.