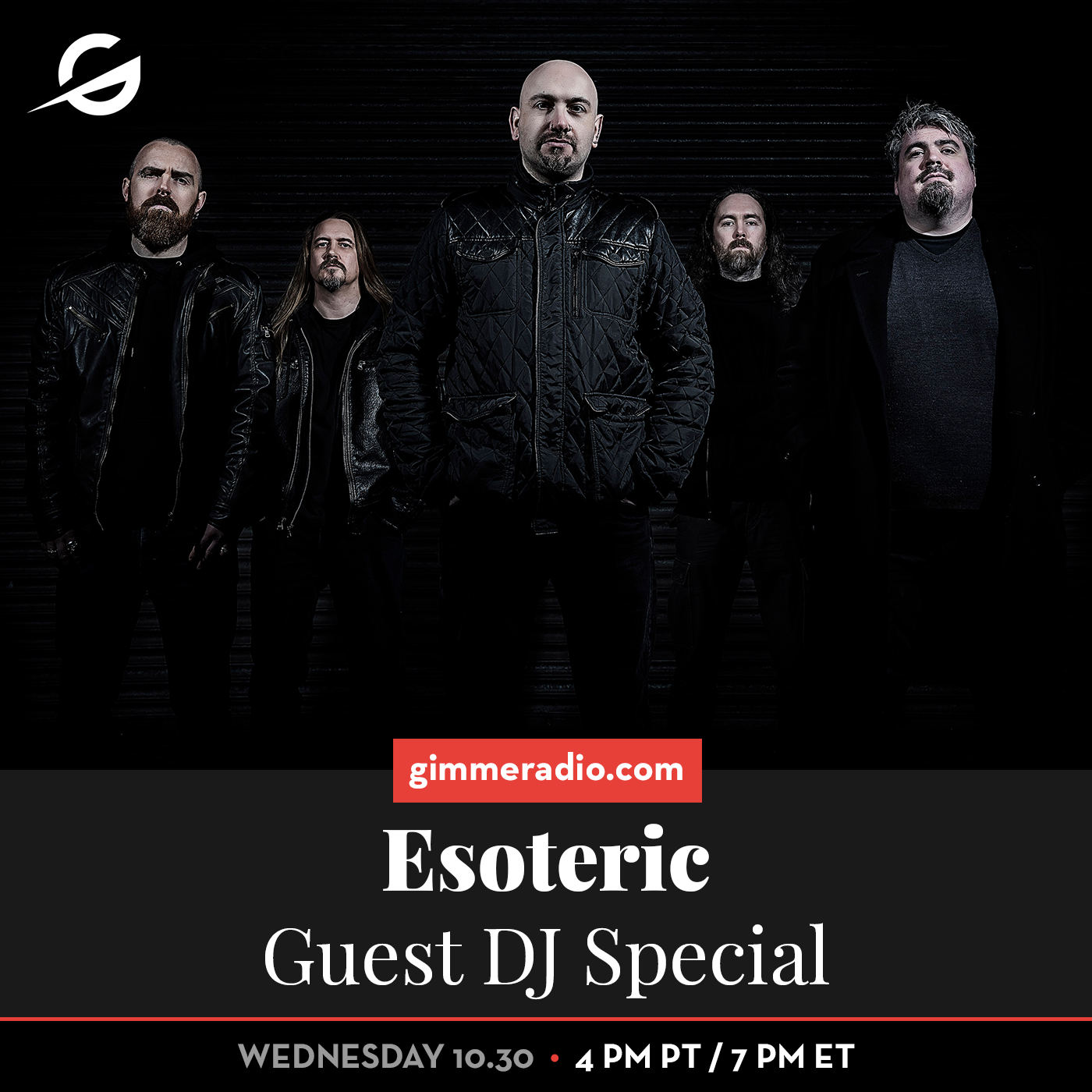 ESOTERIC Release Clip of New Song,
"Culmination,"
Announce Two-Hour Gimme Radio Special
Funeral doom titans ESOTERIC have shared a clip of the song, "Culmination." The clip is an truncated version of the full song, which can be found on the upcoming album 'A Pyrrhic Existence.' Listen at THIS LOCATION.

Additionally, ESOTERIC vocalist/guitarist Greg Chandler will be hosting a two-hour special on Gimme Radio this Wednesday, October 30 at 4:00 P.M. PDT // 7:00 P.M. EDT. You can sign up for FREE and listen HERE.
'A Pyrrhic Existence' will be released on November 8. It can be pre-ordered in various formats HERE.
The artwork and tracklist of 'A Pyrrhic Existence' can be found below. The cover artwork was created by Lisa Schubert.
Tracklist
CD1
1. Descent (27:39)
2. Rotting in Dereliction (15:51)
3. Antim Yatra (04:40)
Total: 0:48:10
CD2
4. Consuming Lies (15:16)
5. Culmination (19:03)
6. Sick and Tired (15:46)
Total: 0:50:05
ESOTERIC Live Dates:
12/07/19: Madrid (ES) @ Madrid is the Dark Festival
04/03/20: Moscow (RU) @ Pravda Club (+ Who Dies in Siberian Slush)
04/04/20: St Petersburg (RU) @ Mod Club (+ Who Dies in Siberian Slush)
For nearly thirty years ESOTERIC have been pushing the limits of sonic intensity. From the mind-bending darkness of their 90's double albums 'Epistemological Despondency' (1997) and 'The Pernicious Enigma' (1997), to the expansive epics found on their recent opuses 'The Maniacal Vale' (2008) and 'Paragon of Dissonance' (2011), they have never compromised their initial aim – to unleash aural mayhem on unsuspecting listeners. Late 2019 sees the release of their most accomplished work to date, 'A Pyrrhic Existence'.

Begun in the post-industrial decay of Birmingham in 1992, the band initially took influence from personal excursions into inner space, contemporary death metal, and their own warped take on 70's progressive and psychedelic music. The early years saw them perform live infrequently, often to perplexed (and sometimes hostile) audiences.
The prevailing ethos in the underground, and indeed heavy music in general in the early 90's was one of speed. Along with a few of their contemporaries scattered across the globe, ESOTERIC eschewed this in favor of slow building intensity, extended and multi-layered compositions, and free form noise breaks. A foreboding and pervasive sense of unease permeated the early recordings – this was truly dark music.
Throughout the 90's the band remained very much in the underground, perfecting their craft, unmoved by trends or the expectations of the fickle masses. Albums such as 'The Pernicious Enigma' (1997) and 'Metamorphogenesis' (1999) saw them develop and refine their sound, evolving naturally, never appearing contrived. Problems finding dedicated members meant decreased activity in the late 90's – finding a suitable drummer proved particularly difficult.
2003 saw the band rejuvenated. With the line-up complete for the first time in years and signing to Season of Mist for the release of their fourth album 'Subconscious Dissolution into to Continuum' (2004), they performed their first live shows since 1997.
The growing interest in the style of music ESOTERIC had been peddling without compromise since 1992 meant more opportunities to perform on stage, something the band has relished. ESOTERIC has developed into a formidable and respected live act, playing tours and festivals throughout Europe and beyond, sharing stages with bands and artists including AHAB, ALCEST and DRACONIAN and festivals appearances at Brutal Assault, SWR Barroselas, Damnation Festival, Madrid is The Dark and more.
Released in 2008, 'The Maniacal Vale' proved to be the bands most ambitious and successful album to date, simultaneously honoring the chaos of the earlier releases whilst expanding into territory that at first glance may seem at odds with the bands ethos, yet has always lurked within their compositions – namely, a sense a melody and grandeur. Having been hinted at on previous albums, this side of the band was fully realized. This was followed in 2011 by 'Paragon of Dissonance', an album equal to its predecessor in compositional scope and ambition.
2019 will see the release of the bands seventh opus, 'A Pyrrhic Existence', 98 minutes of new material that once again expands on the band's sound, yet retains elements of all their preceding works. It is a culmination of 27 years of uncompromising dedication to their craft – detailed and layered compositions and a high level of musicianship, foreboding production, and equal measures of utter darkness and melodic diversity.
Line-up
Greg Chandler: Vocals, Guitars
Mark Bodossian: Bass, synths
Joe Fletcher: Drums
Jim Nolan: Guitars
Gordon Bicknell: Guitars
Cover art: Lisa Schubert
Graphics and layout: Mauro Berchi
Production, mixing, mastering: Greg Chandler at Priory Recording Studios
Style: Dark experimental doom
For more on ESOTERIC, visit their official FACEBOOK, INSTAGRAM, WEBSITE, and BANDCAMP.