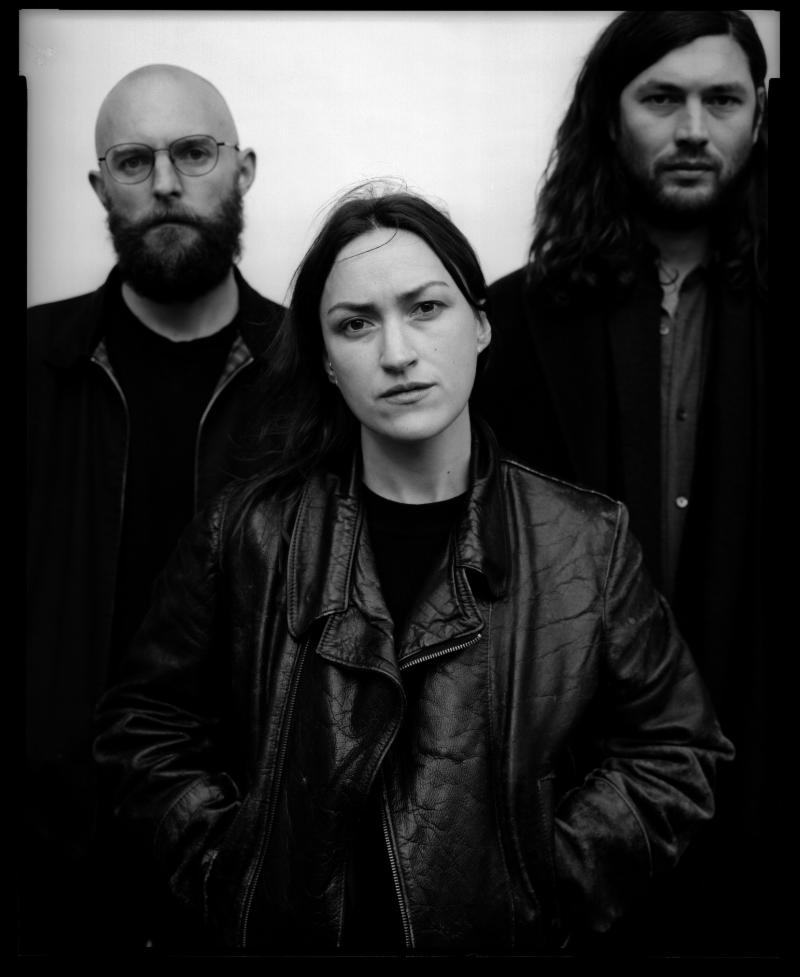 ESBEN AND THE WITCH: Somber Post-Rock Trio To Kick Off European Tour; Nowhere Full-Length Out NOW On Season Of Mist Records 
Veteran post-rock trio ESBEN AND THE WITCH will kick off a European tour this evening! The journey will commence in Hamburg, Germany and run through February 12th in Regensburg, Germany. The band will also play a one off show in Warsaw, Poland in March with additional ceremonies to be announced in the weeks to come. See all confirmed dates below.
ESBEN AND THE WITCH released their stunning fifth full-length, Nowhere, late last year via Season Of Mist Records. At once dense, shadowy, and inspired, Rachel Davies' powerful voice is a clarion call leading the way through a storm of forceful movements and riffs. "Nowhere is a verdant garden teeming with beauty and awe," notes the band of the release, "a place where giant birds eat the dead and the lost seek solace deep in the forests; where women are warriors and freedom and liberation rule supreme; a place where darkness is explored not feared and shadows become reminders of the light. We all belong in Nowhere. Find your peace." ESBEN AND THE WITCH is still evolving toward the height of their powers, and Nowhere furthers all facets of their dark and stormy heavy rock.
Nowhere is available now via Season Of Mist on CD, LP, and digital formats. Order your copy today at THIS LOCATION.  
ESBEN AND THE WITCH:
1/31/2019 Molotow – Hamburg, DE
2/01/2019 Artheater – Cologne, DE
2/02/2019 Magasin 4 – Brussels, BE
2/03/2019 Tivoli Club Nine – Utrecht, NL
2/04/2019 Merlyn – Nijmegen, NL
2/06/2019 Lux – Hannover, DE
2/07/2019 Connewitz – Leipzig, DE
2/08/2019 Pod Minoga – Poznan, DE
2/10/2019 Viper Room – Vienna, AT
2/11/2019 Ampere – Munich, DE
2/12/2019 Alte Mälzerei – Regensburg, DE
3/09/2019 Poglos – Warsaw, PL
ESBEN AND THE WITCH has methodically strode their own path; a route which has enabled them to be inventively collaborative, stealthily prolific, and fiercely independent. If anything, the band's fifth record Nowhere, testifies to that and simultaneously celebrates their tenth anniversary together.
It's been ten years since guitarist Thomas Fisher and drummer Caniel Copeman crossed paths and teamed up to write music. After a number of failed auditions for a vocalist, Fisher had a fated meeting with longtime friend Rachel Davies. Davies turned out to be the missing piece to complete the newly founded ESBEN AND THE WITCH, named after the foreboding Danish fairytale
The self-released 33 EP (2009) and a 7″ single entitled "Lucia, At The Precipice" (2010) created a buzz that resulted in a first record deal for the band. With the single "Marching Song" (2010), ESBEN AND THE WITCH heralded their debut full-length Violet Cries, a Gothic, post-rock nightmare that hit the stores in January 2011. The album was immediately picked up by critics and fans alike, managing to climb to #13 in the UK Indie Chart.
2012 saw the trio commence work on their sophomore album Wash The Sins Not Only The Face which was released in early 2013 and again scored critical praise. ESBEN AND THE WITCH decided to take matters into their own hands and published third full-length A New Nature (2014) on their own imprint, Nostromo Records.
In 2016, the band signed to Season Of Mist, releasing fourth opus Older Terrors later that year. The record marked a point in the career of ESBEN AND THE WITCH on which the trio's songwriting crystallized into a mix of beauty, emotion, and musical depth. The musicians established their reputation as a masterful live act once more, ultimately recording and releasing their impressive set at Roadburn Festival 2017 as a live album.
Whilst maturing, experimenting, and fine-tuning their sound, the three-piece is now back with their latest full-length, Nowhere. With haunting, tranquil passages, a primal fierceness expressed in punk-influenced, distorted riffs and the alluring voice of vocalist Davies, the extremities of beauty, noise, and power have been tested over the past decade. We invite you to hear its manifestation on Nowhere.
"Since their debut, the band have evolved their sound with a masterful subtlety. Their dreamy, lengthy psyche-pop songs have become shot through with a creeping darkness, a tension that's almost impossible to pin down yet very obviously there." — Heavy Blog Is Heavy
"…a unique blend of pop psychedelia, post-rock and melancholia that ever so slightly brushes up against doom and post-punk." — Ghost Cult
"A record that brings you to the edge of oblivion and encourages you to stare into the void, ESBEN AND THE WITCH's fifth full length is a thrilling listen." — Two Guys Metal Reviews