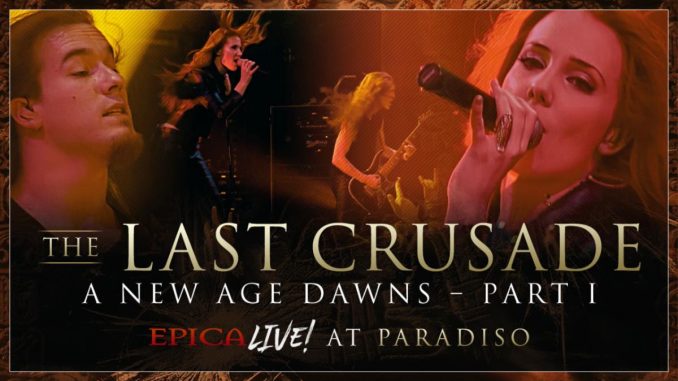 The celebrations for EPICA's 20th anniversary are in full swing. On September 2nd, the Symphonic metal titans will re-issue their first three albums 'The Phantom Agony', 'Consign To Oblivion', and 'The Score', which have become milestones of the genre and rarities within the physical market.
Each record will be available in either a CD box, a collector's LP box, or as an earbook and will come with previously unreleased bonus tracks for each album, as well as the spectacular live audio and video of "Live At Paradiso" and "We Will Take You With Us".
Today the band, once again, returns to the past with the release of their evergreen anthem "The Last Crusade" performed during their legendary Paradiso show in 2006.
"'The Last Crusade' was played very often in France during our early years as it became the anthem of our French fanclub, the French Crusade", guitarist/growler Mark Jansen remembers "That song always got the party going, great vibes from the crowd and great memories."
Join "The Last Crusade" now and watch the live video here.
Available on September 2nd, the anniversary releases are up for preorder via this link, as a boxset, earbook, vinyl, CD box, and Bluray. For more information, please click here.
EPICA are currently playing at several big summer festivals and will soon host their very exclusive and long sold-out "20th Anniversary Show" in Tilburg, with massive stage production, several old and new guests, and a career-spanning set. Right after this busy summer, they will embark on a North America Tour with Sabaton, a Latin American headline Tour in November, and an extensive run through Europe in early 2023 with Apocalyptica.
— NORTH AMERICA TOUR WITH SABATON –
15.09.22 | The Paramount Theater | Seattle, WA
16.09.22 | The Roseland Ballroom | Portland, OR
17.09.22 | The Roseland Ballroom | Portland, OR
19.09.22 | Revolution Concert House | Boise, ID
21.09.22 | The Fox Theater | Oakland, CA
23.09.22 | The Hollywood Palladium | Los Angeles, CA
24.09.22 | Arizona Federal Theater | Phoenix, AZ
25.09.22 | Brooklyn Bowl | Las Vegas, NV
27.09.22 | The Complex | Salt Lake City, UT
28.09.22 | The Fillmore | Denver, CO
30.09.22 | South Side Ballroom | Dallas, TX
01.10.22 | Bayou Music Center | Houston, TX
03.10.22 | The Ryman Auditorium | Nashville, TN
04.10.22 | The Tabernacle | Atlanta, GA
06.10.22 | The Fillmore Silver Spring | Silver Spring, MD
08.10.22 | The Andrew J Brady ICON Music Center | Cincinnati, OH
10.10.22 | The Fillmore Detroit | Detroit, MI
11.10.22 | GLC Live at 20 Monroe | Grand Rapids, MI
13.10.22 | The Fillmore Minneapolis | Minneapolis, MN
15.10.22 | Aragon Ballroom | Chicago, IL
17.10.22 | Stage AE | Pittsburgh, PA
18.10.22 | The Fillmore Philadelphia | Philadelphia, PA
21.10.22 | MGM Music Hall at Fenway | Boston, MA
22.10.22 | Place Bell | Montreal, QC
23.10.22 | Hammerstein Ballroom | New York City, NY