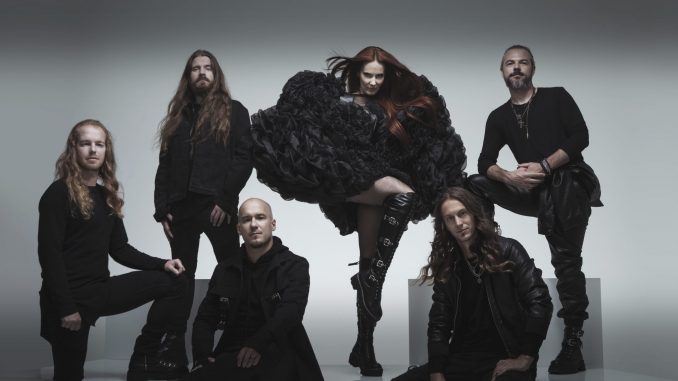 Dutch symphonic metal giants EPICA recently announced the release of their new album Omega, out on February 26th 2021 via Nuclear Blast. Omega is the band's first studio album in five years. Last month, EPICA also revealed the first single and video clip from the album, titled "Abyss Of Time," which was viewed on YouTube over a million times within its first week. Today, the band reveal a video for an acoustic version of that single.

Watch the clip here: https://youtu.be/tpy-KdtLsZY

Keyboarder Coen Janssen comments: "For the 'Omega' release we rewrote 4 songs into acoustic versions. This is our way of relaxing after a period of working hard and intense on heavy music. Being able to wind down and see if the songs still 'work' without all the bombast feels like coming home. It also enables us to explore other musical styles than metal and challenges us to be creative in a different way than we are used to. Enjoy our first single 'Abyss of Time' as if it was played in an Irish Pub while enjoying a nice pint with all your friends!!"

—
"Freedom – The Wolves Within" OFFICIAL MUSIC VIDEO: https://youtu.be/nWNdykQY6yQ

With the new single "Freedom – The Wolves Within," the band and their label want to support a good cause and started a little challenge with the fans.

Three goals have been reached on streaming platforms, and with each goal, Nuclear Blast sponsored the symbolic adoption of 2 endangered grey wolves through the World Wildlife Fund, so that at the end of the game, each band member of EPICA has adopted one animal. Not only do gray wolves suffer from steady habitat loss, they also have to endure revenge killings for attacks on wild stock, and the World Wildlife Fund depends on sponsorships and adoptions to conserve the natural habitat of these precious animals.

The band also kick-off the pre-order for Omega, that will be available in the following formats:
CD Jewelcase
2 CD Jewelcase In Slipcase (U.S. Edition)

32p booklet
Regular CD
Acoustic CD

2 CD Digibook

32p booklet
Regular CD
Acoustic CD

4 CD Earbook (Limited to 3500)

48p Earbook
Acoustic CD
Orchestral CD
Instrumental CD

Vinyl-Box (Limited to 1500)

4CD Earbook
2LP Picture Disc
Golden Necklace with Ankh symbol

2 LP

Black
Blue / Green Swirl (Limited to 2000)
Beer / Bone Swirl (Limited to 300)
White (Limited to 300)
Turquoise / Black Marbled (Limited to 1600)
White / Blue Splatter (Limited to 300)
Transparent Red (Limited to 400)
Transparent Orange (Limited to 300)
White / Gold Splatter (Limited to 200)
Glow-In-The-Dark (Limited to 200)
Omega tracklist:
01 Alpha – Anteludium
02 Abyss Of Time – Countdown To Singularity
03 The Skeleton Key
04 Seal of Solomon
05 Gaia
06 Code Of Life
07 Freedom – The Wolves Within
08 Kingdom Of Heaven, Part 3 – The Antediluvian Universe
09 Rivers
10 Synergize – Manic Manifest
11 Twilight Reverie – The Hypnagogic State
12 Omega – Sovereign Of The Sun Spheres
Pre-order the album in the format of your choice, here: http://nblast.de/Epica-Omega
PreSave: http://nblast.de/EpicaOmegaPreSave
—-
The upcoming Epic Apocalypse Tour featuring Dutch Symphonic titans EPICA and Finnish Cello masters APOCALYPTICA and support from prog metallers WHEEL has been postponed to beginning of 2022 due to the ongoing COVID-19 Pandemic. The tour will kick off on 6th January 2022 in Leipzig and the bands will perform all over Europe.
LIVE DATES:
The Epic Apocalypse Tour 2021
w/ APOCALYPTICA, WHEEL
01.03.2021 D Berlin – Columbiahalle
02.03.2021 D Leipzig – Haus Auensee
03.03.2021 D Hannover – Capitol
05.03.2021 CH Zurich – Komplex
06.03.2021 D Munich – Tonhalle
07.03.2021 I Milan – Fabrique
08.03.2021 CH Lausanne – Metropole
10.03.2021 HU Budapest – Barba Negra
11.03.2021 AT Vienna – Gasometer
12.03.2021 CZ Brno – Hala Vodova
13.03.2021 PL Warsaw – Progresja
14.03.2021 PL Gdansk – B90
17.03.2021 D Hamburg – Docks
18.03.2021 DK Copenhagen – Amager Bio
20.03.2021 S Stockholm – Berns
21.03.2021 N Oslo – Sentrum
01.04.2021 FIN Helsinki – Ice Hall
07.04.2021 P Lisbon – Coliseum
08.04.2021 E Madrid – La Riviera
09.04.2021 E Murcia – Gamma
11.04.2021 E Barcelona – Razzmatazz
12.04.2021 F Toulouse – Bikini
13.04.2021 F Paris – Zenith
14.04.2021 B Brussel – Ancienne Belgique
16.04.2021 UK Nottingham – Rock City
17.04.2021 UK Glasgow – O2 Academy
18.04.2021 UK Bristol – Anson Rooms
20.04.2021 D Cologne – Carlswerk Victoria
21.04.2021 D Ludwigsburg – MHP arena
22.04.2021 D Wiesbaden – Schlachthof
24.04.2021 LUX Luxembourg – Den Atelier
25.04.2021 NL Amsterdam – AFAS Live
27.04.2021 UK London – Roundhouse
28.04.2021 UK Manchester – O2 Academy
An evening with EPICA – Latin America
16.12.2021 CL Santiago – Teatro Caupolican *RESCHEDULED*
18.12.2021 EC Quito, – El Teleferico *RESCHEDULED*
19.12.2021 PE Lima – Centro de Convenciones Barranco *RESCHEDULED*
Tickets and VIP upgrades for all shows are available from www.epica.nl/tour