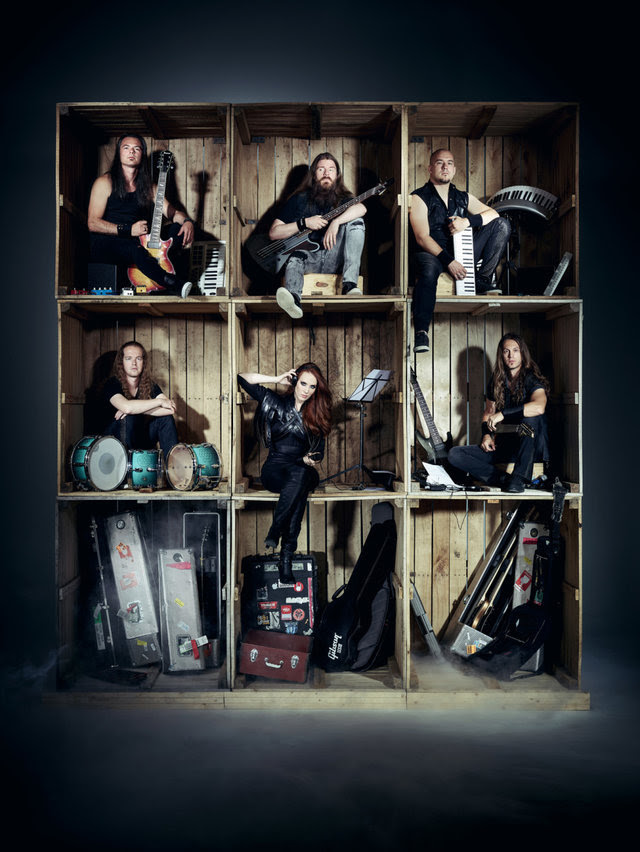 Release Fourth & Final Trailer Discussing The Upcoming Design Your Universe Gold Edition Tour
+
Pre-Orders Launched Here:
http://smarturl.it/epica
Recently, Dutch metal titans EPICA have launched a free tutorial of EPICA's anthem Design Your Universe in collaboration with College Of Metal. Today, the band reveal their fourth and final album trailer in which they discuss the upcoming Design Your Universe – Gold Edition Tour, that will start next week on October 4th, when the album is released.

Watch the new trailer here: https://youtu.be/xUEtRt9bnCU

You can also view the tutorial on EPICA YouTube channel: https://youtu.be/afFIvkZY7II
The guitar tabs can be downloaded for free from: https://store.collegeofmetal.com/epica-design-your-universe

To celebrate the launch of the tutorial the band are holding a competition amongst guitar players and fans to record you performing the song. Upload your video to YouTube and sent the link to info@epica.nl. The winner will be chosen by Isaac Delahaye and will receive a EPICA merch bundle including Design Your Universe – Gold Edition. The competition closes October 1st.
Design Your Universe – Gold edition contains a remastered and remixed version of the album and a newly recorded acoustic bonus disc and will be released October 4th. The album and exclusive merchandise bundles are now available for pre-order now from: http://smarturl.it/epica

To coincide with this release EPICA will perform a number of exclusive Design Your Universe 10th anniversary shows around the globe.

Design Your Universe – 10th Anniversary Shows – Europe
w/ BLACKBRIAR
04.10. D Oberhausen – Turbinenhalle
05.10. NL Utrecht – TivoliVredenburg *SOLD OUT*
06.10. F Paris – Élysée Montmartre *SOLD OUT*
10.10. IL Tel Aviv – Barby Club
12.10. RUS Moscow – Glavclub

Design Your Universe – 10th Anniversary Shows – Latin America
21.10. MEX Monterrey – Escena
22.10. MEX Guadalajara – Diana Theatre
24.10. MEX Mexico City – Auditorio BlackBerry
26.10. BR São Paulo – Tropical Butantã
27.10. BR Rio de Janeiro – Circo Voador
29.10. AR Buenos Aires – El Teatro Flores
30.10. CR Santiago – Teatro Caupolicán
02.11. CO Bogotá – Royal Center
03.11. CR San José – Pepper Disco Club

2020:
03.01. CN Montreal – Corona Theatre *NEW*
05.01. US Los Angeles – Regent Theater *NEW*
12.01. US New Yorck City – Webster Hal *NEW*

Tickets are on sale now through: www.epica.nl/tour