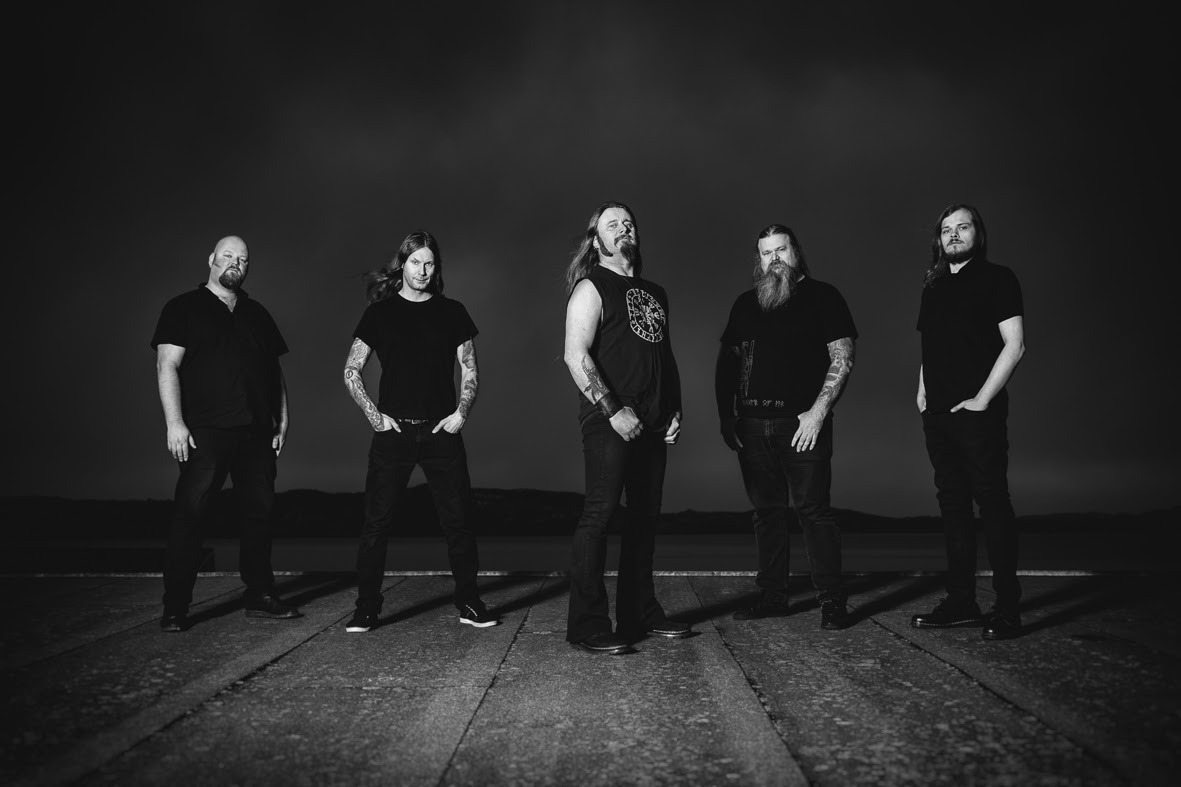 Enslaved are preparing for the second show of their Cinematic Summer Tour, streaming this evening at 7pm BST / 8pm CEST. This special performance is called 'Below The Lights' – named after their 2003 ground-breaking 7th studio album which they'll be playing in full for the very first time! It's a collaboration with Bergen's infamous Beyond The Gates Festival.

STREAM THE EVENT today @ 11AM PDT / 2PM EDT: https://youtu.be/ua_SagpwyS4

you can sign up now for a show notification, and join the waiting room to chat about the upcoming show

Enslaved commented: "Below The Lights is a special album to us, a stint between two eras in our career. It was the last to feature Dirge Rep on drums, the first since Roy Kronheim left the band, the first album with guitar leads by Ice Dale and the most focused album in many, many years! We were very proud of the final result… and nobody seemed to care, hahaha! At least not at the time of its release. But, in the following years, we recognised an ever increasing horde of people suddenly embracing it. Fans started shouting: "Play Havenless!" or "As Fire Swept Clean The Earth!" at gigs. We were a bit puzzled by this sudden praise for the album, but decided to include some of the songs in our set lists. Now, almost two decades later, we are proud to finally perform the album in its entirety though the ether at Beyond The Gates Festival 2020 – a festival that we feel a close connection to; and that we have worked together with fruitfully many times in the past. Beyond The Gates always goes its own way, pushing the boundaries and sharing their unique ethos alongside a dedication to their favourite music like we also do in Enslaved."

Enslaved launched an exclusive merchandise range to accompany the Cinematic Summer Tour, with designs viewable below inc. more information. To give everyone the chance to be part of this completely novum in music, all three shows will be free of charge, however Enslaved have launched a donation link if fans wish to make a contribution towards the costs of putting the shows on.
Donation link: paypal.me/enslavedofficial

Purchase exclusive Cinematic Summer Tour merch here:
US store enslaved.aisamerch.com / EU store enslaved.aisamerch.de
merch designs will only be available from now until Thursday October 1st
camo design is limited to 30 items per shop
all other designs are limited to 50 items per shop excl. the black classic tee which is unlimited
dark blue woman's tank is an EU store exclusive
white woman's tank is a USA store exclusive
orders will ship around mid-august
Cinematic Summer Tour information:
For this forward-thinking concept, ENSLAVED have joined forces with three festivals, to present fans with three different shows:
July 30th – in cooperation with Roadburn, the tour launched with a "Chronicles Of The Northbound" show.

August 20th – this second show will be a "Below The Lights" set, presented by Beyond The Gates festival.

October 1st – the band will end their virtual tour at Summer Breeze festival with a presentation of some new songs, for "Utgard – The Journey Within".
Guitarist Ivar stated: "'We must stick apart' is a proverb of Discordianism (a religion I might or might not have just made up) that might fit the situation we are all in now. We are all isolated in various degrees; and we all miss live music. So, we have stuck apart and with our fantastic team of super-people in management, label and booking, plus three of our best friends who happen to be the very creme de la creme of European Festivals; we are now able to present this digital festival-tour. We are already hard at work preparing sets and shows that will make this one for the (e-)books. Thank you for your support, faith in us and patience – to have fans like you is an absolute privilege. See you in the ether!"
ENSLAVED recently released their latest single 'Jettegryta', taken from their upcoming record Utgard, that will be released on 2nd October 2020.

Pre-Order Utgard here: https://www.nuclearblast.com/enslaved-utgard
Watch 'Jettegryta' here: https://youtu.be/xkEXIpym5E0
Watch first single 'Homebound' here: https://youtu.be/92ptxt1FQiU

The band recently released a trailer with guitarist Ivar Bjørnson discussing the current band line-up and the recording of the new album. Find out more, here: youtu.be/PXNokqpilbU

Utgard will be available in these formats:
CD jewel case (available with signed insert from Recordstore.co.uk)
Limited Edition Black Vinyl (available with signed insert from Recordstore.co.uk)
Limited Edition Grey Vinyl (300 copies)
Limited Edition Blue Vinyl (300 copies) – SOLD OUT
Limited Edition UK Exclusive Transparent Green Vinyl (300 copies + available with signed insert from Recordstore.co.uk)
Ivar Bjørnson | guitars
Grutle Kjellson | vocals
Arve 'Ice Dale' Isdal | guitar
Håkon Vinje | Keyboards, Clean Vocals
Iver Sandøy | Drums