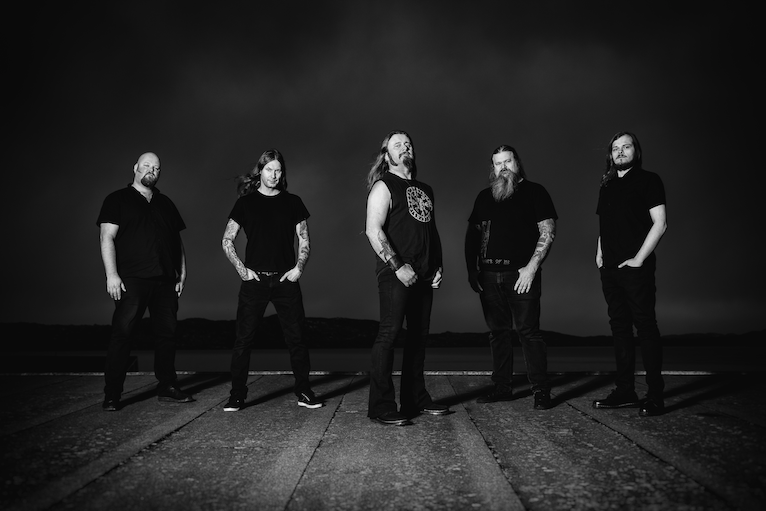 There is ample reason to celebrate:
ENSLAVED
have once again joined forces with
Nuclear Blast
, to spread the music of the Norwegian avant-garde metallers all around the globe. With that, band and label renew a collaboration that has been ongoing for around ten years and two years ago produced the universally lauded album
E.
Band founding memeber and guitarist Ivar Bjornson stated about the re-signing:
"It is with great pleasure we re-sign our record deal with Nuclear Blast worldwide! We have been working together for more or less a decade, and it has been an individed positive experience. They have both the heart to grasp our musical visions, and the business-muscles to spread them out into the world. When you add personal friendships with the wonderful people in America, U.K. and Germany it is simply an ideal situation for us to be in. Onwards, forwards and in all directions!"
To mark the occasion, ENSLAVED present a stunning new music video filled with atmospheric imagery for their interpretation of 'What Else Is There' by Norwegian electro-pop band RÖYSKOPP. The song is featured as a bonus track on the digital version of their latest album, E.
Watch and listen here:
https://youtu.be/7_3WnNAJDRM
ABOUT ENSLAVED:

Formed in Bergen, Norway in 1991, Enslaved had evolutionary zeal in their eyes from the start. Even as they emerged from the nascent Norwegian black metal scene of the early '90s, guitarist Ivar Bjørnson and vocalist/bassist Grutle Kjellson demonstrated a fervently idiosyncratic approach to making extreme music. By eschewing the willful conservatism of their peers in favour of an outward-looking ethos, Enslaved's reputation grew rapidly in the wake of extraordinary, epic albums like their primitive but insidious debut Vikingligr Veldi and its strident follow-up Frost (both 1994). By the late '90s, the band had morphed into a wildly progressive and adventurous beast, always retaining the core, aggressive tenets of their musical roots but increasingly in thrall to the limitless possibilities that music, in its entirety, truly presents. Widely acknowledged as a powerful and ferocious live band, Enslaved entered the 21st century by flexing new muscles on the acclaimed likes of 2003's Below The Lights and its groundbreaking successor, Isa (2004). Now as much a part of the flourishing progressive rock and metal realm as they were loyal servants of the extreme metal underground, Bergen's finest hit a rich vein of form as the years passed, with albums as diverse and challenging as 2008's Vertebrae and 2010's Axioma Ethica Odini joyfully expanded the Enslaved musical universe, drawing in countless new acolytes along the way.

In 2015, Enslaved released their 13th studio album, In Times. A tour-de-force of hypnotic prog intensity and scabrous, blackened pomp, it exuded an air of completion and finality that led perfectly into 2016's extravagant celebrations, as Enslaved marked their 25th anniversary with some truly life-changing shows that explored all shadows and hidden corners in the band's colossal catalogue.

Despite rarely pausing for breath – not just as a result of Enslaved's hectic touring schedule, but also due to numerous extracurricular projects – the band in 2017 somehow managed to piece together yet another full-length milestone in the shape of their 14th studio effort, the elegantly titled E.
An album full of revelatory moments, spine-tingling dynamics and exquisite but alien atmospheres, E showcased a refreshed Enslaved line-up via songs that took the band into unprecedented territory. From the grandiose, weather-beaten riff-scapes of 11-minute opener Storm Son to the wild, psychedelic frontier squall of Sacred Horse and the muscular, sax-powered shoegaze barrage of monstrous closer Hiindsiight, it was both a typically bold and fearless statement from this most inventive of modern metal bands and a thrilling sideways step that harnessed the spirit of old and set it loose in a whirlwind of imagination. Conceptually, too, Enslaved made giant forward strides.

14 albums and 28 years into a career that shows no signs of losing neither momentum nor its magical, effervescent creative sheen, Enslaved will certainly continue evolving before our ears and eyes. This time, however, even the sky is no limit. Stronger than ever and manifestly thrilled to be in such rude health, life in Enslaved has never been more rewarding. And the best is yet to come.