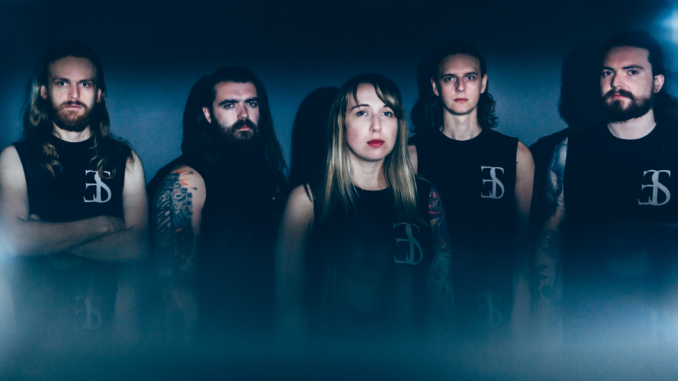 ALBUM OUT SEPTEMBER 17 VIA SPINEFARM— PRE-ORDER

HERE

MAINSTAGE DOWNLOAD PILOT FESTIVAL APPREARANCE A ROARING SUCCESS
Employed to Serve have officially announced their fourth album Conquering— their most metal offering yet. The record will be their second full-length record for Spinefarm and is due out September 17.
Watch the video for the new single "Exist"
here
.
Conquering is a fully realized metamorphosis into the band they've always wanted to be. Drawing influence from the music of their youth and a new perspective on how to nurture the positive aspects of humanity and individual growth, Conquering is a celebration and acknowledgement of triumph in the face of a world that can be relentlessly adversarial.
Frontwoman Justine Jones says, "Conquering is about rising above adversity and self-doubt. We're really excited to share our latest album — I feel it's our best work to date. We wanted to go a more metal orientated direction with this album and see how far we could push our musical capabilities."
Meanwhile, first single "Exist" arrives like a call to arms.
"'Exist' is a song that celebrates the highs and lows of existing," says Jones. "For this video, I really wanted to capture the excitement of being a pre-teen and discovering the absolute joy that is music. I loved the idea of getting into someone's head at that time and them daydreaming about being on stage with the band you love, like we did when we were that age and recently in the past year when we couldn't play shows!"
She continues, "It took six months of planning due to the pandemic and because we had to source someone who could create one-off figures of each band member. We were lucky enough to come across Mattachine Society from Brooklyn, who creates awesome bootlegs. For the model stage and backline, [guitarist] Sammy [Urwin] and I channelled our inner Art Attack and made that during the winter lockdown to keep our minds from the apocalypse. When having meetings about how to dress the set and actors, we wanted to shout out as many of our mates' bands as possible and leave little Easter eggs for people to find with each re-watch of the video."
Jones finishes, "The most important aspect of the video for me was finding a young energetic girl to play the really stoked kid. When I was growing up, metal was a very male-dominated genre and I always felt a bit out of place. I feel that this is a different story now with so many women in bands. Working in the industry and in the crowd, it's becoming normalized, which is really exciting."
ETS began recording the album in the "unforgiving winter" of 2020; produced & mixed by Lewis Johns at The Ranch, Southampton, mastered by Grant Berry at Fader Mastering, Employed to Serve took the time thrown at them by a world stopped still to write their most visceral material to date.
Pre-order Conquering
here
. Pre-orders come with an instant download of "Exist" and special bundle options, including t-shirts, hoodies, shorts, pink socks, skateboards, and limited color variant vinyl.
CONQUERING TRACK LISTING:
"Universal Chokehold"
"Exist"
"Twist The Blade"
"Sun Up To Sun Down"
"The Mistake"
"We Don't Need You"
"Set In Stone"
"Mark Of The Grave"
"World Ender"
"Conquering"
"Stand Alone"
EMPLOYED TO SERVE ARE:
Justine Jones — Vocals
Sammy Urwin — Guitar + vocals
David Porter — Guitar
Nathan Pryor — Bass
Casey McHale — Drums
Last Sunday, Employed to Serve appeared on the main stage of Download Festival/ The event marked a moment in history, seeing live music return as part of a government-backed Pilot scheme. The Guardian noted Employed to Serve as a festival highlight, commenting, "Employed to Serve exude venom" while Metal Hammer called their set "relentless" and "blistering." Kerrang! were just as enthused, adding, "Sammy Urwin's sledgehammer riffs awaken Download's inner headbanger, while Justine Jones' barbed screams urge those gathered to toss any notion of social distancing in the bin."
Four albums in, and a steady stream of critical acclaim and awards in tow, Employed to Serve's meteoric rise from genre hopefuls to becoming one of UK metal's most consistently captivating bastions is indisputable.
ABOUT EMPLOYED TO SERVE:
Employe to Serve's origins are essentially humble, with the core duo of Justine Jones (vocals) and Sammy Urwin (guitar/vocals) initially starting the band as a two-piece grindcore project backed by a drum machine. Early experiences on the UK festival scene expanded their horizons and perceptions of what weightier music could be. Seeing heavy-hitters such as Converge, Meshuggah, and Glassjaw alongside smaller but no less important acts like Rolo Tomassi, Veils, and The Chariot inspired the duo to develop their vision. 2014's Change Nothing Regret Everything EP operated as a stepping stone into full band territory, before 2015's critically acclaimed debut album, Greyer Than You Remember, became their calling card, followed up two years later by The Warmth of a Dying Sun, then their 2019 Spinefarm debut Eternal Forward Motion.
Employed to Serve have already proved themselves as a searingly intense and honest live experience, sharing bills with the cream of the crop of modern heavy music, including Code Orange, Bury Tomorrow, Stick To Your Guns, Loathe, Counterparts, and Underoath. They've also decimated stages at some of the UK and Europe's leading music festivals, the likes of Download, Glastonbury, Graspop, and Hellfest. And the accolades are unstoppable; from their Kerrang! Album of the Year win back in 2017, achieving the assumed impossible with a KKKKKK (yes, that is 6 K's!) live review, landing in Metal Hamme''s reader and staff Top 10 Album polls, and a 2020 sold-out Underworld performance, to a plethora of cover features across Music Week, Metro Weekend, Upset, and Kerrang!, Employed to Serve are unflinching at the forefront of metal innovation.
EMPLOYED TO SERVE SOCIAL MEDIA: