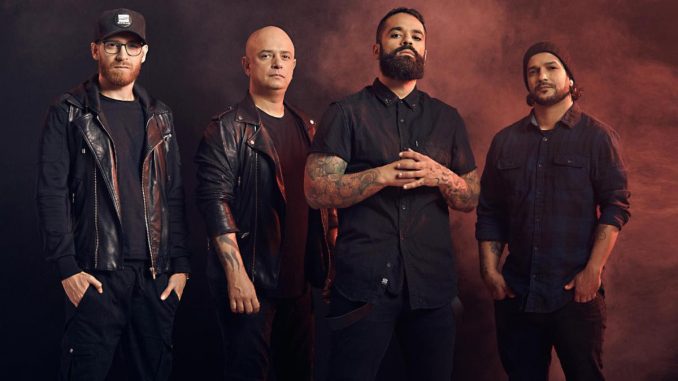 New Album
"Dark Echoes"
Out May 28 via Blood Blast Distribution
"Continuing to put forth compelling messages packaged precisely into combustible stanzas of sonic aggression, the band's latest single in "Wake Up the Blind" again tackles weighty subject matter with a sense of urgency that fuels the very real angst of the track." – Knotfest.com
"When there's genuine angst at play and real-world problems to confront, the passion is beyond palpable, which is the case of 'Dark Echoes'." – Loudwire
"The title track from their upcoming fifth studio album, Dark Echoes marks the culmination of the quartet's 25 years in the scene, condensing expertise into this absolute juggernaut of a tune." – Guitar World
Friday, May 14, 2021 – Brazilian powerhouse Eminence have today released their evocative and beautifully shot music video for "Into The Ashes". "Into The Ashes" is the band's fourth single taken from their upcoming album "Dark Echoes" (out on May 28, 2021 via Blood Blast Distribution). Speaking on the track, guitarist Alan Wallace comments:
"The lyrics for "Into The Ashes" speak of something that we wanted to get back as soon as possible, which is normal life. Unfortunately here in Brazil, we cannot have that, at least for now. So, for the video concept, we didn't want to show the band and instead put in contemporary dance, with the participation of Débora Roots, dancer of Grupo o Corpo. We have been in a pandemic for over a year and there is this feeling of not being able to have a normal life. Because of all of this change on the planet, we wish to have our lives back in a better and simpler way like how things were before."
The band has most recently released their single "
Wake Up The Blind
" on Earth Day, which speaks to the damage humanity inflicts upon the environment. Before that, Eminence has dropped videos for "
BYOG
" and crushing track "
Dark Echoes
" featuring Björn Strid of Soilwork. Watch the video for "Into The Ashes"
here
or by clicking on the image below.
Produced by Alan Wallace and mixed and mastered by Tue Madsen (Meshuggah, Heaven Shall Burn, Suicide Silence), the "Dark Echoes" album consists of twelve solidly crafted songs speaking to themes of resisting bigotry, frustration, and perseverance. "Dark Echoes" will be released on Friday, May 28, 2021. For pre-save information, please click
here
.
DARK ECHOES

EMINENCE

Track Listing:

1. Dark Echoes Feat. Björn Strid

2. Burn It Again

3. B.Y.O.G.

4. Wake Up The Blind

5. Into The Ashes

6. The Vanishing

7. Inner Suffering

8. Death of a Nation

9. The Hologram

10. N3mbers

11. Not Hating, Just Saying

12. Parasite Planet

Recorded by Andre Carvalho at Maçonaria do Audio Studios, Nova Lima, Minas Gerais, Brazil

Produced by Alan Wallace & Tue Madsen

Co-produced by Bruno Paraguay, Davidson Mainart, Nina Myers

Mixed & Mastered by Tue Madsen at Antfarm Studios, Denmark

Artwork by Rafael Moco
Formed in 1995, Eminence quickly cultivated a strong following in the underground metal scene of their home country of Brazil and in Europe. The band made its live US debut in 2012 during New York's CMJ Music Marathon whilst performing on a boat alongside metal icons Prong. Eminence has since continued on to perform worldwide including legendary festivals such as Rock in Rio, SXSW Music Festival, Woodstock in Poland, Rock Al Parque Colombia, and Red Bull Music China.