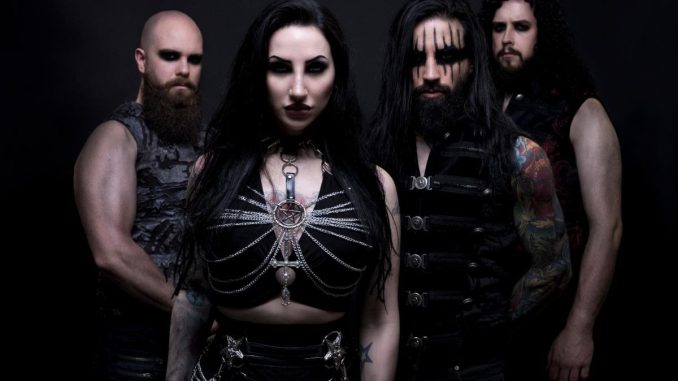 ELEINE Unveils Epic New Single "Never Forget;" We Shall Remain Full-Length To See Release July 14th On Atomic Fire Records + North American Tour With Moonspell To Commence Later This Month
Photo by Madeleine Liljestam/Rikard Ekberg
"Watch as I rise.
Reclaim my life.
Under the darkest of skies.
Scars will remain, signed by your name.
Never forget, we're the same."
ELEINE – "Never Forget" (2023)
Times are hard, we know. And while Tina Turner may have declared some time ago that, "we don't need another hero," the opposite seems to be true. We need heroes, we need anthems, we need perseverance. And fast! Luckily for us, ELEINE has heard the call with their newest single "Never Forget."
Beginning with a heavy, thrashy riff which instantly drives the song forward and leads to a mighty chorus, the song is the perfect paradigm of the speed and epic vibe of their new album, We Shall Remain, set for release on July 14th via Atomic Fire Records.
The band comments, "Have you ever met someone who has scarred you? Made you doubt yourself? Maybe even made your life a living hell? We all have, in one way or another. But the most important part of experiencing something inevitable like this is to remember your own worth. It's not about you, but you can evolve and learn from the situation itself.
"Rise up. Accept what has been. Move forward and cut the strings attached to anyone who really doesn't give you anything else but a headache. In the end, we're all facing the same fate. Make sure your life along the way has as less toxic people as possible and make sure you are in charge of your own life."
We Shall Remain will be available as a digibook CD, digibook CD + signed photo card (limited edition; EMP & Sound Pollution excl.), jewel case CD, LP (Orange/White), and digitally.
ELEINE w/ Moonspell, Oceans Of Slumber:
4/29/2023 The Monarch – Brooklyn, NY
4/30/2023 Warehouse On Watts – Philadelphia, PA
5/01/2023 Hangar 1819 – Greensboro, NC
5/02/2023 The Masquerade – Atlanta, GA
5/03/2023 Conduit – Orlando, FL
5/05/2023 Scout Bar – Houston, TX **
5/06/2023 Paper Tiger – San Antonio, TX **
5/07/2023 Trees – Dallas, TX **
5/08/2023 Tumbleroot Brewing – Santa Fe, NM **
5/09/2023 Last Exit Live – Phoenix, AZ **
5/10/2023 1720 – Los Angeles, CA **
5/11/2023 Brick By Brick – San Diego, CA **
5/12/2023 DNA Lounge – San Francisco, CA **
5/13/2023 Bossanova Ballroom – Portland, OR **
5/14/2023 The Cobalt – Vancouver, BC **
5/16/2023 Oriental Theater – Denver, CO
5/17/2023 Granada Theater – Lawrence, KS
5/18/2023 The Forge – Joliet, IL #
5/19/2023 Piere's – Ft. Wayne, IN #
5/20/2023 Preserving Underground – Pittsburgh, PA #
5/21/2023 Petit Campus – Montreal, QC #
5/22/2023 Source De La Martiniere – Quebec, QC #
5/25/2023 Sonia – Boston, MA #
End Tour
8/02/2023 MetalDays – Velenje, SL *New*
8/11/2023 Alcatraz Metal Festival – Kortrijk, BE
** = w/ Vintersea
# = no Oceans Of Slumber
ELEINE:
Madeleine Liljestam – vocals
Rikard Ekberg – guitar, vocals
Filip Stålberg – bass
Jesper Sunnhagen – drums
"Never Forget" Single Art