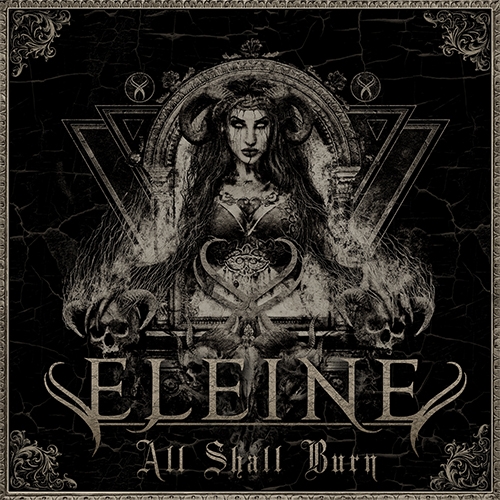 ElEleine is a symphonic metal band that originates from the little town of Landskrona, Sweden. They first came on to my radar when I attended the Sabaton Open Air Festival in 2018. Wanting to be familiar with all the bands I was going to see, I listened to everyone before I left. I was blown away by Eleine and their mix of clean female vocals with growls. When I finally saw them live I was so impressed with their stage presence combined with their live show. Frontwoman Madeleine "Eleine" Liljestam put the audience in a trance with her beautiful vocals while the fierce guitar and growling vocals of Rikard Ekberg brought the crowd back into reality.
In 2019 Eleine is releasing the EP called All Shall Burn. The EP starts out with "Enemies." A heavy drum intro starts the track followed by guitars and horror like chanting. The track picks up the pace with keys and continuing thundering drums. Liljestam's vocals carry the track with wicked interruptions provided by Ekberg's growls. "Enemies" has a very larger than life sound to it utilizing layers and orchestration.
"All Shall Burn" continues the orchestral journey but gives a vocal "beauty and the beast" performance with Liljestam using her voice to bring charm to the track while Ekberg's growls demonize the song's splendor. The contrasting voices create a tension that gives the song a good vs evil lifeblood.
Continuing through the EP, "Mein Herz Brennt" appears next. When I read Eleine covered this Rammstein song I had my doubts, but after hearing the song, my conclusion is they nailed it. The growls that Ekberg provide give this Nightmare driven song life that will bring a chill through your body.
There are two songs that appear at the end of the EP that to me exemplify Eleine. The first one is a Symphonic version of "Hell Moon (We Shall Never Die)." The song originally appeared on their 2018 release Until the End. In 2019 "Hell Moon" has a larger than life sound that merges Liljestam and Ekberg's vocals to give it an operettic sound.
The last song on All Shall Burn is the title track which uses the symphony also. As with "Hell Moon," "All Shall Burn" has a very soundtrack and operettic big sound to it. This was easily the highlight of the album. The use of the symphony is not overbearing and enhances the sound of the song.
All Shall Burn gives Eleine fans something to satisfy them as the band tours in 2020 and hopefully works on another full-length album. I could not have been happier with All Shall Burn and would recommend it to all Eleine fans and fans of Lacuna Coil or other powerfully female-fronted bands. The EP will release on November 22, 2019 via BLACK LODGE RECORDS.
Eleine is:
Madeleine Liljestam, vocals
Rikard Ekberg, guitar/growl/vocals
Jesper Sunnhagen, drums
Anton Helgesson, bass
Ludwig Dante, guitar
WEB:
http://www.eleine.com
http://www.eleine.myshopify.com
Facebook: http://www.facebook.com/eleineofficial
Instagram: http://www.instagram.com/eleineofficial
Twitter: http://www.twitter.com/eleineofficial
Youtube: http://www.youtube.com/c/eleineofficial
Songkick: https://www.songkick.com/artists/8769794-eleinee
Patreon: http://www.patreon.com/eleine

Tour dates for 2020:
FEB 27 "Mixtape 5" Sofia, Bulgaria
FEB 28 Bucarest, Romania
FEB 29 Brasov, Romania
MAR 1 Budapest, Hungary
MAR 3 Bologna, Italy
MAR 4 Milan, Italy
MAR 5 Istres, France
MAR 7 Pratteln, Switzerland
MAR 8 Kulttempel Oberhausen, Oberhausen, Germany
MAR 9 Garage Saarbrücken, Saarbrücken, Germany
MAR 10 Universum, Stuttgart, Germany
MAR 11 Backstage München, Munich, Germany
MAR 13 Hellraiser Leipzig, Leipzig, Germany
MAR 14 Musik & Frieden, Berlin, Germany
MAR 15 Z-Bau, Nuremberg, Germany
MAR 17 DAS BETT, Frankfurt, Germany
MAR 18 MusikZentrum Hannover, Hanover, Germany
MAR 19 headCRASH Hamburg, Hamburg, Germany
MAR 20 Patronaat LOUD, Haarlem, Netherlands
MAR 21 L'Aéronef, Lille, France
MAR 22 Vaureal, France
MAR 24 Mediatone – Concerts à Lyon, Lyon, France
MAR 25 Toulouse, France
MAR 26 Madrid, Spain
MAR 28 RCA CLUB, Lisbon, Portugal
MAR 29 Hard Club Porto, Portugal