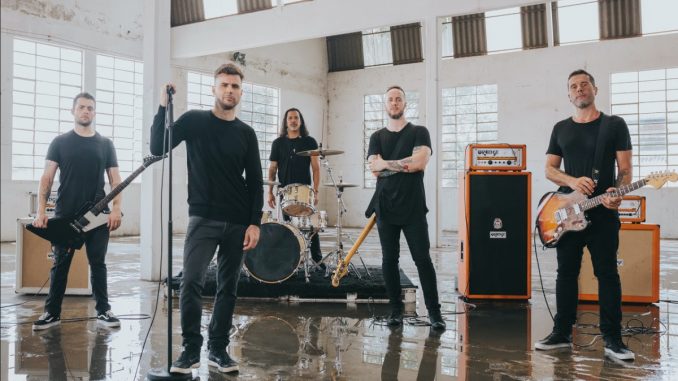 Rock band Ego Kill Talent — Jonathan Dörr [vocals], Jean Dolabella [drums, guitar], Raphael Miranda [drums, bass], Niper Boaventura [guitar, bass], and Theo Van Der Loo [bass, guitar] — have shared the new song "Thousand Nails." Listen here.
"'Thousand Nails' is about how much we let ourselves be carried away by our pride — to the point of destroying wonderful works that we built together because we do not consider letting go," the band shares.
The song, which features System of a Down's John Dolmayan, was premiered at the Space Zebra Twitch channel.
Ego Kill Talent appeared on That Space Zebra Show on Twitch on Thursday, December 2 with the gang. Hosted by Bobby Schubenski (Blackcraft co-founder, Space Zebra founder), Josh Balz (ex-Motionless in White, Strange Kids), Terry "Beez" Bezer (metal media mogul), and their producer, Jake, the group brings music to the forefront of Twitch with fan engaging content and humor.
Ego Kill Talent released their new album The Dance Between Extremes in March 2021. The record arrived with much acclaim from critics and from fellow musicians. The Brazilian band followed the album release with Ego Kill Talent: Acoustic, a series of three acoustic EPs. The final EP is out now and available here. It features "Silence," "Last Ride," Sins & Saints," and "Sublimated."
ABOUT EGO KILL TALENT:
The story goes that Ego Kill Talent were poised for a huge 2020. They were confirmed for a spring tour of South America with Metallica and Greta Van Fleet. The band was also set to perform at the majority of the Danny Wimmer Presents Festivals in the U.S., to tour with System of a Down in Europe, and to perform at many key European festivals. All told, EKT had booked 35 shows and 21 key festivals across three continents. Since they are known for switching instruments amongst members while playing, Ego Kill Talent were eager to show off their live prowess to audiences worldwide. However, due to the COVID-19 pandemic and the subsequent global shutdown, Ego Kill Talent, like so many others, were forced to get creative — revamping and revising tour and album release plans. Ego Kill Talent elected to split their full-length The Dance Between Extremes, which was originally due out in May 2020, into three EPs. The full album is out now. It was awarded a 5K! rating at Kerrang!
ICYMI:
EGO KILL TALENT MUSIC DROPS:
"NOW!"
"The Call"
"Lifeporn"
"Deliverance"
Ego Kill Talent are booked worldwide by William Morris Endeavor and are managed by C3.
PRAISE FOR EGO KILL TALENT:
"Ego Kill Talent. Did you see them? They rocked!" — Perry Farrell/Jane's Addiction + founder of Lollapalooza
"Love the melodic arena rocking energy. We've enjoyed touring with them and are excited about their new release." — Serj Tankian/System Of A Down
"They're a great band. We toured with them and I had a blast watching them every night." — Ruud Jolie/Within Temptation
"A magnificent second album from a breathtaking band." — Metal Hammer
SCAN THIS QR CODE TO LISTEN TO EGO KILL TALENT