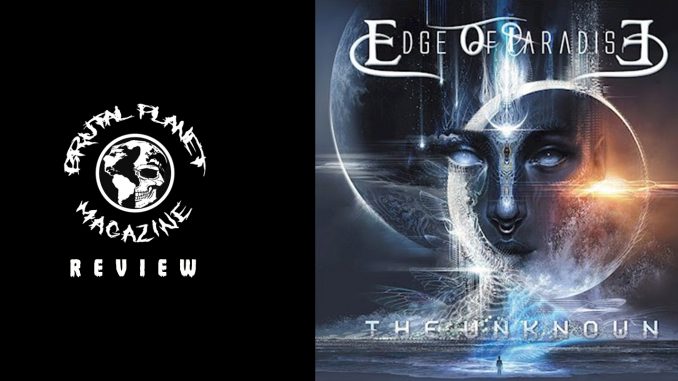 When it comes to symphonic metal bands, Edge of Paradise ranks as one of the best. The band is led by the enchanting and powerful Margarita Monet. The other band members include Dave Bates and David Ruiz on guitars and the rhythm section of Jamie Moreno on drums and icky Bonazza on bass.
Edge of Paradise was formed in 2011 and released their first album, Mask, that same year. In 2021 they will release their fourth studio album titled The Unknown. This release continues what has been a steady progression of sonically profound compositions combined with a voice that even angels envy.
The Unknown begins with the first single titled "Digital Paradise." The song has a slight techno sound to it and instantly connects the listener to the powerhouse voice of Monet. Up next is the equally upbeat "My Method Your Madness." The song has a bit of a James Bond theme in it. "Tidal Wave" brings a hint of anger to Monet's voice in the verses but then showcases her upward range in the chorus. Musically the song is led by some masterful guitar. The heated vocals combined with the guitar make "Tidal Wave" one of my favorite songs on The Unknown.
All barriers are broken on the title track "The Unknown." The song starts with self-apocalyptic lyrics that are incorrigibly linked to a sound that leads into a black abyss. The song erupts, and strength is found within the lyrics:
"We find strength
In the light
In the fire
In the love
In the unknown"
To say that "The Unknown" encapsulates the essence of the album is an understatement. The song outlines the metamorphosis Edge of Paradise has undergone from start-up to mature symphonic significance.
"Believe" eloquently tells a beautiful story about embracing our inner self. The song shifts between tranquil magnificence and prevailing power. "False Idols" is the latest single released and has an excellent beat and a great chorus. Things continue with "You Touch You Die," another song that I found myself going back to over and over.
Things keep rolling with "One Last Time" and "Leaving Earth" and conclude with the epic "Bound To The Rhythm." It has a melodic, slow beat but is heavy and full of energy. The song is the perfect way to close out what is a fantastic piece of work.
The evolution of Edge of Paradise has manifested itself inside The Unknown. From the songs' arrangement to the band's confidence in each of their roles on the album, it is evident that greatness is close and inevitable. The Unknown will be available on September 3, 2021, via Frontier Records and should be essential for every fan of symphonic metal.