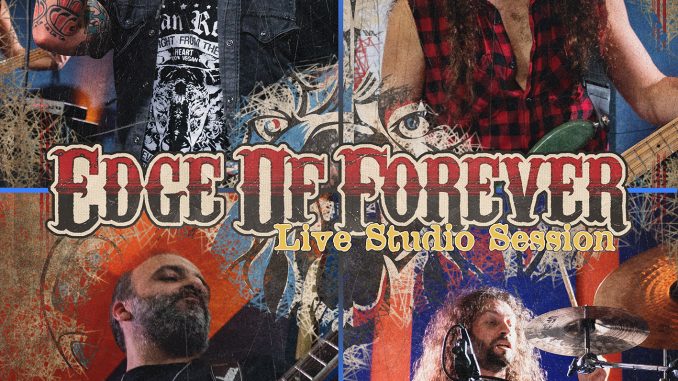 NEW STUDIO ALBUM TO BE RELEASED IN EARLY 2022
TOUR DATES ANNOUNCED FOR MARCH 2022
Italy's Edge Of Forever have been working hard on their new studio album, which will be released in early 2022, but took a break to record a live performance of tracks culled from their discography. Dubbed "Live Studio Session", the new digital EP is now available to stream/download HERE: https://orcd.co/eoflive and video of the full performance can we watched HERE: https://youtu.be/XbYQeX-aO_8
Additionally, the band has announced a run of co-headlining dates with Michael Bormann's Jaded Hard and opener Osukaru. Dates are as follows:
March 2022:
Friday, 11th Chill Out – Boswill, CH
Saturday, 12th Jonny's Lion-Cave – Trübbach, CH
Sunday, 13th 7er Club – Mannheim, GER
Tuesday, 15th South Of Heaven – Bilzen, BEL
Wednesday, 16th Bel Air – Breda, NL
Thursday, 17th Resonanzwerk – Oberhausen, GER
Friday, 18th Grüner Baum – Dessau, GER
Saturday, 19th Legends Lounge – Olching, GER

With a revived line-up featuring founding member, producer, singer and keyboardist Alessandro Del Vecchio, guitarist Aldo Lonobile (Secret Sphere), bass player Nik Mazzucconi (Labyrinth) and drummer Marco Di Salvia (Hardline), Edge Of Forever released their last studio album, "Native Soul", their strongest album to date, in late 2019. That album saw the band heading back to the heavier, but still melodic, sound of their acclaimed debut album. The band's upcoming new studio album will see this trend continuing.

Originally formed by Del Vecchio in 2002, Edge Of Forever released three very well received albums: "Feeding The Fire," produced by Marcel Jacob (Yngwie Malmsteen, Talisman) and "Let The Demon Rock'n'Roll", produced by Bobby Barth (Axe, Blackfoot), both featuring Bob Harris (Axe, Frank Zappa) on vocals and "Another Paradise" which saw Alessandro Del Vecchio take the lead vocal spot and production duties.

Look for news about the band's new studio album before the end of 2021.
Tracklisting:
Native Soul (live)
Edge Of Life (live)
Promised Land (live)
Carry On (live)
Take Your Time (live)
Distant Voices (live)
Feeding The Fire (live)

Line-up:
Alessandro Del Vecchio: Lead Vocals, keyboards
Aldo Lonobile: Guitars
Nik Mazzucconi: Bass Guitar
Marco Di Salvia: Drums

https://www.facebook.com/edgeofforeverband/
https://www.instagram.com/edgeofforeverband/