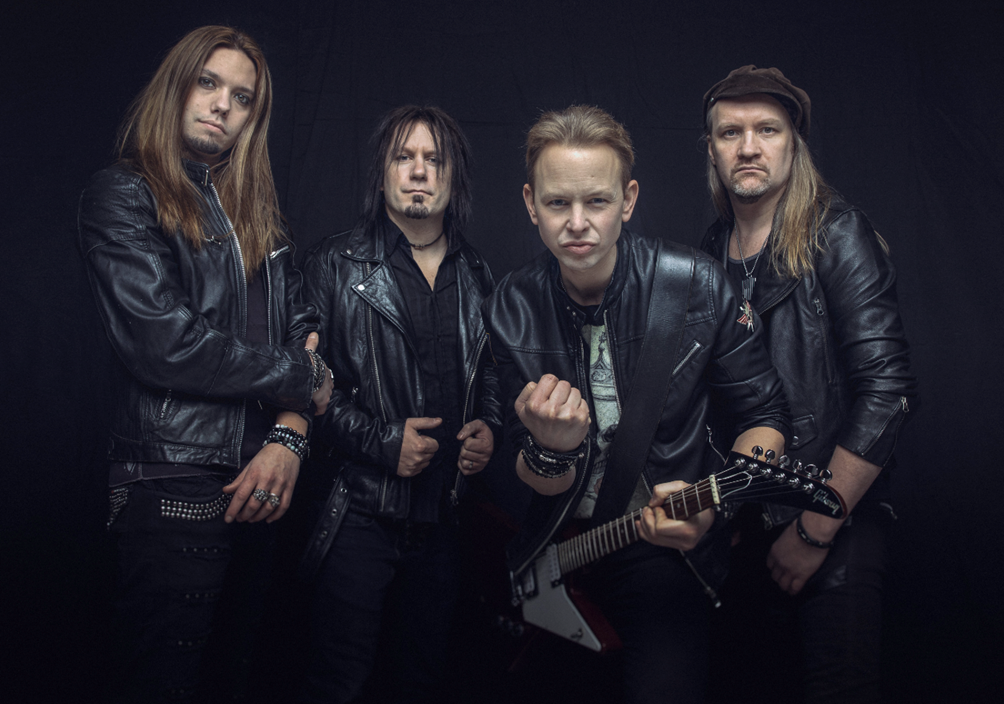 Following the critically acclaimed release of 2017's "Monumentum", Swedish rockers Eclipse return with their seventh studio album, entitled "Paradigm", on October 11, 2019on Frontiers Music Srl.
The band will tour across Europe in the fall, with more shows being planned in the UK and rest of the World in 2020.
The new album title "Paradigm" is no coincidence as the music contained withn stands as a paradigm for the sound they've developed over their last few albums: massive arena choruses over heavy guitars coupled with frontman Erik Martensson's stellar vocals.
Over the last few years, the band has performed to audiences around the globe, including the U.S, Japan, Australia and Europe and have opened for giants like Aerosmith and the Scorpions. Their albums have amassed millions of streams and charted in several European countries, including a top 20 spot on the official Swedish album chart for their previous record, "Monumentum".
Describing the new record "Paradigm", Erik Martensson says: "I once saw someone describing our previous record as an accelerating motion, picking up more and more speed as the record progressed. Well, I think it is safe to say that "Paradigm" picks up where the previous record left off. We have a whistle blowing a few seconds in on the opening track and from there it's just full speed ahead! We've written some of the best songs of our career and we can't wait for people to hear them!"
The album's opening track, 'Viva La Victoria' is the first music video off the record and sees the band cooperating with renowned video director Patric Ullaeus who has previously made videos for bands like In Flames, Arch Enemy, and Europe, to name a few.
Magnus Henriksson, the band's lead guitarist says: "'Viva La Victoria' was the obvious choice for the first video and Patric was fantastic to work with. We had a bunch of fans show up on the set and made the video together with them, which fits the theme of the song perfectly."
"Paradigm" is Eclipse's tour de force. the crafting of the tracks on this album is superb and overall this is a killer hard rock album. If you like modern, well-played, well-produced hard rock, don't miss it.
2019 dates confirmed so far are below:
SEP 13 – Indoor Summer 2019 – Hamburg, Germany
OCT 22 TUE – Osnabrück, Germany
OCT 23 WED – Frankfurt Am Main, Germany
OCT 25 FRI – UrRock Musik Festival – Stans, Switzerland
OCT 26 SAT – Pratteln, Switzerland
OCT 27 SUN – Milano, Italy
OCT 29 TUE – Saarbrucken, Germany
OCT 30 WED – Neu-bamberg, Germany
NOV 1 FRI – Vosselaar, Belgium
NOV 2 SAT – Hilversum, Netherlands
NOV 3 SUN – Ludwigsburg, Germany
NOV 4 MON – München, Germany
NOV 5 TUE – Innsbruck, Austria
NOV 6 WED – Siegburg, Germany
NOV 8 FRI – Leipzig, Germany
NOV 9 SAT – Essen, Germany
NOV 10 SUN – Berlin, Germany
NOV 11 MON – Hamburg, Germany
NOV 12 TUE – Malmö, Sweden
DEC 20 FRI – Stockholm, Sweden
DEC 21 SAT – Goteborg, Sweden
Connect with Eclipse: