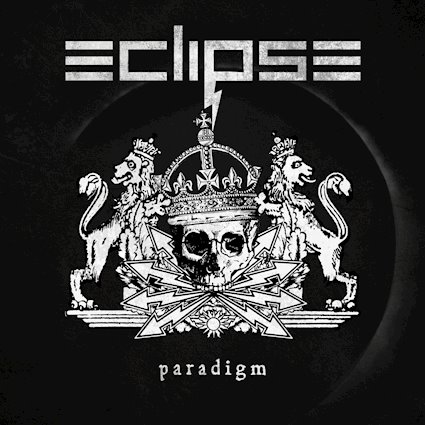 Paradigm (noun): example, pattern, an outstandingly clear archetype – Merriam-Webster
If you're a fan of guitar riffs and 'big arena' sound, check out Swedish hard rock band Eclipse's newest album, Paradigm releasing October 11, 2019 on Frontiers Music s.r.l. As vocalist and front man Erik Martensson says, "We have a whistle blowing a few seconds in on the opening tack and from there it's just full speed ahead!"
"Full speed ahead" is exactly what you get.
Paradigm is the follow up to the band's 2017 release Monumentum which reached a Top 20 spot on the official Swedish album chart. It continues the unique sound that the band has become known for: massive arena choruses over heavy guitars. Pair that up with Martensson's vocals and it's all-hands-on-deck for a ride you won't forget.
Opening track "Viva La Victoria" buries the needle and sets the speed for what's to come. Hard beats and exceptional guitars are featured throughout, but on "Mary Leigh" and "The Masquerade" they are outstanding. "Blood Wants Blood" and "Shelter Me" are a testament to Martensson's voice, talent and ability to change up his vocal style to match the emotions of the song.
Eclipse has been performing around the world since 1999, opening for groups like Aerosmith and the Scorpions. If you know them and their sound, Paradigm will give you more of what you love. If you're new to them, give it a listen and as Eclipse says, "Welcome to the party!"
Eclipse is:
Erik Mårtensson – vocals, guitars, Magnus Henriksson – guitars, Philip Crusner – drums, Magnus Ulfstedt – bass
Paradigm Track List:
Viva La Victoria
Mary Leigh
Blood Wants Blood
Shelter Me
United
Delirious
When The Winter Ends
.38 Or .44
Never Gonna Be Like You
The Masquerade
Take Me Home