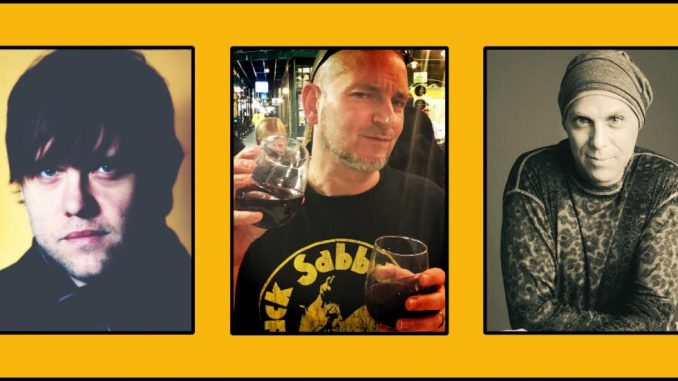 Premieres at Outburn Today
Love in Reverse's Michael Ferentino shares, "'Manifesto' was written about the dissolution of a contractual relationship such as a marriage or business partnership. Although I write from my own experiences, I like to leave my lyrical content open ended for individual interpretations."
"For the video, we wanted to go for a gritty atmosphere with a touch of sunshine and optimism. Ybor City is a historic neighborhood in my home city of Tampa, Florida with roots in the cigar industry and dates back to the late 1800s. It has that perfect mix of Latin and Italian influenced beauty and style with a healthy touch of danger and decadence."
About Love in Reverse:
By the mid-90s, Michael Ferentino and Andres Karu, the New York/New Jersey based dark electronic art rock duo known as DOG, performed and gained an impressive following in some of the most iconic NY and NJ clubs including CBGB, the Bitter End, the Stone Pony and the Limelight. DOG quickly evolved into the 3-piece indie/art rock/space rock band Love in Reverse, signed with Jon and Marsha Zazula's Crazed Management (former owners of Megaforce Records) who led the band to a lucrative deal with Warner/Reprise Records. Love in Reverse recorded three critically acclaimed albums with Warner/Reprise (two with legendary producer Russ Titelman and one mixed by Grammy Award Winner, Jason Corsaro and coproduced by NIN producer, John Fryer). In 1996 and 1997, they toured with the likes of Gravity Kills, Stabbing Westward, Republica, and the Cult's Ian Astbury. They also played several radio festivals performing with artists ranging from the Spin Doctors and Tonic to The Deftones and Joan Jett. The band's video for "I'm a Contradiction" was featured on MTV's 120 minutes and the video for "Blueprint for a Possible Song" was included on the sampler DVD for Sony's first commercially available DVD player. Love in Reverse was also featured along with Peter Frampton on the Meredith Viera ABC television news show, "Turning Point". After three albums with Warner/Reprise, Love in Reverse disbanded and evolved once more into the Amazing Meet Project, a band which has been described by Matt Pinfield of MTVs 120 Minutes as "putting the alternative in alternative rock!" During this period, Ferentino and Karu scored the Kevin Smith produced thriller "A Better Place," a realistically violent film that has become an underground cult classic. Their music was also featured in "Time of Your Life," the "Party of Five" television spin-off starring Jennifer Love Hewitt and multiple MTV specials. Among a number of positive media articles featuring the band, Rolling Stone named Love in Reverse as one of 6 new promising bands of 1996.
Over the next few years, Ferentino and Karu experimented with a myriad of projects, including the noisy lo-fi electronic garage band, Corduroy Poo-Poo, the spoken word experiment, Speak the Worms, the Diablo Project with Jai Diablo from Interscope Records sludge rock/stoner metal band, Dragpipe, and the electronic ambient/experimental outfit, Bedtime for Robots. In 2002, they teamed up with The Wonder Stuff front-man Miles Hunt for a collaboration dubbed the Miles Hunt Club. Karu also went on to become drummer and producer for the Wonder Stuff in the mid '00s while Dave Halpern played drums for multiple artists including the BeeGees. Ferentino continued with Bedtime for Robots, releasing several acclaimed albums and tracks throughout the 2010s and into the 2020s. Bedtime for Robots were featured in Fangoria Magazine and their music has been consistently featured on DOOMED Radio, Soma FM and multiple worldwide underground Internet radio shows.
In 2020, during the initial lockdown of the Coronavirus pandemic, Ferentino, Karu and Halpern put finishing touches on an album they had been secretly working on for the past couple of years and self-released the reformed Love in Reverse album, I'm an Illusion, which brought them to the attention of Ferentino's childhood friend and owner of Dada Drumming Records, an independent label from Texas which specialized in noise, sludge rock and stoner metal. Looking to expand the horizons of the label, Dada Drumming signed the band, now focusing on a return to their guitar-driven indie art rock sound. In 2021, the band put the finishing touches on their newly recorded and strongest album to date, Fake It.