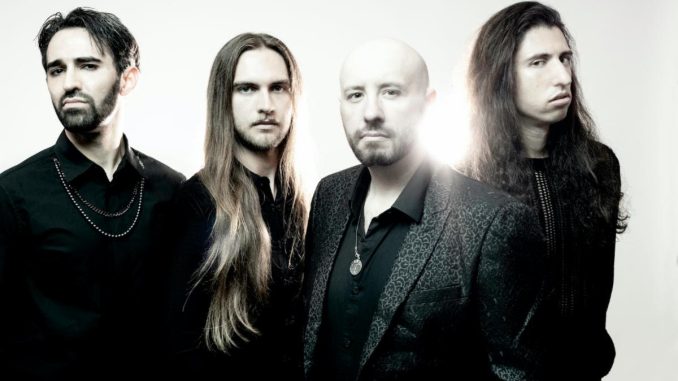 Pre-Order HERE
Title Track, Along with an Epic Video, Out Now!
Watch HERE
Album Features Collaborations with
Daniel Tompkins (Tesseract), Baard Kolstad (Leprous),
AJ Channer (Fire From The Gods), & more
Cinematic rockers EARTHSIDE have announced the release of their highly anticipated sophomore album, 'Let the Truth Speak.' due November 17th via Music Theories Recordings / Mascot Label Group. The upcoming studio full-length is the follow up to their 2015 debut, 'A Dream In Static'.

Alongside the announcement, the band has revealed the official video for the album's epic title track, which features TesseracT's Daniel Tompkins & internationally renowned vocal performer Gennady Tkachenko-Papizh.

"If truth is so important—so hallowed that we hold it as perhaps our most sacred tenet—then why do we go to such great lengths to deny it the moment it makes us uncomfortable or goes against our narrative?"

The explosive title track of the album carries a feeling of culmination—the fully unexpected but fittingly show-stopping point of arrival in the album's tumultuous pursuit of truth. A full string section—an overarching element of the record's sound—jostles with violent rhythms, eldritch scales, and the unprecedented pairing of EARTHSIDE alum and TesseracT frontman Daniel Tompkins' indomitable vocal dexterity and world-music ace Gennady Tkachenko Papizh's jaw-dropping vocalizations and cinematic wails. These elements all crescendo to an ending climax that is a unanimous favourite moment of the album for the band.

Having worked together once before on a track that would become one of the group's most popular songs, both EARTHSIDE and Daniel Tompkins had a desire to collaborate on a more adventurous piece of material that would push the limits of their creativity.

Gennady Tkachenko-Papizh is renowned across Europe as a one-of-a-kind artist having appeared on the 'Got Talent' circuit, coming to recognition through his unforgettable performance on Georgia's Got Talent. Gennady transforms his voice into everything from celestial soundscapes, to haunting Mediterranean cries and shamanic whispers.

When EARTHSIDE discovered Gennady through a particularly enlightened fan's recommendation, they wanted to be the first band in rock or metal to share his monumental gift with the world.

Watch the Official Music Video for "Let the Truth Speak"

feat. Daniel Tompkins & Gennady Tkachenko-Papizh HERE
8 long years removed from their critically show-stopping entrance 'A Dream in Static' (2015), the idealistic thinkers and feelers in EARTHSIDE found themselves in a different world entirely … or, perhaps, a world more honest and unhinged than they, and many others, had bargained for.

"This album almost destroyed our lives and friendships," keyboardist and co-orchestrator Frank Sacramone confides, "It's insanity, but it is beautiful."

"'A Dream In Static was more of an *I* album," reflects guitarist and orchestrator Jamie van Dyck, "Each of us in our own way was engaging topics of self-actualization and the fear of never quite becoming. 'Let The Truth Speak', however, turns its focus to the *We*. Within months of releasing ADIS, the global landscape had changed to where issues of far more consequence than our own individual dreams coming true were tugging at us. We became far more consumed with the trajectory of humanity as a whole than our own legacies therein."

EARTHSIDE will be playing Euroblast (Germany) and ProgPower (Netherlands) in September and October.

They have previously revealed songs from the album including "All We Ever Knew And Ever Loved" featuring Baard Kolstad (Leprous). The video won the award for Best Music Video at the United Artist International Film Festival and was selected to be screened at a number of film festivals – Horrorcon UK, UAIFF, Dam Short Film Festival, Animiest, Rhode Island International Film Festival and more.

"We Who Lament" was released late 2022 and features Keturah on vocals. It's undoubtedly one of the most infectious and immediate songs on the album, but, even as such, it still offers the engrossing sound and eventful songwriting expected of the ever-ambitious act.

'Let The Truth Speak' is truly an international affair, featuring vocalists and storytellers from all walks of life and corners of the globe.
'Let the Truth Speak' Track List:
1) But What If We're Wrong (feat. Sandbox Percussion)
2) We Who Lament (feat. Keturah)
3) Tyranny (feat. Pritam Adhikary of Aarlon)
4) Pattern Of Rebirth (feat. AJ Channer of Fire From The Gods)
5) Watching The Earth Sink
6) The Lesser Evil (feat. Larry Braggs & Sam Gendel)
7) Denial's Aria (feat. Keturah, VikKe & Duo Scorpio)
8) Vespers (feat. Gennady Tkachenko-Papizh & VikKe)
9) Let The Truth Speak (feat. Daniel Tompkins of TesseracT & Gennady Tkachenko-Papizh)
10 All We Knew And Ever Loved (feat. Baard Kolstad of Leprous)
'Let the Truth Speak' will be available in the following formats:
=> 2LP Transparent Red
=> CD
=> Digital
EARTHSIDE are:

Jamie van Dyck – Guitars, backing vocals, programming, keyboards

Ben Shanbrom – drums, backing vocals

Frank Sacramone – Keyboards, synthesizers, programming, percussion, guitar

Ryan Griffin – Bass, backing vocals

FOLLOW EARTHSIDE: