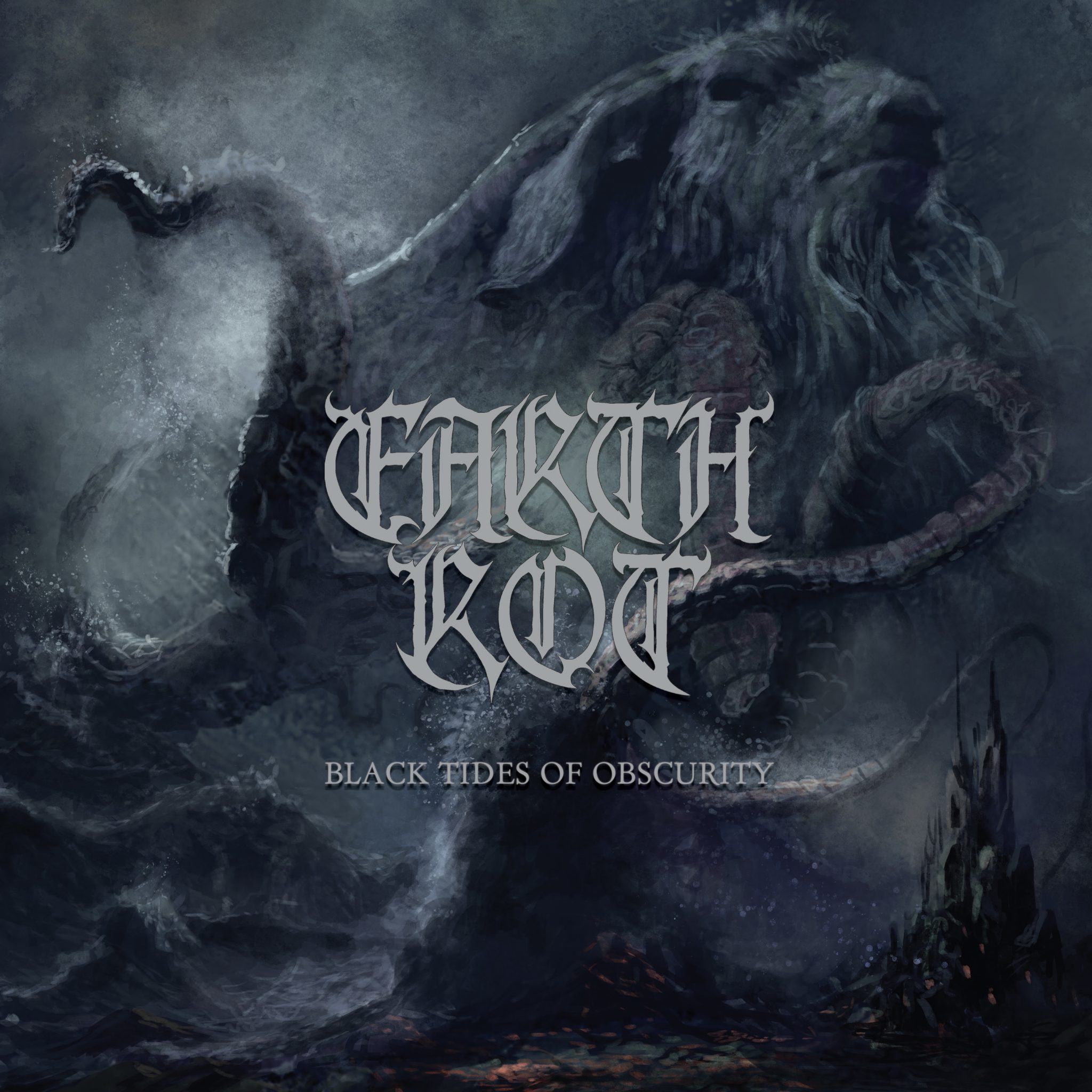 Australian blackened death metal outfit EARTH ROT has shared a brand new live video for the track "Unraveling Vapour of Sanity," which is taken from the band's latest release, 'Black Tides Of Obscurity.' The footage can be seen at THIS LOCATION.

EARTH ROT comments: "While we can't tour or even meet up to create a video, our good friend NJV Media has pieced this video together for 'Unravelling Vapour Of Sanity' from our Melbourne show of the Dread Rebirth tour in March. While we spend our isolation starving off madness, this track seems the appropriate choice."

'Black Tides of Obscurity' was released in March of 2020 and can be ordered HERE.
Earth Rot – "Unraveling Vapour of Sanity" Live Video
Track-list
1. Dread Rebirth (5:57) (
WATCH HERE
)
2. New Horns (4:14)
3. Towards A Godless Shrine (5:39)
4. Unparalleled Gateways To Higher Obliteration (5:16)
5. Ancestral Vengeance (4:21)
6. The Cape Of Storms (4:03)
7. Serpent's Ocean (4:31)
8. Mind Killer (3:29) (
WATCH HERE
)
9. Unravelling Vapour Of Sanity (5:14)
10. Out In The Cold (2:43)
Total 0:45:27

EARTH ROT release shows
:
03/06: Perth (AU) @ The Boston
03/07: Brisbane (AU) @ Crowbar
03/08: Melbourne (AU) @ Bendigo Hotel
03/09: Adeleide (AU) @ Jive Bar
It's not all prog that comes from the land down under!
EARTH ROT
is Australia's blackened death metal machine, with an old-school undercurrent and a sense of grim relentless groove. It is hateful, harmful, sinister and melancholy noise, shaped by the world around you.
Since the inception in 2014, EARTH ROT have pulled no punches, recording, releasing and touring heavily across Australia, Asia and Europe with no intent of settling for anything less. Their debut album 'Follow The Black Smoke' was released in the same year, quickly followed by the 'Chthonian Virtues' EP (2016) and a second full length 'Renascentia' in 2017.
In the years after, the band embarked on heavy tours together with acts like FLESHGOD APOCALYPSE, PSYCROPTIC, VADER and MARDUK, cultivating their sound in direct support of legends in the realms of black and death metal, around the world. The past five years has seen EARTH ROT quickly develop into a complex beast, dwelling in the deepest of pits. And this beast is ready to be released upon the masses.
With 'Black Tides of Obscurity,' EARTH ROT portray the absurdity of life and reflects life's journey which is often loaded with uncomfortable discoveries and unexplored drives & desires, contorting into spiraling madness. The new offering is letting you explore the reality of the new cosmic horror of human insignificance and the fragility of the mind…
Line-up:
Jared Bridgeman – Lead Vocals / Bass Guitar
Tom Waterhouse – Guitar / Backing Vocals
Colin Dickie – Guitar
Daniel Maloney – Drums
Recording studio:
Drums recorded at Pony Music in Melbourne (AU)
All other instruments recorded by Earth Rot in Perth (AU)
Producer/sound engineer:
Drums: Troy McCosker
All other instruments: Jared Bridgeman and Colin Dickie
Mixing/Mastering:
Mixed and mastered by Kristian Kohlmannslehner at Kohlekeller Studio in Seeheim (DE)
Guest musicians:
Spoons on "Out In The Cold" by Christopher Zibell (Taake)
Cover art: Khaos Diktator
Pre-sales: https://smarturl.it/EarthRotBlackTides
Available formats:
CD
Vinyl in various colors
For more on EARTH ROT, please visit their official WEBSITE, BANDCAMP, FACEBOOK, and INSTAGRAM.