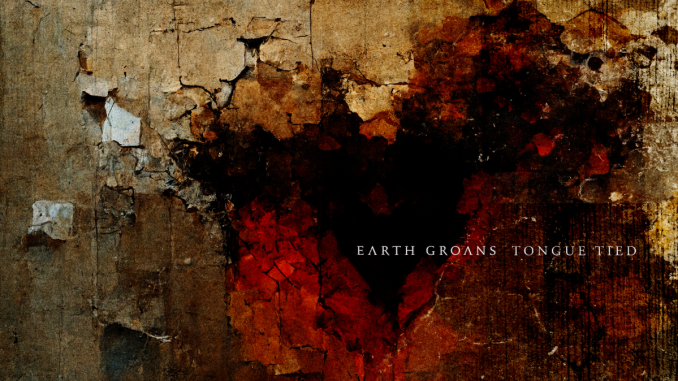 BAND SHARES "OVERGROWN" VIDEO — WATCH
South Dakota metalcore band Earth Groans will release the Tongue Tied EP on March 3 via Solid State Records. Pre-order it here.
Today, the band has shared the video for "Overgrown."
Watch the unsettling yet thought-provoking clip for this ferocious new track here.
"Sometimes our 'hell' is just the waiting room to prepare us for our 'heaven,'" the band says.
As the vision of frontman Jeremy Schaeffer, Earth Groans have tallied millions of streams and built a devout fanbase — and the project has truly found its voice with the forthcoming Tongue Tied EP. The title holds a special significance for Schaeffer, as it tells his story quite literally.

"I was actually born tongue tied," he states. "I had skin all the way up to my teeth, and I couldn't move my tongue at all. They performed the surgery right away and freed my tongue completely. Throughout my life, it has been a metaphor. I've always had a hard time fitting into the community I'm in. This whole record refers to a person finding his or her voice. I found my voice through music. It's how I've been able to communicate what's in my heart and find my true calling. My dad always said, 'Ironically, you don't talk a whole lot, but your music is really loud.'"

Earth Groans initially incited shockwaves through heavy music out of South Dakota with the Renovate EP in 2017. They buzzed out of the local scene and clawed their way into the international consciousness with the Rahab EP [2018], Prettiest of Things EP [2020], Waste EP [2020], and The Body EP [2021]. The latter gained traction on streaming platforms as the band earned plugs from HM Magazine, The PRP, Lambgoat, and many more. Along the way, they performed with the likes of August Burns Red on the popular Christmas Burns Red Festival and packed venues on tour coast-to-coast. Working with producer Ryan Leitru [For Today], Earth Groans honed their sound for 2023.
TONGUE TIED EP TRACK LISTING:
"Tongue Tied"
"Overgrown"
"Over the Edge"
"Same Blood"
"Discordant Symphony"
EARTH GROANS ON TOUR:
2/24 — Club David — Sioux Falls, SD
2/25 — Reverb Lounge — Omaha, NE
2/26 — Skylark — Rock Island, IL
2/28 — The WC Social Club — West Chicago, IL
3/1 — The Strand — Fremont, OH*
*With Convictions
WITH WOLVES AT THE GATE + CONVICTIONS:
3/2 — The L — Horseheads, NY
3/3 — The Webster — Hartford, CT
3/4 —Fete — Providence, RI
3/5 — Jewel — Manchester, NH
WITH CONVICTIONS:
3/6— Blvd Bar & Grill — Elmwood Park, NJ
3/7 — The Crown — Baltimore, MD
3/8 — HMAC — Harrisburg, PA
HEADLINE:
3/9 — Legends — Cincinnati, OH
3/10 — CBGB — St. Louis, MO
3/11 — Vivo Live Music — Kansas City, MO