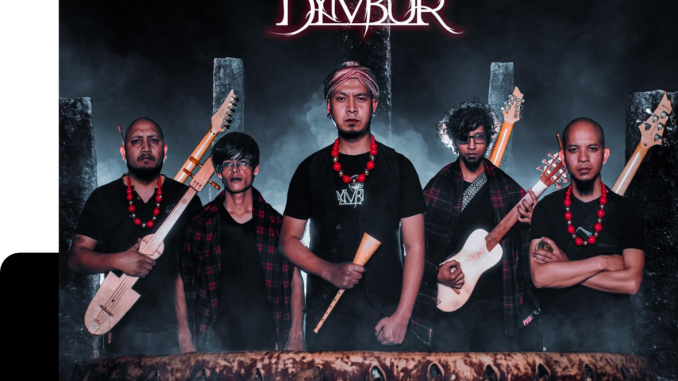 Shillong, India based, Khasi Thraat Folk Metal band DYMBUR has released the official music video for "Rape Culture". Recorded. Mixed & mastered by founder and guitarist CORNELIUS KHARSYNTIEWat Legato Recording Studio, the video for "Rape Culture" was produced by ANDREAS NATHANIAL WAR and edited by KHARSYNTIEW.
"The song 'Rape Culture' is an attempt to raise awareness on the rape crisis that is prevalent in India. With the country's capital Delhi being termed 'The Rape Capital of The Nation', DYMBUR realized that it was high time that we need to address this issue.The song also talks about victims of rape such as Nirbhaya and Asifa. Off course, the other characters in the song are fictional but were an absolute necessity.
Beside this the song also show cases Khasi Traditional Instruments (Ka Duitara, Ka Mieng, Ka Bom, Ka Shaw Shaw) indicating the band's shift towards folk metal, which we termed as 'KHASI THRAAT FOLK METAL'" – CORNELIUS KHARSYNTIEW
Purchase / Stream "Rape Culture" Online:
DYMBUR is a Folk Metal band, formed in Shillong, Meghalaya in February 2012.
"DYMBUR" is a word of KHASI origin that translates into English as "Fig Tree".
The KHASI people are an indigenous tribe, who live in the State of Meghalaya which is in the north eastern part of India. 'DYMBUR' – The fig tree symbolizing rebirth, progression and evolution, of victory after struggle, Fresh leaves from old branches forming new shapes defining one of nature's basic laws, the ability to regenerate and grow anew after a dry spell. On November 2021, Dymbur announced the band's shift towards folk metal, which we termed as 'KHASI THRAAT FOLK METAL