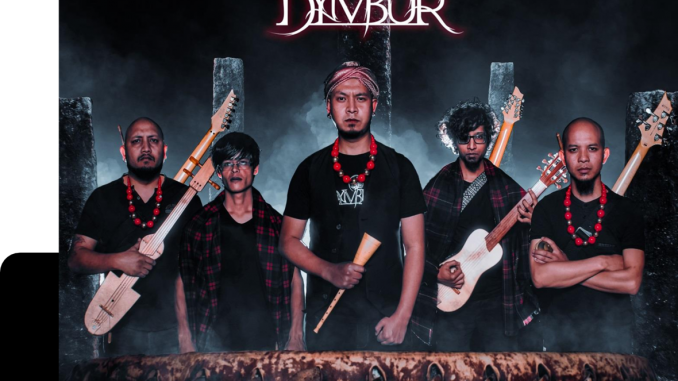 Shillong, India based, Khasi Thraat Folk Metal band DYMBUR has unleashed the intense, stunning music video for their exquisitely incisive new single, "Child Abuse." Originally premiered with GHOST CULT MAGAZINE, "Child Abuse" aims to raise awareness and needed funding to address and combat the very real and incredibly debilitating social problem.
"This song talks about the current situation in India with regards to Child Abuse. A good amount of research has been done before the lyrics were laid down and the stats and figures mentioned in the song paints a clear picture of what is happening in the country. Of course, certain lines in the song talk about Child Abuse that is prevalent in other cultures as well. Our intention here is not to point fingers at anyone but to raise awareness about Child Abuse and hopefully be able to create a behavioural change in the society."
"We not only aim to raise awareness on the topic but also to raise funds for the non-profit organization which is based in Shillong, Meghalaya, India called 'SPARK – Bringing Light to Lives' which is a self-funded organization that is in dire need of financial aid." – CORNELIUS KHARSYNTIEW
Purchase / Stream "Child Abuse" Online:
\
NATIONAL DONATIONS: Bank Name: Bank of Baroda Account Name: SPARK Bringing Light to Lives Ac No: 43580100002128 IFSC Code: BARB0LAITUM (0 IS ZERO) Branch : Laitumkhrah, Shillong, Meghalaya, India.
Email: spark.ssg10@gmail.com https://www.facebook.com/spark.lighttolives.52
INTERNATIONAL DONATIONS: PayPal account: dymbur@yahoo.com
DYMBUR is a Folk Metal band, formed in Shillong, Meghalaya in February 2012.
"DYMBUR" is a word of KHASI origin that translates into English as "Fig Tree".
The KHASI people are an indigenous tribe, who live in the State of Meghalaya which is in the north eastern part of India. 'DYMBUR' – The fig tree symbolizing rebirth, progression and evolution, of victory after struggle, Fresh leaves from old branches forming new shapes defining one of nature's basic laws, the ability to regenerate and grow anew after a dry spell. On November 2021, Dymbur announced the band's shift towards folk metal, which we termed as 'KHASI THRAAT FOLK METAL