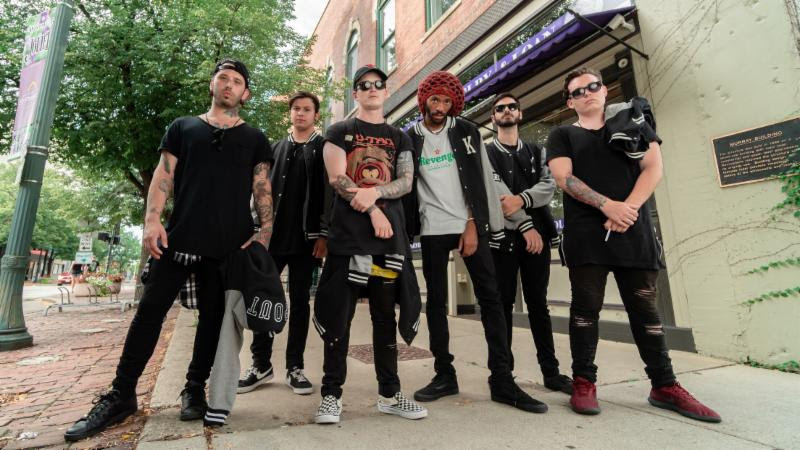 When you take a group of six degenerates from all over Arizona and put them under one roof, the results prove dangerous. After the dust settled from this eruption, out cameDROPOUT KINGS. Today, the band kicks off a two week run of dates supporting Crazy Town on their 20th anniversary tour. The tour goes from May 16th in Ashland, OR through May 31st in Las Vegas, NV. A complete list of dates can be found below.
"We just want you to come out and shake that ass this summer! We'll be on tour all summer long so you better come out and party with us #trapmetal style!" – DROPOUT KINGS
DROPOUT KINGS released their Napalm Records Debut "Audiodope" in August of 2018. Purchase the album
HERE
.
About DROPOUT KINGS:
A six-pack called DROPOUT KINGS is raging out of Phoenix, AZ, and wants to conquer the world with nu metal! Adam, Eddie, Chucky, Staig, Rob & Trevor have big plans and definitely all the skills and power to fulfill them. But before they reached their status as a phenomenal live band and got signed with Napalm Records, these young gentlemen had to struggle.
Explaining the driving force behind DROPOUT KINGS, Adam Ramey (vocals) explains, "Nu metal to me is life. It's my childhood. It's the answer and calling to my life. It's important to me and I want to keep it alive and give it a new look and appeal and a way for it to spread to a broader demographic. It's got the balls to break boundaries in genres. It showed me anything was possible musically, and the only barriers that exist in music, are the ones you put on yourself."
DROPOUT KINGS W/ Crazy Town:
May 16th – Ashland, OR @ Ashland Armory
May 18th – Spokane, WA @ The Pin
May 19th – Seattle, WA @ El Corazon
May 20th – Missoula, MT @ Monk's
May 21st – Idaho Falls, ID @ The Gem
May 22nd – Billings, MT @ Pub Station
May 23rd – Mandan, ND @ Rock Point
May 24th – Sioux Falls, SD @ Big's Sports Bar
May 25th – Racine, WI @ Route 20 Outhouse
May 26th – Kansas City, MO @ The Riot Room
May 27th – St. Louis, MO @ Fubar
May 28th – Des Moines, IA @ Lefty's Live Music
May 29th – Fort Collins, CO @ Hodi's Half Note
May 30th – Provo, UT @ Bill's Warehouse
May 31st – Las Vegas, NV @ The Rio (172)
DROPOUT KINGS Online: