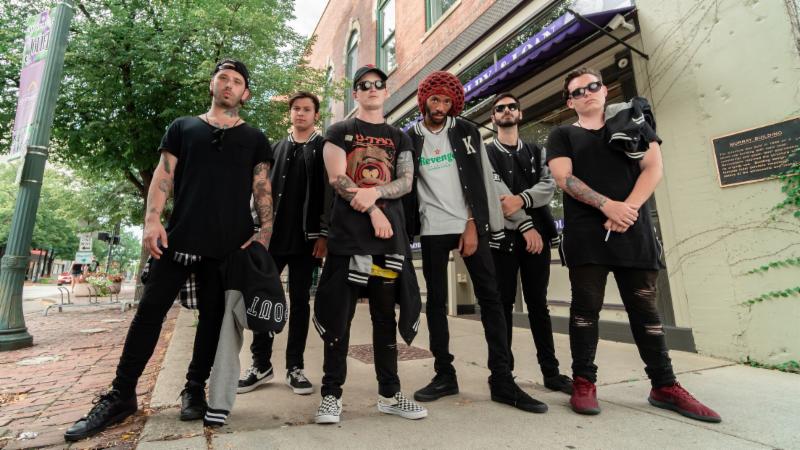 DROPOUT KINGS Drop New Video For

"Bad Day"

Kicking Off Tour with Outline in Color, Deadships and Dead Crown Next Week

"The Dropout Kings' sound amalgamates heavy metal with elements of hip-hop and alt rock… at this moment in time they pump out kick-ass music full of sonic flamboyance hard to resist." – Tattoo.com
Before they leave on their next tour, Arizona-based Trapmetal Bad Boys Dropout Kings have released a new video for the song "Bad Day," which is taken from their 2018 debut album "
Audiodope
".
Vocalist Adam Ramey on the the video and song
"The idea for this song came to me after having a shitty day at work. We always try to make our songs relatable, so I figured everyone could relate to just having one of those days. When I brought the idea to Eddie, he just went crazy with it and created this whole story of going through that whole entire shitty day and I loved it. Quickly became one of our favorites on the record. It's perfect we're dropping this track before our upcoming tour with Outline In Color, DeadShips, and Dead Crown, because it perfectly personifies what this whole adventure is all about for us; living your dreams and saying fuck a 9-5. Music is our job. So we thought it'd be perfect to drop this right before we leave. We hope it inspires others to follow what they really want to do, as well. "
Dropout Kings are returning to the road beginning February 19th alongside Outline in Color, Deadships and Dead Crown. A complete list of dates can be found below.
"We're really stoked to hit the road with all the guys in Outline In Color, Deadships, and Dead Crown. We can't wait to rock some faces and meet a bunch of people. Come hang out with us and chop it up with us at one of these gigs! We have a lot planned for this year in the works, so expect a lot! Stop sleepin' on ya boys! Stay updated and follow us on our socials! We want to be on the road, we want to be making music. So seriously, come chill," says the band of the upcoming tour.
DROPOUT KINGS W/Outline in Color, Deadships and Dead Crown:
2/19: Seattle, WA @ Funhouse
2/20: Portland, OR @ Paris Theatre
2/22: Sacramento, CA @ The Colony
2/23: Anaheim, CA @ Chain Reaction
2/26: Scottsdale, AZ @ Pub Rock Live
2/27: Salt Lake City, UT @ The Loading Dock
2/28: Grand Junction, CO @ Mesa Theater
3/1: Oklahoma City, OK @ 89th Street Collective
3/3: Tulsa, OK @ The Vanguard
DROPOUT KINGS are:
Adam Ramey – Vocals
Eddie Wellz – Vocals
Chucky Guzman – Guitar
Staig Flynn – Guitar
Rob Sebastian – Bass
Trevor Norgren – Drums
For More Info On DROPOUT KINGS visit:
www.dropoutkingsmusic.com
www.facebook.com/DropoutKingsAZ
www.twitter.com/dropoutkingsaz
www.instagram.com/dropoutkingsaz
www.napalmrecords.com