Dropkick Murphys' new single and video "Ten Times More," from their forthcoming This Machine Still Kills Fascists, are out now. This Machine Still Kills Fascists will be released digitally and on CD September 30 via the band's Dummy Luck Music / [PIAS], with a special edition vinyl out November 11. TMSKF is unlike anything Dropkick Murphys have done to date: A full album of songs that bring Woody Guthrie's words to life. Not a tribute album or a collection of covers, This Machine Still Kills Fascistsis a collaboration between Dropkick Murphys and Woody Guthrie – artists separated by time and space, but connected by a common philosophy – to create something entirely new.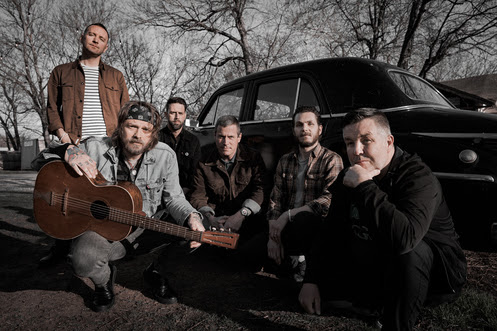 Armed with nothing but percussion, a harmonica, and their own voices, Dropkick Murphys take on Woody Guthrie's battle cry for the downtrodden, the oppressed, and the working man, evoking a military cadence with the song's call-and-response delivery. The music and melody for "Ten Times More" were written, arranged and recorded by Dropkick Murphys on the spot. That's right: The band used the original demo take for the album. Extra stomp tracks, harmonica and backing vocals were added in the studio – but the drums, majority of the stomping, shaker, lead and backup vocals were a one-and-done. The band loved the organic feel they captured on that take and didn't want to mess with it.
The fittingly austere video for "Ten Times More" features grainy footage of the band stomping and clapping their way through the song, with fleeting cameos from effigies of some of America's foremost labor opponents, swindlers, and modern day fascists.
Watch the video for "Ten Times More" here: https://youtu.be/PNh6JFcASZc
Find the single here: https://dropkick-murphys.ffm.to/tentimesmore