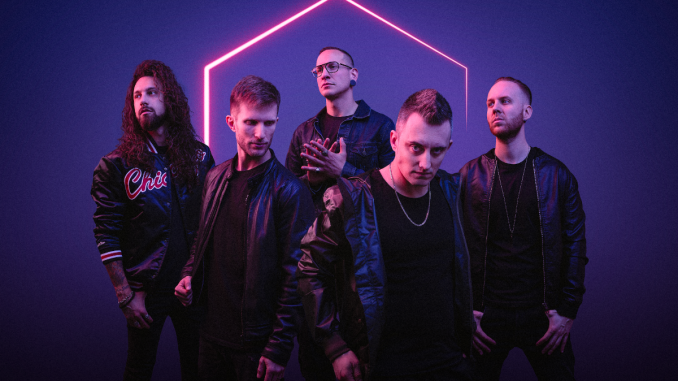 "The new single 'RISE' is one of our strongest songs ever, in my opinion," says guitarist/vocalist Fernando "Fella" Di Cicco. "With a face-melting opening riff and an epic chorus, this song will take listeners on a wild ride and show them a heavier and darker side of Dreamshade. We always love to try and add new elements to our discography and this song came so naturally. We wanted a track that could add some 'spice' to our live setlist when needed — and this is it! The tune is about fighting all kinds of oppression and embracing the fact that it's okay to be different in a world of clichés."
Dreamshade will appear at Greenfield Festival in Switzerland and at Metal Capital Festival in Finland this year.
ABOUT DREAMSHADE:
Formed in 2006 in Lugano, Switzerland, Dreamshade has always crafted a mix of melody, heaviness, and uplifting lyrics gaining the attention of the modern rock, metal, and hardcore scenes. 
After the release of their EP To the Edge of Reality in 2008, Dreamshade signed to Universal Music/Spinefarm Records and then released the albums What Silence Hides in 2011 and The Gift of Life in 2013, which features "Consumed Future," "Photographs," and "Your Voice." The band toured continuously and touched four continents: Europe, North America, Asia, and Africa, gaining thousands of fans all over the world.  In 2015, the band released Dreamers Don't Sleep. Dreamshade signed with Artery Recordings in 2016 and released Vibrant, with songs like "Where My Heart Belongs," "Up All Night," and "It's Over" that feature wide-ranging influences and styles. Dreamshade embarked on a headliner tour through all of Europe and Asia — with many of the shows sold out.
Question Everything was released in January 2019, and the band hit the road on a world tour through Europe with DON BROCO and Emarosa, and through South Africa and Asia as headliners.
The most recent album A Pale Blue Dot was released in March 2021 and features memorable jams such as "Stone Cold Digital," "Shanghai Nights," and "Safe Harbour."