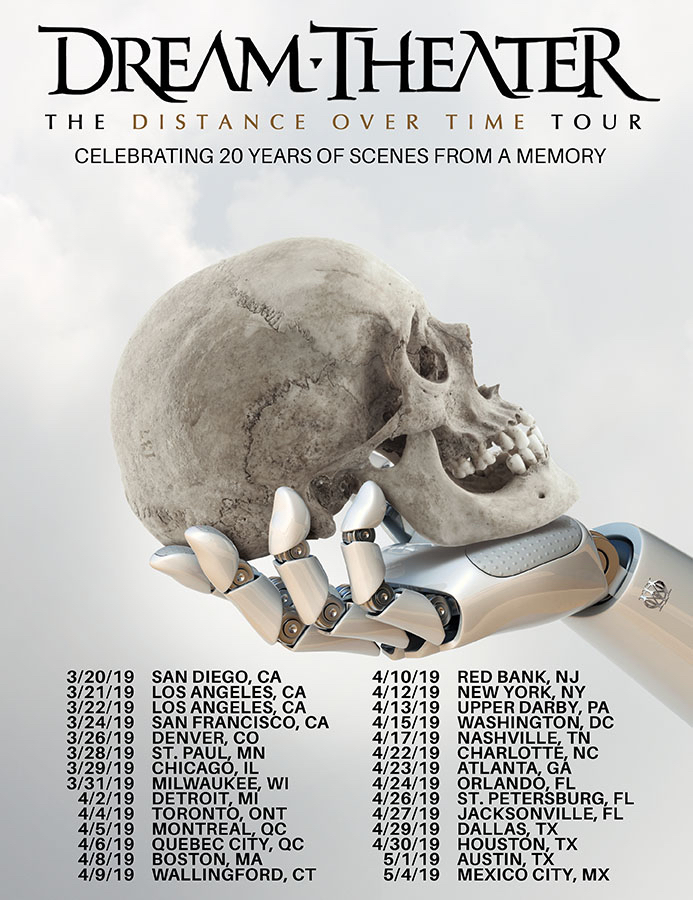 DREAM THEATER RELEASE SECOND TRACK
"FALL INTO THE LIGHT" FROM THEIR
14th STUDIO ALBUM DISTANCE OVER TIME
NEW ALBUM SCHEDULED FOR WORLDWIDE RELEASE ON FEBRUARY 22, 2019 NOW AVAILABLE FOR PRE-ORDER AT
https://dream-theater.lnk.to/DistanceOverTime
Band To Embark on The Distance Over Time Tour
of North America Beginning March 2019
Two-time Grammy-nominated and millions-selling progressive music titans Dream Theater have released another song from their recently announced 14th studio album, Distance Over Time. "Fall Into The Light" is the second new song from the album slated for worldwide release on February 22, 2019. The new song builds upon the excitement that the band created in December with the release of the first track from Distance Over Time, "Untethered Angel," that has been viewed over 1.5 million times in 4 weeks since its release. "Fall Into The Light" is a riff-driven, epic musical experience that takes the listener on a 7-minute emotional journey, something Dream Theater does all too well. The video for "Fall Into The Light" can be seen here: https://youtu.be/JFxH4kky6z4.
"'Fall Into The Light' is about the quest towards enlightenment that exists in life," explains bassist John Myung. "It is more about the underlying themes of life's journey and less about what happens once you get there. It is a song of introspection; about looking inside to find your individual happiness."
Distance Over Time showcases a newfound creativity for Dream Theater while maintaining the elements that have garnered them devoted fans around the globe. The album also marks the first for the band's new label InsideOutMusic / Sony Music. The artwork was created by long-time cover collaborator Hugh Syme (Rush, Iron Maiden, Stone Sour). Distance Over Time was produced by John Petrucci, mixed by Ben Grosse and mastered by Tom Baker. The latest addition to Dream Theater's impressive catalog is now available for pre-order in various configurations at: https://dream-theater.lnk.to/DistanceOverTime. Distance Over Time will be available as: Standard CD Jewel Case, Special Edition Digipak (incl. 1 bonus track), 180g Gatefold 2LP Edition (incl. 1 bonus track, an 8-page-LP-booklet & the entire album on CD), Ltd. Edition Artbook (incl. 1 bonus track, 5.1 mix with video animations, instrumental mixes & high res files of the album, stems for "Untethered Angel", extended liner notes, additional artwork incl. photos from the writing session and additional video content), as Deluxe Collector's Box Set (incl. lenticular cover card, Artbook, 180g 2 LP Gatefold Edition with exclusive artwork and exclusive white vinyl, exclusive picture 7", 60 x 60 cm poster, 10 art cards, slipmat, patch, pin and a hand-numbered certificate of authenticity) and as Digital Album (incl. 1 bonus track).
The tracklisting for Distance Over Time is:
| | | |
| --- | --- | --- |
| 1 | Untethered Angel | 06:14 |
| 2 | Paralyzed | 04:17 |
| 3 | Fall Into The Light | 07:04 |
| 4 | Barstool Warrior | 06:43 |
| 5 | Room 137 | 04:23 |
| 6 | S2N | 06:21 |
| 7 | At Wit's End | 09:20 |
| 8 | Out Of Reach | 04:04 |
| 9 | Pale Blue Dot | 08:25 |
| 10 | Viper King (Bonus Track) | 04:00 |
Dream Theater is also planning to hit the road in support of the new album. The Distance Over Time Tour of North America kicks off on March 20, 2019 in San Diego, CA. The tour will run for seven weeks before wrapping up in Mexico City on May 4, 2019. Select European festival dates for the summer are already announced with more dates being added and announced in the near future. Information on tickets for all upcoming shows as well as VIP packages can be found at www.dreamtheater.net.
Progressive metal pioneers Dream Theater— James LaBrie (Vocals), John Petrucci (Guitars), Jordan Rudess (Keyboards), John Myung (Bass), and Mike Mangini (Drums)— share a unique bond with one of the most passionate fan bases around the globe as evidenced by their two GRAMMY® Award nominations and 15 million records sold worldwide. The 1992 opus Images & Words received a gold certification and landed on Rolling Stone's coveted "100 Greatest Metal Albums of All-Time." Guitar Worldplaced the follow-up Awake at #1 on "Superunknown: 50 Iconic Albums That Defined 1994." 1996's A Change of Seasons notably soundtracked NBC's coverage of Downhill Skiing at the 2002 Winter Olympics. Fans voted the 1999 Metropolis Pt. 2: Scenes from a Memory the "Number One All-Time Progressive Rock Album" in a 2012Rolling Stone poll. Not to mention, it ranked as the "15th Greatest Concept Album" by Classic Rock.  2009 saw Black Clouds & Silver Linings crash the Billboard Top 200 at #6 as A Dramatic Turn of Events [2011] and Dream Theater [2013] maintained a three-peat in the chart's Top 10. Consequence of Sound dubbed 2016's The Astonishing, "An absolutely unique experience."  Beyond three platinum and two gold videos, the group was inducted into the Long Island Music Hall of Fame in 2010. On its 14th full-length and first release for InsideOutMusic / Sony Music, Distance Over Time, the band recharge the brotherhood that has kept them creating music together for over 30 years. It's Dream Theater at their most dynamic, direct, and definitive.
Find Dream Theater online:
https://www.facebook.com/dreamtheater
http://twitter.com/dreamtheaternet