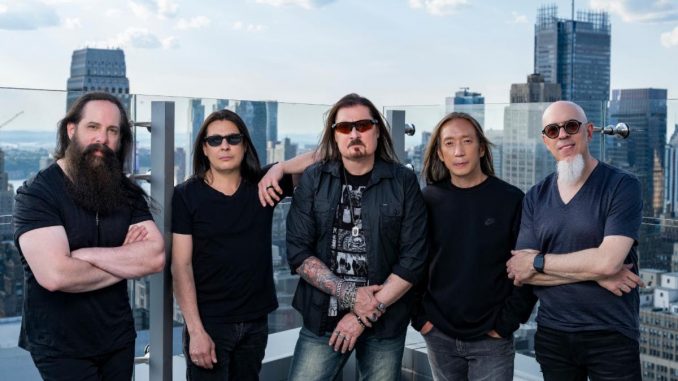 BAND'S 15th STUDIO ALBUM NOW AVAILABLE EVERYWHERE
(New York, NY) – With the recent release of the band's 15
th
studio album to critical and fan acclaim, Dream Theater are releasing another music video from A View From The Top Of The World. The video for "Awaken The Master" is a frenetic, high-definition CGI marvel from long-time collaborator Wayne Joyner. Continuing to challenge themselves as musicians, "Awaken The Master" marks the first recorded use of an eight-string guitar by John Petrucci. The track was the last one recorded for the album and clocks in at an impressive 9:47 – making it the 3
rd
longest song on A View From The Top Of The World. The video for "Awaken The Master" can be seen here:
https://youtu.be/zeOkeoXyt-4
.
"It's the last song we wrote. It's also the first time I've used my eight-string guitar, which was fun for me. Back in the day when we were writing Awake, I'd always wanted to play a seven-string. So, I ordered myself one. I wanted to be inspired again by the instrument without any pre-conception. I used it, and I wrote in my style on the eight-string. It was actually a prototype! 'Awaken The Master' purposefully starts with guitar only. John Myung wrote the lyrics. Recently, I heard him say, 'The master was your heart'. He was referring to awakening your heart. It's one of the heavier songs on the record due to the range of the instrument," explains John Petrucci.
Dream Theater's A View From The Top Of The World was released to worldwide acclaim on October 22
nd
. The album shot to #1 on the iTunes Store Top Albums Metal chart, #1 on the Top Rock Albums and even reached #4 on All Genres iTunes Top Albums on release day. The new release hit #2 on the Amazon Best Sellers in Rock (CD format) only to be topped by The Beatles reissue of Let It Be. The band recently released an in-depth, 3-part docuseries hosted by ProgReport Editor In Chief Roie Avin about the making of A View From The Top Of The World. Part 1 can be seen here:
https://youtu.be/vCoiAWQigP4
. Part 2 can be seen here:
https://youtu.be/WDlJvggvZKY
and Part 3 was just released and can be see here:
https://youtu.be/sOhNEdLxj24
. Also, an animated video for album opener "The Alien" (
https://youtu.be/V462IsOV3js
) as well as a video for the first official single "Invisible Monster" (
https://youtu.be/s0Wmg7Tq4Pk
) have been released. The album is now available everywhere music is sold and streamed and is also available for order here:
https://dream-theater.lnk.to/AViewFromTheTopOfTheWorld
.
Dream Theater – comprised of James LaBrie, John Petrucci, Jordan Rudess, John Myung and Mike Mangini – was in the middle of a sold-out world tour in support of their last release Distance Over Time and the 20th anniversary of Scenes From A Memory when a Global Pandemic brought the world to a stop. The musicians found themselves at home with LaBrie in Canada and the rest of the group in the States. As fate would have it, they'd just finished construction on DTHQ (Dream Theater Headquarters) —a combination live recording studio, rehearsal space, control room, equipment storage, and creative hive. With LaBrie in Canada, he initially wrote with the band via ZOOM on a monitor in DTHQ. In March 2021, he flew down to New York, quarantined, and recorded his vocals face-to-face with Petrucci. The album ultimately threaded together lean and uncompromising hooks with tried-and-true technical proficiency. A View From The Top Of The World was produced by John Petrucci, engineered and additional production by James "Jimmy T" Meslin and mixed/mastered by Andy Sneap.
L to R: John Petrucci, Mike Mangini, James LaBrie, John Myung, Jordan Rudess
Photo Credit: Rayon Richards
About Dream Theater:
Progressive metal pioneers Dream Theater— James LaBrie (Vocals), John Petrucci (Guitars), Jordan Rudess (Keyboards), John Myung (Bass), and Mike Mangini (Drums) — share a unique bond with one of the most passionate fan bases around the globe as evidenced by their two GRAMMY® Award nominations and 15 million records sold worldwide. The 1992 opus Images & Words received a gold certification and landed on Rolling Stone's coveted "100 Greatest Metal Albums of All-Time." Guitar World placed the follow-up Awake at #1 on "Superunknown: 50 Iconic Albums That Defined 1994." 1996's A Change of Seasons notably soundtracked NBC's coverage of Downhill Skiing at the 2002 Winter Olympics. Fans voted the 1999 Metropolis Pt. 2: Scenes from a Memory the "Number One All-Time Progressive Rock Album" in a 2012 Rolling Stone poll. Not to mention, it ranked as the "15th Greatest Concept Album" by Classic Rock. 2009 saw Black Clouds & Silver Linings crash the Billboard Top 200 at #6 as A Dramatic Turn of Events [2011] and Dream Theater [2013] maintained a three-peat in the chart's Top 10. Consequence of Sounddubbed 2016's The Astonishing, "An absolutely unique experience." Beyond three platinum and two gold videos, the group was inducted into the Long Island Music Hall of Fame in 2010. In 2019, the band continued to expand its audience when they released Distance Over Time to critical and commercial acclaim. On their 15th full-length and second studio release for InsideOutMusic / Sony Music, A View From The Top Of The World the band continue to challenge themselves and push their musical envelope – something they have done for over 30 years performing together.
Find Dream Theater online: