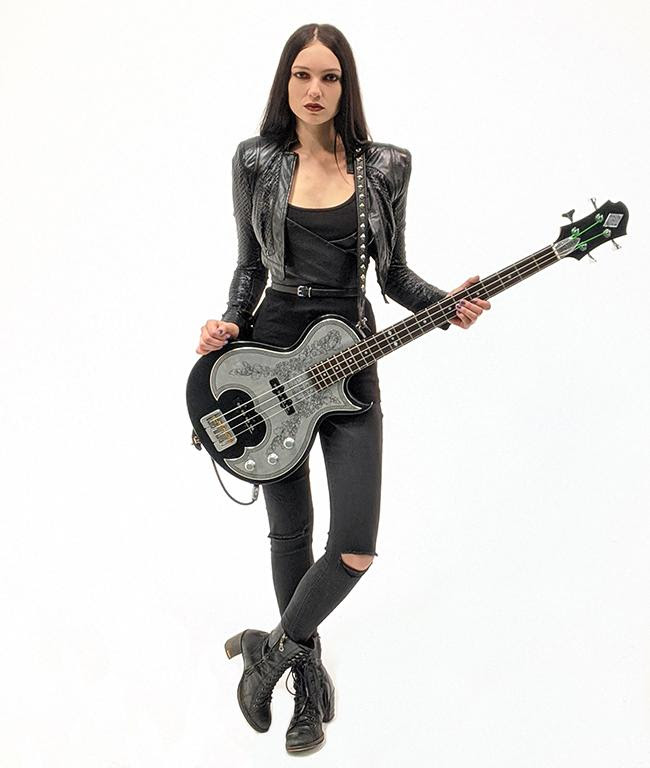 DRAGONFORCE Announces US Headlining Trek With Unleash The Archers And Visions Of Atlantis; Alicia Vigil (Vigil Of War) To Handle Bass/Backing Vocals On Upcoming Tours
This past September,
DRAGONFORCE
unleashed their eighth full-length,
Extreme Power Metal
, via Metal Blade Records. In support of its release, the band will head out on the road next month in Europe, before touring the US with Unleash The Archers and Visions Of Atlantis. Both of these treks will see Alicia Vigil (Vigil Of War) handling bass and backing vocals for the band.
Vigil comments, "So beyond stoked that DRAGONFORCE chose me to be a part of this! I can't wait to travel the world and play these new cities with them and be a part of their legacy."
Adds DRAGONFORCE guitarist Herman Li, "Alicia was recommended to me by a number of musician friends in LA. She impressed me with her playing, her professionalism, and her ability to learn the DRAGONFORCE songs really quickly! I'm excited to have her playing on this tour and I think the fans will really like what she brings to the show."
DRAGONFORCE
will be streaming their world tour live on
twitch.tv/hermanli
. Livestreams will include performances, backstage footage, and special guest appearances. See all confirmed dates below.
DRAGONFORCE EU Tour – Level 1 w/ Frozen Crown, Athanasia:
2/03/2020 Zappa – Anthwerp, BE
2/04/2020 Tivoli Vredenburg – Utrecht, NL *Sold Out
2/05/2020 013 – Tilburg, NL *Sold Out
2/06/2020 Essigrabrik – Cologne, DE
2/07/2020 Substage – Karlsruhe, DE
2/08/2020 La Laiterie – Strasbourg, FR
2/09/2020 CCO – Lyon, France *Sold Out
2/11/2020 La Machine du Moulin Rouge – Paris, FR
2/12/2020 Krakatoa Club – Bordeaux, FR
2/13/2020 Metronum – Toulouse, FR
2/14/2020 L'Usine – Istres (Marseille), FR
2/15/2020 Konzertfabrick Z7 – Pratteln, CH
2/16/2020 Les Docks – Lausanne, CH
US Tour – Mission 2 w/ Unleash The Archers, Visions Of Atlantis:
3/05/2020 Club Red – Phoenix, AZ
3/06/2020 The Regent – Los Angeles, CA
3/08/2020 The Regency Theater – San Francisco, CA
3/10/2020 Metro Music Hall – Salt Lake City, UT
3/11/2020 Oriental Theater – Denver, CO
3/13/2020 Fine Line – Minneapolis, MN **
3/14/2020 Red Flag – St. Louis, MO **
3/15/2020 House Of Blues – Chicago, IL
3/17/2020 The Agora – Cleveland, OH
3/18/2020 St. Andrews Hall – Detroit, MI
3/19/2020 Roxian Theatre – Pittsburgh, PA
3/20/2020 The Palladium – Worcester, MA
3/21/2020 Warsaw – Brooklyn, NY
** = no Visions Of Atlantis
w/ Hammerfall:
3/24/2020 Posten – Odense, DK
3/25/2020 Train – Arhus, DK
3/26/2020 Amager Bio – Copenhagen, DK
3/27/2020 Partille Arena – Partille, SE
3/28/2020 Annexet – Stockholm, SE
Festivals
5/16/2020 Pulp Summer Slam – Manila, PH
6/26-27/2020 Rock Am Härtsfeldsee – Dischingen, DE
7/02-04/2020
Rock Fest – Barcelona, ES
7/16-18/2020 Bang Your Head – Balingen, DE
Produced in Los Angeles, California by Damien Rainaud at Mix Unlimited,
DRAGONFORCE
's
Extreme Power Metal
was also recorded, in part, on guitarist Herman Li's livestream channel on Twitch (
twitch.tv/hermanli
) with participation from fans.
Known as the fastest band in the world, the Grammy-nominated act is based in London, England. Their platinum-selling record, Through The Fire And Flames, brought them international acclaim and was featured as the most-challenging song on Guitar Hero III. Their energetic and humorous live performances have won them fans on every continent.
The group is known for their long, complex, and fast guitar solos performed by Herman Li and Sam Totman, who founded the band after meeting through a classified ad in 1999. Since then, the band has released seven studio albums, including Valley Of The Damned (2003), Sonic Firestorm (2004), Inhuman Rampage (2006), Ultra Beatdown (2008), The Power Within (2012), Maximum Overload(2014), and Reaching Into Infinity (2017). 2019 brought with it the next chapter in DRAGONFORCEhistory: Extreme Power Metal!
Regarding Extreme Power Metal, Li says, "This album again combines the best of DRAGONFORCE in an even bigger, more epic way than we have ever done before. We are so excited for fans to hear it!" The keyboards of the new album were performed by Coen Janssen of symphonic metal titan Epica, adding a new dimension to the album. Notes Totman, "We worked really closely with Coen on this new album. We are so happy with what he has brought into this new album. Every fan will be so happy to hear his majestic playing."
Drawing from a wide range of influences, the band's sound combines the sing-a-long choruses of classic '80s rock with triumphant, uplifting melodies and fantasy-themed power-metal-inspired lyrics. As a nod to their passion for all things video-game related, the band frequently incorporates retro game sounds and melodies into their recordings and live shows. To preview and purchase
Extreme Power Metal
visit
metalblade.com/dragonforce
.