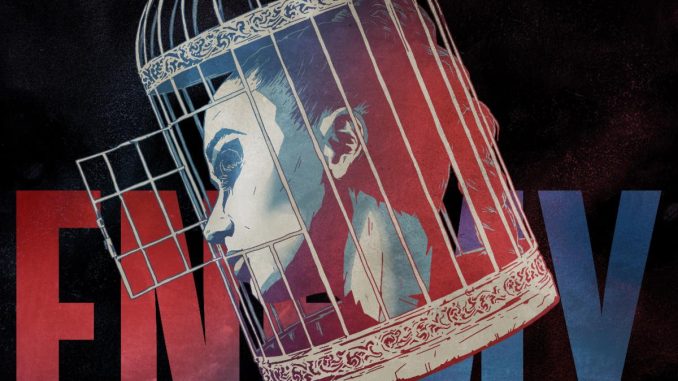 Watch The Music Video HERE
Norwegian rockers DJERV have returned with a powerful new track titled "Enemy". The band's latest offering delivers a dark and heavy sound that fans will recognize from the band's earlier music, while also bringing an important message, as best explained by vocalist Agnete Kjølsrud, "'Enemy' is about facing your own demons. About learning and accepting who you are, and eventually embracing it."

Musically, Djerv once again embrace their heavier side and return to their roots. Drummer Erlend Gjerde states, "It was a lot of fun to explore our more rock-ish side on Throne and WDHNM, but it feels great returning to the dark side. 'Enemy' is a straight-up metal song with a '90s twist on top. Takes me back. It was so much fun writing and recording it"

Djerv rose to fame in 2010, after their self-titled debut album hit the charts in Norway. After multiple tours, the band went under the radar, and it wasn't until 2019 that the band returned to the live scene.

The band has also released a new music video for "Enemy", which can be found below!
DJERV – "Enemy" (Official Video)
ABOUT DJERV:

Djerv entered the international rock and metal scene in 2011, and their self-titled debut album still impresses in 2022. Engineered by Daniel Bergstrand (Meshuggah, In Flames) and mixed by Matt Hyde (Deftones, No Doubt) the album received critical acclaim with 9/10 in Sweden Rock Magazine, and Rock Tribune.

The metal bible Metal Hammer UK gave it a solid 8/10 and said:

"Agnete Kjølsrud's the star of the show, her vocals could take paint off your dad's car!".

After only two days on sale, the debut album crashed into the official Norwegian sales charts at an impressive #8. They were also the highest newcomer and #3 on Norwegian Artist Charts.

The band members in Djerv spawned out of Trelldom, Animal Alpha, and Stonegard, and they pulled strings from their previous bands, but still added something new. The sound is different, and can be described as dangerously catchy aggressive rock wrapped in a black metal veil.

During the next years, the band toured heavily, with Ministry amongst others, and established themselves in the European rock and metal scene. Djerv performed at festivals like Hellfest (FR), Wacken (DE), Eurosonic (NL), Tons of Rock (NO) Rock Hartz (DE) and Inferno (NO) to name a few.

Combined with heavy touring and music releases Djerv also work with some memorable collaborations. In 2010, vocalist Agnete Kjølsrud did vocals on Dimmu Borgir's "Gateways", a track that in 2022 has over 12 million streams. In 2013 Djerv released the track "Get Jinxed" together with League of Legends / Riot games, and in 2022 this track has over 200 million streams across platforms.

The band went under the radar for some years after this, and in 2019 they had their long-awaited comeback at the Tons of Rock festival in Norway. In 2020, they released new music after nine long years, and in 2021/22 they toured with Vreid and played at festivals like Inferno Metal Meeting (NO) and Summer Breeze Open Air (DE) to mention some.

Now they are ready with new music, and on December 8th the first single of an upcoming album will be unleashed.
DJERV IS:

Agnete Kjølsrud

Erlend Gjerde