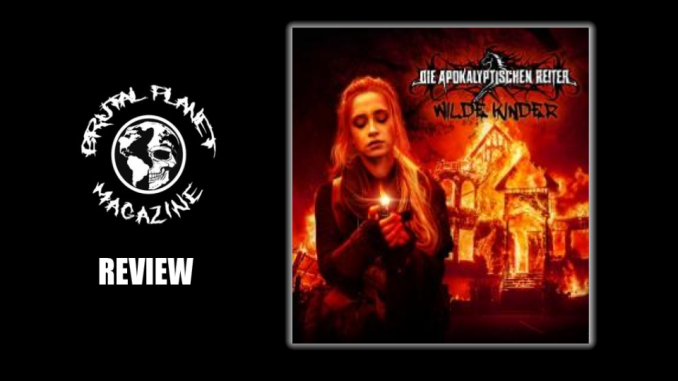 I've been reviewing albums for several years now, but this is my first one where I review an album that features no English lyrics whatsoever. Since most of my readers are probably English speakers, I will translate when needed. Die Apokalyptischen Reiter (The Apocalyptic Riders) is a German metal band that was founded in 1995. Since that time, they have released eleven full-length albums, three EPs, and three DVDs. Now, they will be releasing their twelfth album, "Wilde Kinder" (Wild Children) on April 22 through Nuclear Blast Records. The band consists of Daniel Taumel- lead vocals, rhythm guitar, Volkmar Weber- bass, screaming vocals, Mark Szakul- keyboards, Georg Lenhardt- drums, and Adrian Vogel- lead guitar.


I'm ashamed to say that I had never heard of this band until this album fell into my hands. Because of this, I am unable to compare it to the band's extensive discography, but as a stand-alone impression, I think it is great! The album starts off with "Von Freiheit will ich singen," (I Want to Sing About Freedom). At my first listen, this song deceived me a bit- it's fast and punishing. I was thinking that maybe the Die Apokalyptischen Reiter was more of a thrash band, but only a couple of other songs on this album match the intensity of this opening track. The second track, "Volle Kraft" (Full Power) seemed to grab me a bit more. It reminded me a lot of another German band I've been listening to for years- Eisbrecher. Volle Kraft was released as the band's first single last December and the official music video has had nearly two hundred thousand views on YouTube. It's extremely catchy and you will have the chorus stuck in your head after one listen, even if you don't know German.


The band released two singles this year as well. The title track, "Wilde Kinder" (Wild Children) is another one of the more aggressive songs on the album. It features catchy riffs and thundering drums. One of the repeating riffs is similar to Metallica's song, "One," but who would really complain about that? The band's latest single, "Euer Gott Ist der Tod" (Your God is Death) is a unique song. It starts out with choral voices but soon kicks into music that is reminiscent of extreme metal. The vocals are creepy and the official music video is dark and provocative.

As is with many album releases, the singles are great, but some of the deep tracks are the ones that show off the incredible talent of the band. "Alles ist gut" (All is Good) is a solid hard rock song that I have had on repeat the last couple of weeks. "Leinen Los" (Cast Off) has a slower tempo and more clean singing than some of the other tracks, but still remains dark and heavy. "Blau" (Blue) starts out with acoustic-sounding guitars and what possibly sounds like a flute in the background. It is not a bad song and adds dynamic to the album, but it is quite different and the one that got the least amount of plays. "Der Eisenhans" (The Iron Hans) takes the listener on an aural journey through whispered vocals to demonic growls and everything in between.
"Nur Frohen Mutes" (Only Good Cheer) is a fast-paced, feel-good song that is sure to pick your spirits up if you are down. The last track is "Ich bin ein Mensch" (I Am the Human). This is probably my favorite song on the album. It features great riffs with tribal-like drumming. To my American ears, the deep vocals and rolling "R" in the lyrics on this song make it sound the most German, which is exactly what I like. All in all, this is a great album and I wish I had discovered Die Apokalyptischen Reiter much earlier on. "Wilde Kinder" is wonderfully savage. If you like German metal, don't miss this album!