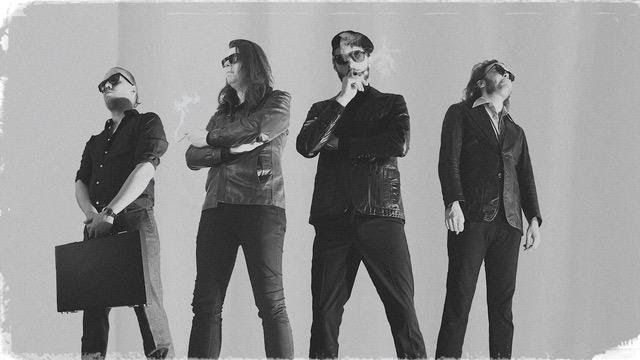 Sweden's Dictator Ship are back with their explosive new single "Sorry State". A dynamic and raw rock 'n' rock track with rhythmical variations, vocal harmonies, and melodies that stick. The new track is tied together by the same retro-inspired, live-recorded sound that could be heard on the band's 2020 debut album 'Your Favorites'. The band comments on their new single:
"'Sorry State' is a song about the blues, infidelity, and abuse. About losing what you believe is the only thing in your life that makes you as a person worth a damn."
"Sorry State" is out now on all streaming platforms via The Sign Records.
Dictator Ship – "Sorry State" (Audio)
About DICTATOR SHIP:
Dictator Ship is a direct and immediate outburst in raw and primitive Rock'N'Roll, accompanied by the supreme vocal set up from the soul bands of the '60s. The sound has a short and direct approach that seems almost impossible to contain, like a wild animal in a cage – as if The Saints met up with The Four Tops. It is a constant fistfight between the greatness of the '70s and the '60s. Dictator Ship is the prime and natural energy source that the world has been searching for. Hook up the power net and let the world enjoy! So begins the story of the band now known as Dictator Ship…
The foundation of the band is the harmonies in the vocals and the feedback from the amps, backed by the most intense drumming – almost impossible to comprehend – and the aggressive hammering on the bass. Dictator Ship released their debut album "Your Favorites" in April 2020 on The Sign Records. The album was praised by both fans and the media. UK's Classic Rock Magazine described it as "An astounding live-in-studio debut from a raw twin-guitar-fronted quartet of Swedes, all of whom double on vocals, channeling the MC5's explosive, action-rock remodel of 60s soul".
Line-up:
Petter Heinemann – Vocals and Guitar
John Sijbren Leonard – Vocals and Guitar
Viktor Henriksson – Vocals and Drums
David Ericsson – Vocals and Bass