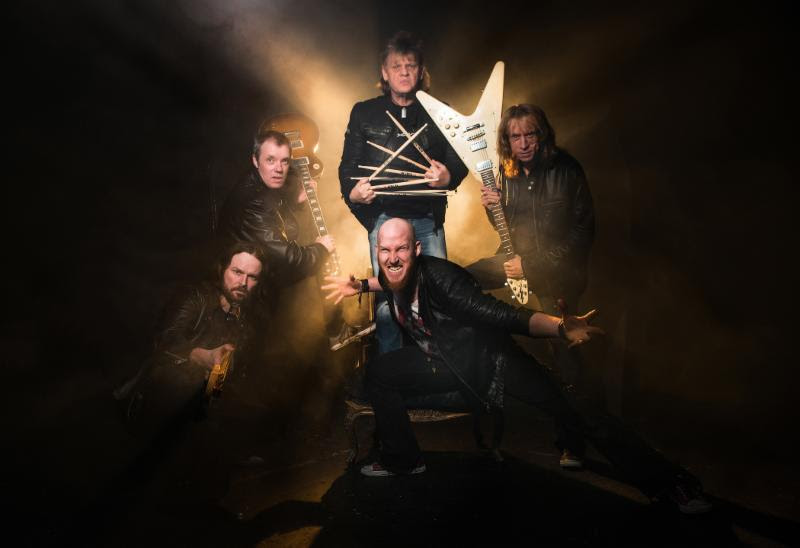 DIAMOND HEAD: British Heavy Metal Legends Issue Short Video Clip Discussing Forthcoming Full-Length, The Coffin Train; Record Nears Release Via Silver Lining Music
New Wave Of British Heavy Metal pioneers DIAMOND HEAD will issue their anticipated new full-length, The Coffin Train, May 24th via Silver Lining Music. At once fresh and exuberant while also being a stone-cold classic slice of old-school heavy metal excellence, the record is packed with the sort of riff-fueled power that founding member Brian Tatler led a genre and influenced the odd band or two with.
In advance of its release, the band has issued the first in a series of video clips discussing The Coffin Train. In this clip Tatler talks about his favorite track on the record. Check it out at THIS LOCATION.
View DIAMOND HEAD's previously-released videos for "Death by Design" and "Belly of the Beast" HERE.
The Coffin Train will be released via Silver Lining Music May 24th. For pre-order options, go to THIS LOCATION.
Formed in 1976 under the riff-rolling leadership of guitarist Brian Tatler, DIAMOND HEAD would quickly establish themselves as a vanguard of the exploding New Wave Of British Heavy Metal scene. With their genre-defining debut album Lightning To The Nations, DIAMOND HEAD became the band who influenced and opened gates for many metal bands.
The Coffin Train, DIAMOND HEAD's eighth studio album, is a glorious testimony to Brian Tatler and Rasmus Bom Andersens' masterful ability to create the flavors necessary for prime DIAMOND HEADmusic. The record was recorded in several different places. Guitars, bass, and vocals at Vigo Studios in Walsall and drums at Circle Studios in Birmingham. The album was produced and mixed at Ras' Raw Sound Studio in London.
When it comes to the concepts behind The Coffin Train, Tatler left the heart to Ras, who being a thinker and life-conceptualizer, doesn't lack sources of inspiration. DIAMOND HEAD have not only managed to create an album of pure heavy metal intensity, they have created a timeless aural statement which feels destined to see them delivering both The Coffin Train and DH 2.0 to more fans than ever.
DIAMOND HEAD will be touring Europe in the coming weeks and are confirmed on the line-up of two very special UK shows with NWOBHM giants, Saxon, which will take place on October 19th at the legendary Hammersmith in London and October 20th at the O2 Apollo in Manchester with additional shows to be announced soon.
DIAMOND HEAD:
6/21/2019 Hellfest – Clisson, FR
7/26/2019 Camp Bestival – East Lulworth, UK
7/27/2019 Rock & Blues Festival – Derbyshire, UK
8/03/2019 Wacken Open Air – Wacken, DE
8/24/2019 Stonedeaf Festival – Newark, UK
10/19/2019 Eventim Apollo – London, UK w/ Saxon
10/20/2019 o2 Apollo – Manchester, UK w/ Saxon
11/07-10/2019 Hard Rock Hell Festival – Great Yarmouth, UK
11/16/2019 – Cornwall Rocks Festival – Looe, UK
11/29/2019 Winterstorm Festival – Scotland, UK
"…a great album with superb guitar work, a tight rhythm section and vocals that soar like an eagle." — The Rock Pit
"…while their original groove showcases a steam engine-like reliability, The Coffin Train demonstrates DIAMOND HEAD's overall diversity and electricity." — KNAC.com
"…with The Coffin Train, DIAMOND HEAD once more reminds us of the power, potential, and promise of classic and traditional heavy metal. Easily recommended." — Danger Dog