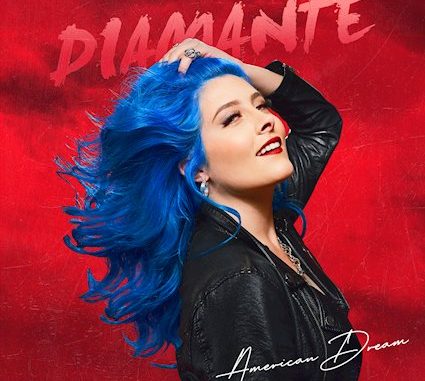 There is a lot of pressure on musical artists and bands when it comes to releasing their sophomore album. It is a make it or break it moment. Fans wonder if they will keep the sound that made them popular or change their musical direction. Will the pressure of some success be too much for some band members? Will the lineup change? Regardless of the pressure, Diamante Azzura Bovelli, known mononymously as Diamante, has taken the opportunity to mature as an artist and bring fans a new album that will satisfy their expectations. "American Dream" will be released on May 7th.
Diamante is no stranger to the stage. She had spent her teenage years performing on Sunset Strip in West Hollywood, but it wasn't until much later that she started receiving attention in the mainstream market. In 2017, she performed backing vocals on All That Remains cover of Garth Brooks "The Thunder Rolls" as well as Bad Wolves number one single, "Hear Me Now." She also toured extensively, sharing the stage with rock giants such as Breaking Benjamin, Shinedown, and Chevelle.
Her debut album, "Coming In Hot" was produced by the legendary Howard Benson (Halestorm, Kelly Clarkson, Daughtry) and released in the summer of 2018 through Better Noise Music. As the album's title suggests, she came in hot and her single, "Haunted" found its way to number thirteen on the Billboard charts. Just prior to the COVID-19 pandemic, she announced her departure from Better Noise and began embarking on her career as an independent artist and teamed up with Benson and Neil Sanderson (Three Days Grace) to record her next album.
"American Dream" begins with its title track- a catchy rock n roll song that encompasses Diamante's multi-cultural background and upbringing. The blue-haired beauty brings a dynamic vocal performance as she shifts from a sultry taunt, to a controlled soprano, to a throaty yell. She was born on the east coast and grew up on the west, and has toured everywhere in between. Diamante has seen it all and screams for more. There have been several other singles released so far. Her first, "Obvious," was released in September of last year and received extremely positive reviews. "Serves You Right" is a solid rock song, "I Love Myself For Hating You" is a millennial's nod to Joan Jett, and the latest to be released, "Ghost Myself," has a killer bass line that is sure to have you headbanging right away.
Although it was released last summer and has over three million views on YouTube, Diamante's cover version of Goo Goo Dolls 1998 hit, "Iris" is worth listening to again and again. Not only does Diamante belt out the lyrics with emotion, but she also shares the spotlight with Ben Burnley of Breaking Benjamin- giving the already popular song the dynamic it needed. "Unlovable" and "Hopeless" are slower but no less intense. Diamante definitely knows how to rock, but she is not afraid to bare her soul lyrically. In a recent interview, she is quoted saying, "Every word on this album is my personal diary screaming in your face. This album has no limitations, restrictions, or filter, really."
Diamante has matured in both songwriting and recording, and now it's time for her to get on the road again and show off her musicianship. In the last few years, she has released a solid debut album and has collaborated with and toured with some of hard rock's finest. It's obvious Diamante came in hot and is living the American dream. Fans, brace yourselves, this diamond is shining brighter than before.