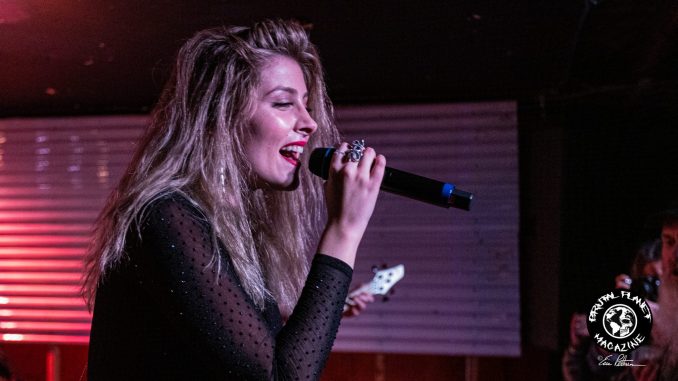 Rising rock goddess Diamante took the stage at Kilby Court in Salt Lake City, Utah, on a cold February night and warmed the hearts of her many fans in attendance. On tour supporting her latest release American Dream, Diamante will soon hit the road with Shinedown and The Pretty Reckless. Until then, she continues her headlining American Dream Tour, with support from Tempe-based Eyes Set to Kill.
I arrived at the venue a little early as it can fill up quickly and was delighted to happen upon Diamante getting ready to begin her VIP experience. The VIP experience included an intimate two-song acoustic set followed by a very nice signing and photograph session.
Kilby Court is one of Salt Lake City's longer-standing venues. It is intimate and projects excellent sound. When Eyes Set to Kill took the stage, I knew this polished veteran band would sound amazing. I was not disappointed. I had seen these guys a few times live, including on tour with Wednesday 13, and as expected, they put on a killer show. Vocalist Alexia Rodriguez may be petite in stature, but her vocals are vivacious when needed and trancelike, drawing the listener in. The tranquility is soon blasted away by guitarist and unclean vocalist AJ Bartholomew. The duties of the rhythm section are solely on the shoulders of drummer Caleb Clifton. Their set included songs from their latest album and spanning back over their nearly 20-year career. Their set was too short to fully appreciate their sound and explore their catalog.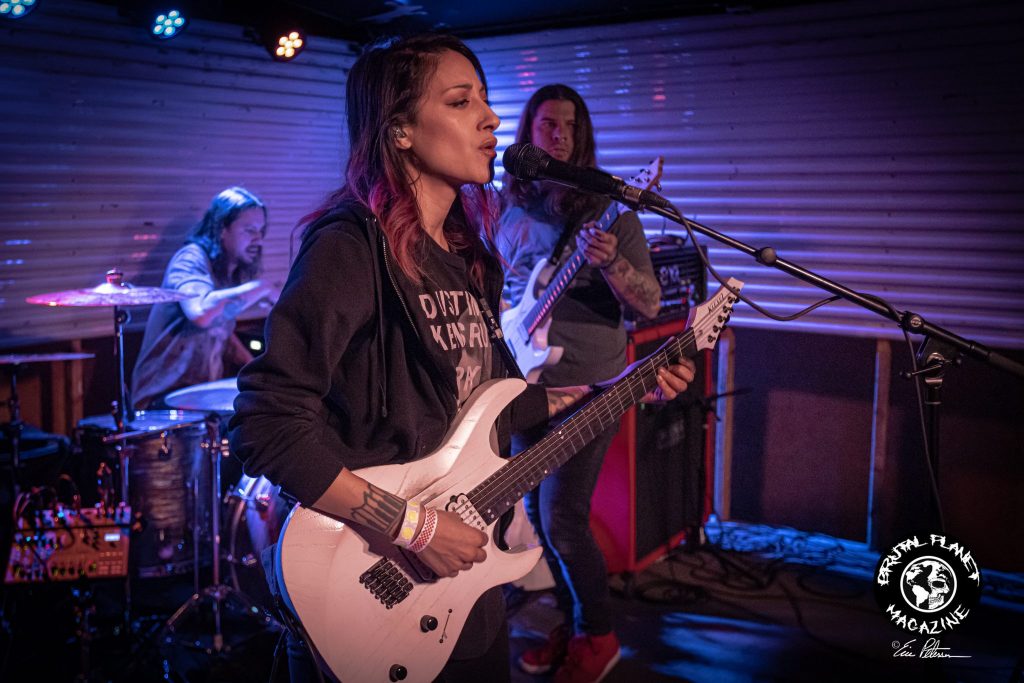 In one of the quickest set changes I have ever experienced, the changeover from Eyes Set to Kill to Diamante seemed to happen in a blink of an eye. Diamante and her band hit the stage to see a crowd full of fans ranging from boomers to pre-teens. The indiscriminate crowd cheered as they ripped into their first song, "UnFuCk YoU." The song's guitar and catchy lyrics make it a perfect opening song. "Haunted" kept the beat moving as Diamante interacted with her fans through subtle eye contact and fist bumps. The title track from her album American Dream got the crowd fired up next. One of the most impressive songs of the evening was "Sleepwalking." The song has a heavy guitar riff and combines stellar vocal ranges that Diamante seemed to handle effortlessly. "Obvious" combined a slower beat with angry vocals for a trembling live performance. The show slowed down for the ballad "I'm sorry." At this point in the show, the crowd was invited to sing along with "Iris." The Goo Goo Dolls originally performed the song, but I am guessing that if they have heard Diamante's version, they would very much approve. She originally recorded the song with Breaking Benjamin and released it as a single. "Unlovable" led into a short jam by the band that transitioned into "Coming in Hot." The song got the crowd moving, and the majority of the venue knew the lyrics and were not afraid to belt them outright. Another highlight of the evening was hearing "I Love Myself for Hating You." The song is a bit of tongue twister to what we are used to singing, but the song has a great beat and catchy lyrics. "Serves You Right" is a great live song about self-absorbed assholes and comes across as a perfect revenge song. "Ghost Myself" is one of those songs that is meant to be heard live, and Diamante was spot on with this song. The set came to an end with the anthem "War Cry." As impressive as her performance was, it could not have been possible without the help of her trio of musicians. Logan Nikolic killed it on guitar, Matthew Denis was in charge of keeping the rhythm upfront on bass, and Sheppard Martin beat the hell out of the skins on drums.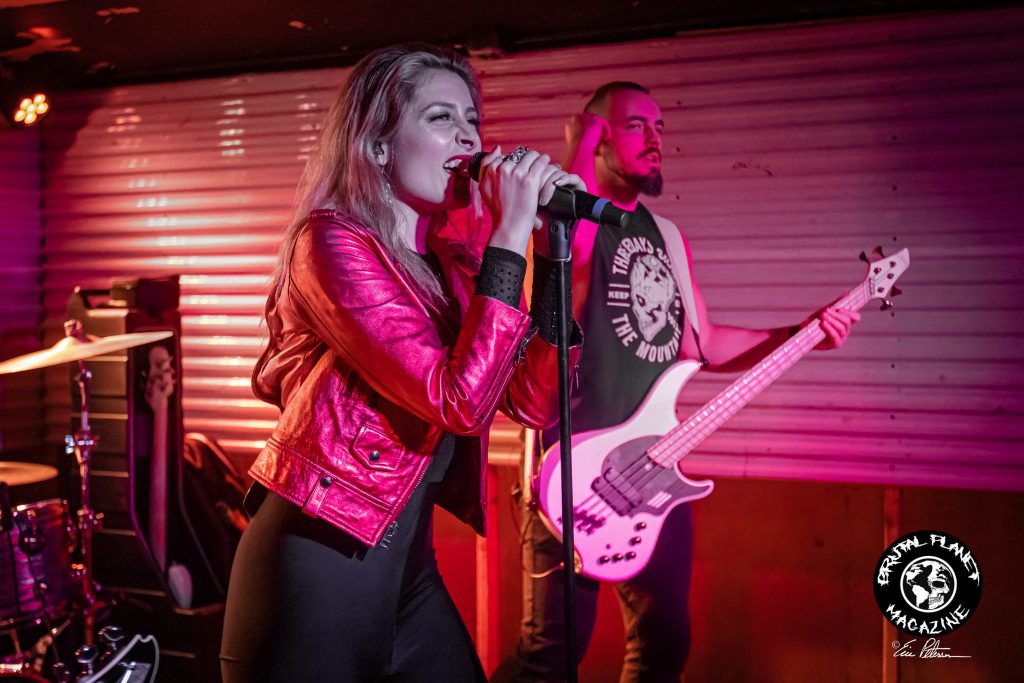 The evening was not over by any means. Diamante took time out of her night to meet any and every fan and sign anything fans wanted to be signed. She proved that her fans are her number one, from her acoustic preshow performance, her interactive set, to finishing it up with a post-show thank you.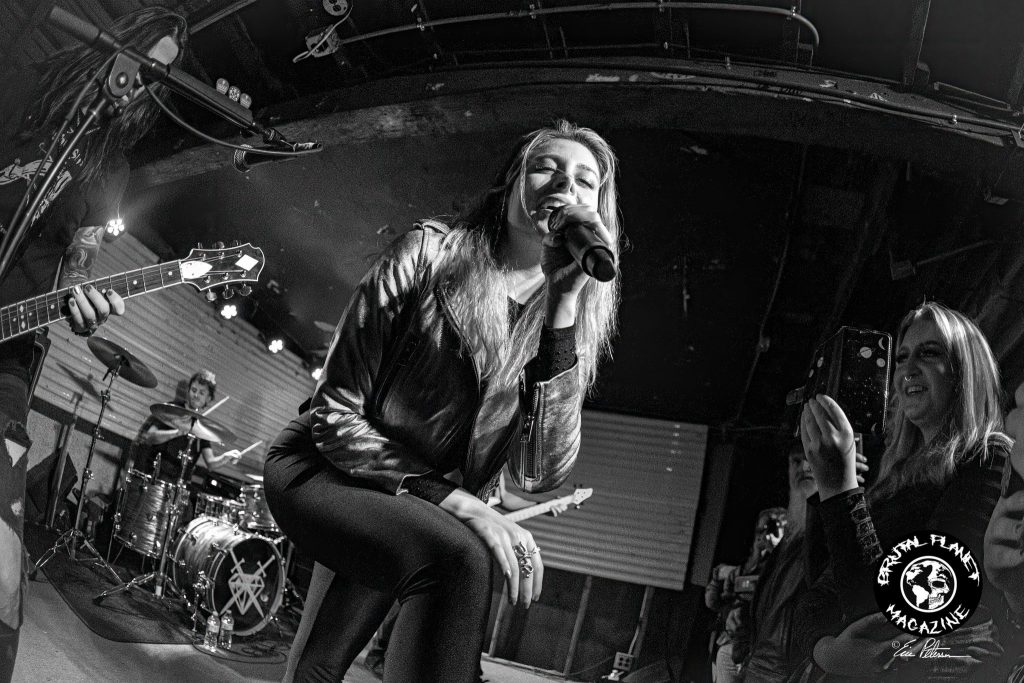 If you have never seen Diamante live, you need to go. The show is electric, and she finds a way to connect with each fan in one way or another. The crowds are intimate, so the connection is instant. If you cannot make it to one of the American Dream shows, be sure to catch her on the Shinedown tour.