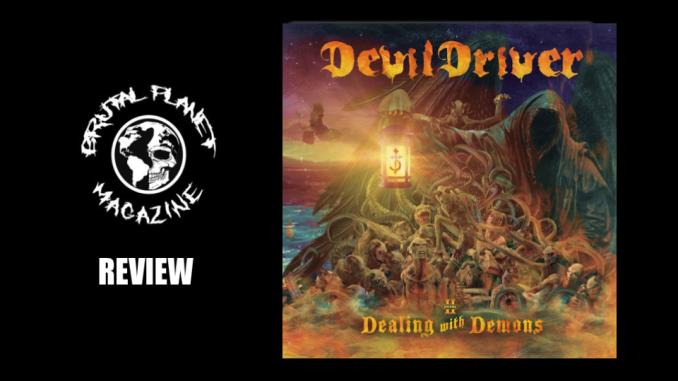 DevilDriver's upcoming album, "Dealing With Demons Vol. II", is a powerful and emotionally charged collection of tracks that explores the band's personal struggles and triumphs. Like their previous album, "Dealing With Demons Vol. I," this follow-up showcases the band's signature blend of groove metal, thrash, and death metal, while also introducing new elements and influences that make it a standout release in their catalog. It will be released on May 12, 2023, through Napalm Records.

The album's opening track, "I Have No Pity," sets the tone for the rest of the record with its catchy riff and explosive chorus. Frontman Dez Fafara's vocals are as ferocious as ever, delivering the song's defiant lyrics with a sense of urgency and conviction. The guitar work on this track, as well as throughout the album, is outstanding, with intricate solos and heavy breakdowns that showcase the band's technical skill.

One of the standout tracks on Dealing With Demons is "Nothing Lasts Forever," which features machine-gun riffs and intense vocal delivery. In the chorus, Dez screams, "Nothing lasts forever and time does not stand still when odds are stacked against us and the memory instills a thrill. When faith gives way to fear and silence is insincere, you can call me crazy." Songs like "Mantra" and "Summoning" are solid and sure to get you headbanging and "Through the Depths" features a beautiful outro that shows the band's diverse talent.
Throughout the album, DevilDriver's lyrics touch on themes of self-discovery, inner turmoil, and the struggle to overcome personal demons. Fafara's lyrics are often poetic and introspective but never appear pretentious or overly sentimental. "Bloodbath" and "It's a Hard Truth" might be lost in the middle of the tracklist, but they are classic DevilDriver. Another favorite track of mine is "If Blood is Life." It's a chaotic song that showcases the band's ability to write different rhythms and tempos, not to mention a great guitar solo.
In the album's closer, Fafara sings about broken relationships, delivering lines like "This relationship broken, like waves on the shore, these nights will break you, they can even the score. No easy way out!" with a raw vulnerability that's rare in metal. The song's thrashy riffing, aggressive drumming, and killer solos show that DevilDriver are masters of their genre. The "Dealing With Demons Vol. II" production is also worth noting. The album sounds huge and powerful, with every instrument and vocal track coming through loud and clear. The drums sound massive, the guitar tones are thick and crunchy, and the bass is mixed high enough to give the songs an extra layer of depth.

Overall, DevilDriver's "Dealing With Demons Vol. II" is a standout album that continues to showcase the band's growth and evolution. While still firmly rooted in the band's signature sound, the album also introduces new elements and influences that keep things fresh and exciting. Fafara's vocals are as powerful as ever, and the rest of the band's performance is top-notch. With "Dealing With Demons Vol II," DevilDriver proves that they are still at the top of their game, and one of the most exciting bands in modern metal.