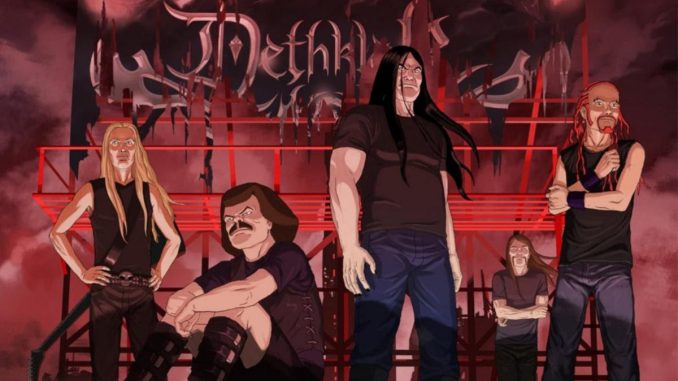 Metalocalypse: Army of the Doomstar Companion Soundtrack
Drops August 25
On Tuesday August 22, DETHKLOK drops the highly anticipated

Dethalbum IV which includes all new original DETHKLOK songs.

Ladies and gentlemen, behold the mighty roar of the metal gods, for I bring you tidings of epic proportions! We are here to proclaim the sheer brutality of the new DETHKLOK album, a sonic force that shall shatter the very foundations of your mortal existence! Prepare yourselves, for it is a deathly masterpiece that will leave your souls trembling in awe!

But that's not all, loyal disciples of darkness! In the abyss of tomorrow, a wondrous relic shall emerge, the Army of the Doom Star Blu-ray! This treasure trove of metal magnificence shall transport you into a realm where theatricality reigns supreme, where heavy-metal's grandeur is celebrated with unyielding ferocity!

Let the power of this Blu-ray unleash its wrath upon your senses, as you bear witness to the unrivaled might of DETHKLOK! The stage shall be their battlefield, and their music, a weapon of mass devastation! Behold the symphony of chaos, as the energy of their music intertwines with the grandiose theatrics, creating a cataclysmic spectacle that defies mortal comprehension!

So, my fellow worshippers of metal, embrace this momentous occasion and prepare to be consumed by the brutality of sound and visual mastery! Raise your horns high, for DETHKLOK and the Army of the Doom Star Blu-ray shall reign supreme, forever immortalized in the annals of heavy-metal history!

Also, today brings the long-awaited return of Adult Swim's favorite heavy metal adventure. Metalocalypse: Army of the Doomstar is now available Digitally and on Blu-ray. This all-new, full-length animated movie, written and directed by series co-creator Brendon Small, brings the heaviest metal band ever created back together again for an action-packed journey and follows up with a nationwide tour of the series' on-screen band DETHKLOK.

The second album release, Metalocalypse: Army of the Doomstar Original Motion Picture Soundtrack will include additional songs plus a totally original movie score and will be released August 25.

Don't miss DETHKLOK as they slay their way through North America on their twenty-nine date national tour beginning August 30 with Japanese kawaii metal pioneers BABYMETA as co-headliners and virtuoso guitarist Jason Richardson as support. THE BABYKLOK TOUR is a killer, fun project which celebrates the theatricality in heavy metal with comic style and brutality.

Read Revolver's Dethalbum IV review here: https://www.revolvermag.com/music/review-dethkloks-first-album-10-years-dethalbum-iv-proves-brutality-never-dies

Read Revolver's review Metalocalypse: Army of the Doomstar Blu-ray here: https://www.revolvermag.com/tags/dethklok

THE BABYKLOK TOUR 2023:

Wed-Aug-30-23 – Houston, TX- 713 Music Hall

Thu-Aug-31-23 – Dallas, TX – South Side Ballroom

Sat-Sep-02-23 – Orlando, FL – Orlando Amphitheater

Sun-Sep-03-23 – Atlanta, GA – Coca-Cola Roxy

Tue-Sep-05-23 – Nashville, TN – Nashville Municipal Auditorium

Wed-Sep-06-23 – Cleveland, OH – Agora Theatre

Fri-Sep-08-23 – Pittsburgh, PA – UPMC Events Center

Sat-Sep-09-23 – Wallingford, CT – Toyota Oakdale Theatre

Sun-Sep-10-23 – Alton, VA – Blue Ridge Rock Festival

Tue-Sep-12-23 – Philadelphia, PA – The Mann Center

Thu-Sep-14-23 – Boston, MA – MGM Music Hall at Fenway

Fri-Sep-15-23 – New York, NY – Hammerstein Ballroom

Sun-Sep-17-23 – Sterling Heights, MI – Michigan Lottery Amphitheatre

Mon-Sep-18-23 – Toronto, ONT – RBC Echo Beach

Wed-Sep-20-23 – Grand Rapids, MI – GLC Live at 20 Monroe

Thu-Sep-21-23 – Chicago, IL – Byline Bank Aragon Ballroom

Sat-Sep-23-23 – Louisville, KY – Louder Than Life Festival

Sun-Sep-24-23 – Milwaukee, MN – The Rave/Eagles Club

Mon-Sep-25-23 – Minneapolis, MN – The Fillmore

Wed-Sep-27-23 – St. Louis, MO – Saint Louis Music Park

Thu-Sep-28-23 – Omaha, NE – Steelhouse Omaha

Sat-Sep-30-23 – Denver, CO – Fillmore Auditorium

Sun-Oct-01-23 – Salt Lake City, UT – The Complex

Tue-Oct-03-23 – Vancouver, BC – PNE Forum

Wed-Oct-04-23 – Seattle, WA – WaMu Theater

Sat-Oct-07-23 – Sacramento, CA – Aftershock Festival

Sun-Oct-08-23 – Las Vegas, NV – Pearl Theater at Palms Casino Resort

Tue-Oct-10-23 – Phoenix, AZ – Arizona Financial Theater

Wed-Oct-11-23 – Los Angeles, CA – YouTube Theater

Thu-Oct-12-23 – Los Angeles, CA – YouTube Theater

Brendon Small is available for interview, just let us know…
About DETHKLOK & Metalocalypse
DETHKLOK, an extreme metal band, is the most successful entertainment act on the planet and the seventh largest economy in the animated world of Adult Swim's Metalocalypse. Live, they are a multi-media powerhouse that showcases animation, comedy and brutality, excellently recreating the popular albums and animated visuals in a live atmosphere. Band members include musician and show co-creator Brendon Small and legendary drummer Gene Hoglan and more! Beginning August 30, DETHKLOK will be co-headlining a national tour with Japanese kawaii metal pioneers BABYMETAL.
About Adult Swim
Adult Swim is the leader in adult animation and #1 destination for young adults for over fifteen years, offering critically acclaimed, award-winning original and acquired series such as Rick and Morty, Genndy Tartakovsky's Primal, The Eric Andre Show, and SMILING FRIENDS. Fan favorite anime block, Toonami, airs on Saturday nights and has expanded beyond acquisitions, producing original series including Housing Complex C, Uzumaki, and new seasons of FLCL. The annual Adult Swim Festival reaches a global audience, and features performances by top musicians and comedians. Adult Swim airs nightly from 8 p.m. to 6 a.m. (ET/PT) on its linear channel and reaches fans via HBO Max. Connect with Adult Swim on Facebook, Twitter, Instagram and Tik Tok. Subscribe to Adult Swim on YouTube.
About Warner Bros. Discovery Home Entertainment
Warner Bros. Discovery Home Entertainment (WBDHE) distributes the award-winning movies, television, animation, and digital content produced by Warner Bros. Discovery to the homes and screens of millions through physical Blu-ray Disc™ and DVD retail sales and digital transactions on major streaming, video-on-demand cable, satellite, digital, and mobile channels. WBDHE is part of Warner Bros. Discovery Content Sales, one of the world's largest distributors of entertainment programming.
About WaterTower Music
WaterTower Music, the in-house label for the Warner Brothers Discovery companies, releases recorded music as rich and diverse as the companies themselves. It has been the soundtrack home to many of the world's most iconic films, television shows and games since 2001.
About Titmouse
Titmouse is an independent Emmy award-winning animation production company. It has artist-run studios in Los Angeles, New York City, and Vancouver. Titmouse founders Chris and Shannon Prynoski launched Titmouse in Los Angeles, the birthplace of the American entertainment industry. Known for series such as The Venture Bros., Big Mouth, The Legend of Vox Machina, Midnight Gospel, Star Trek: Lower Decks, and Metalocalypse, Titmouse creates high-quality cartoons for all ages and interests.