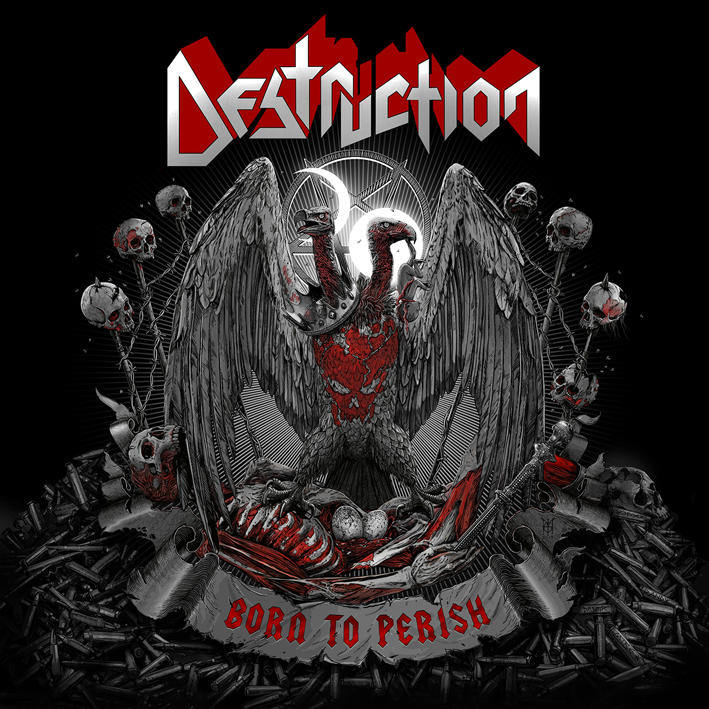 German thrash titans DESTRUCTION are set to unleash their 17th studio album, Born to Perish, on August 9th, 2019 via Nuclear Blast Records.

Today, the band has released a guitar playthrough video for the second single "Betrayal".
The video can be seen here: https://youtu.be/QIaTIYG2r-M

Original shredder Mike says:
"This is a classic thrasher with a lots of tempo changes and an evil middle part! The drums are a really interesting part of the song – Randy kills it. During the solo we have my unrelenting style and Damir's crazy shredding, which is beyond good and evil! It fits perfectly together – we hope you enjoy the playthrough!"

New axeman Damir states:
"BETRAYAL is my personal highlight of the new record! I love the rhythmical changes and the variety but the song always stays true to the roots! Of course the solo duel is another climax of this new DESTRUCTION anthem, I love it!"

The official video clip can be seen here: https://www.youtube.com/watch?v=jc5uyQYLaVc

Video directed by Achilleas Gatsopoulos for Hypnagogia Films | www.hypnagogia.com
Filmed in June 2019 in Berlin/Germany & Basel/Switzerland

Get the new single here: http://nblast.de/DestructionBetrayal
Pre-order Born to Perish in various formats, here: http://nblast.de/DestructionBTP
Pre-save Born to Perish via Spotify: http://nblast.de/DESTRUCTIONbtpPreSave

ICYM:
"Born To Perish" visualizer video: https://www.youtube.com/watch?v=lad5XCWmbBo
"Born To Perish" drum playthrough video: https://www.youtube.com/watch?v=IUFbAh7i6iI
Trailer #1: https://www.youtube.com/watch?v=6Il3tGBLJbQ
Trailer #2: https://www.youtube.com/watch?v=j7QxL-V16NI
Traiiler #3: https://www.youtube.com/watch?v=PnhKP4LL-O8

The tracklisting of Born to Perish
01. Born To Perish
02. Inspired By Death
03. Betrayal
04. Rotten
05. Filthy Wealth
06. Butchered For Life
07. Tyrants Of The Netherworld
08. We Breed Evil
09. Fatal Flight 17
10. Ratcatcher
Bonus:
11. Hellbound

The recordings for Born To Perish took place from January to March 2019 in the Little Creek Studio in Switzerland under the aegis of long time intimate VO Pulver.

The stunning cover artwork was created by acclaimed artist Gyula from Hungary, who has also created artwork for ANNIHILATOR, GRAVE DIGGER, STRATOVARIUS, TANKARD and many more.

The brand-new line-up featuring the Canadian drum animal Randy Black and Swiss shred-master Damir Eskić, together with veterans Schmier and Mike, is here to bring you musical destruction. This is a new chapter in the long, impressive history of the band.

Tour dates:
07. – 10.08. CZ Jaroměř – Brutal Assault
08. – 10.08. D Schlotheim – Party.San Open Air
16.08. BG Varna – Rock Fest
31.08. A Breitenstein – Metal Escalation Festival

Killfest 2019 – Part II
w/ OVERKILL, FLOTSAM AND JETSAM
12.09. P Porto – Hard Club
13.09. E Madrid – La Riviera
14.09. E Barcelona – Salamandra
17.09. D Saarbrücken – Garage
18.09. D Nuremberg – Hirsch
19.09. D Oberhausen – Turbinenhalle
22.09. D Herford – X
23.09. D Wiesbaden – Schlachthof
24.09. B Antwerp – Trix

08./09.11. D Weissenhäusser Strand/Ostsee – Metal Hammer Paradise
07.12. D Balingen – Crazy X-Mas

More info coming soon.