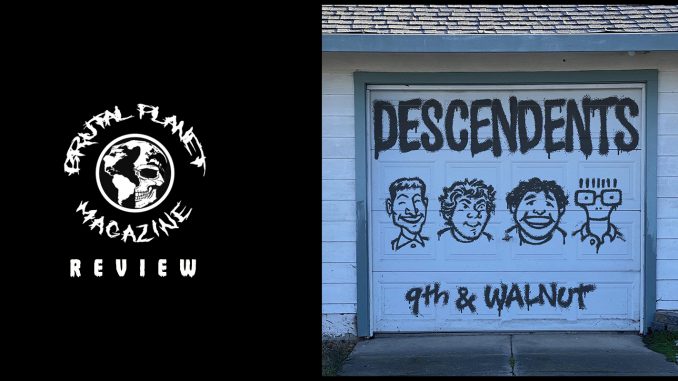 By Brandon Mizar
On July 23rd, the legendary punk band Descendents will release their new album 9th & Walnut via
Epitaph Records. 9th & Walnut was recorded in 2002 with the original Descendents lineup consisting of
bassist Tony Lombardo, drummer Bill Stevenson and guitarist Frank Navetta (d. 2008). The 18-track
collection features the bands' earliest material written from 1977 through 1980. Included are freshly
recorded versions of the 'Milo Goes to College' outtake "Like the Way I Know," Descendents' debut tracks
"Ride the Wild" and "It's a Hectic World" (heard here for the first time with vocals by Milo).
The album takes its name after the Long Beach intersection where their first practice spot was located in
the garage of Frank's sister. Frank and his other brother's band "The Pagan Babies" also practiced in this
spot.
Bill Stevenson had always planned on getting Milo to sing these songs, but the project sat in limbo as of
2008, when Frank Navetta died at age 46 after going into a diabetic coma. The downtime during the
pandemic of 2020 allowed Milo time to record a catalog of classic Descendents songs at his home in
Delaware. Milo discovered he wasn't even aware that some of these tracks even existed even though he
has fronted the band on and off for 40 years. Once Milo was finished, he sent the vocals to Bill where he
did the final mixing at the famous Blasting Room in Fort Collins, CO.
Aside from the "Fat EP" released in 1981, 9th & Walnut will be the only album since 'Milo Goes To
College' to feature the original lineup of the Aukerman, Navetta, Lombardo and Stevenson recording
together. Many fans of Descendents began their journey with the band when 'Milo Goes to College'
came out in 1982, so this sort of prequel album will allow fans to hear the beginning of this band and what
styles of music were influencing them and how they were feeling at the time. Many of these songs have
never heard prior to this release. "9th & Walnut" material as a whole reflects the band's love of Sixties
rock mixed with the genre defining sound everyone has come to love from Descendents.
Kicking off the album is the hard charging song "Sailor's Choice" written by Navetta. The angst and
resentment filled songs written by Navetta are scattered through the album on such songs as "Baby
Doncha Know" and "Yore Disgusting." The softer side of Navetta comes to light in the melody "To
Remember." Navetta lends his distinctive voice to the aptly named song "Grudge" singing "I got a grudge
on you, yeah" in a mid-song rant. As seen in the documentary 'Filmage,' Navetta was described as a
bitter and angry person, and you can hear this in a lot of his songs.
Songs such as "Nightage" "You Make Me Sick" are filled with anti-social outbursts and girl problems
written by Lombardo. Other Lombardo written songs such as "Tired of Being Tired" and "It's A Hectic
World' really showcase Lombardo's creative bass lines that has always been a key component in the
Descendents sound.
Rounding out the album is a great cover The Dave Clark Five's "Glad All Over" the band was known to
play back in the day and was the opening song of the very first Descendents concert when Lombardo
was singing. This song was given the full Descendents treatment with vocal harmonies that gave me
goosebumps the first time I heard it. I was hooked on this cover after just one listen.
Turning in at a total run time of 26 minutes, these 18 songs are sure to have fans listening to this album
over and over. I have listened to the album a total of 25 times at the time of this writing and will probably
have another 20 before it is published. This is one of my favorite releases of Descendents and will have
this on repeat for quite a while. I liken this to a classic like "Milo Goes To College" with a real clean
production that gives it a modern day feeling.

Songs that really stood out for me are "It's My Hair", "I Need Some", "Nightage" and "Ride the Wild."
There are so many amazing songs on this album that it really is hard to choose a favorite though. I loved
how "Mohicans" is a nod to the band "The Last" who really influenced Descendents when they first started
out. The Last singer Dave Nolte was also a co-founder of Descendents with Navetta. Nolte contributes
two songs "Like The Way I Know" and "It's My Hair" to this album which is the first time his writing has
ever been featured on any Descendents albums. The Dave Clark Five's catchy hit "Glad All Over" was a
perfect way to round out 9 th & Walnut.
Band Members:
Tony Lombardo – Bass Guitar
Milo Aukerman – Vocals
Frank Navetta – Guitar
Bill Stevenson – Drums

Track Listing (Writer):
01- Sailor's Choice (Navetta)
02- Crepe Suzette (Navetta)
03- You Make Me Sick (Lombardo)
04- Lullaby (Navetta)
05- Nightage (Lombardo)
06- Baby Doncha Know (Navetta)
07- Tired of Being Tired (Lombardo)
08- I'm Shaky (Navetta)
09- Grudge (Navetta)
10- Mohicans (Navetta)
11- Like the Way I Know (Dave Nolte)
12- It's a Hectic World (Lombardo)
13- To Remember (Navetta)
14- Yore Disgusting (Navetta)
15- It's My Hair (Nolte)
16- I Need Some (Navetta)
17- Ride the Wild (Navetta)
18- Glad All Over (Dave Clark Five cover)