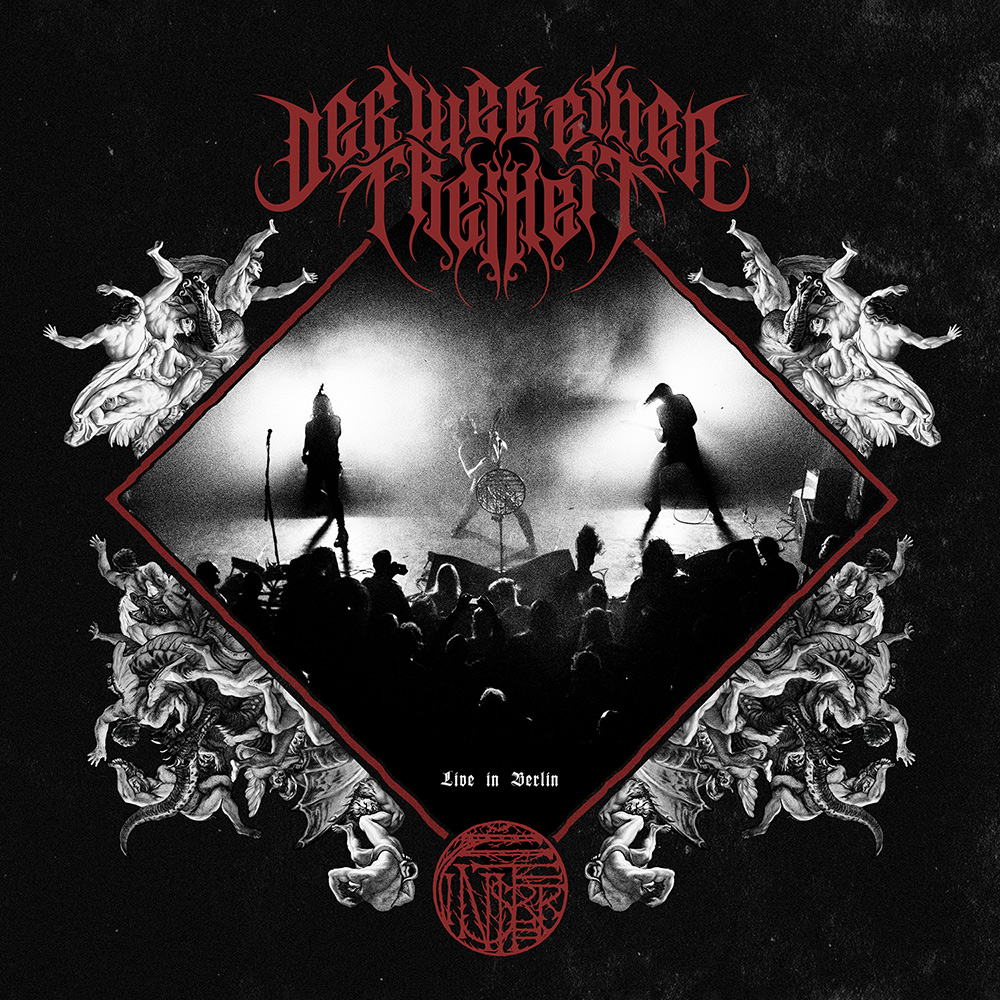 DER WEG EINER FREIHEIT
Stream "Repulsion" from 'Live in Berlin' via Metal Hammer
DER WEG EINER FREIHEIT
have shared "Repulsion," the second track from their upcoming live album, 'Live In Berlin.' The song, which is taken from the band's full length, '
Stellar
,' is streaming via Metal Hammer (UK). In conjunction with the track premiere, Metal Hammer conducted an in-depth interview with
DWEF
vocalist Nikita Kamprad. The song and interview are available at
THIS LOCATION.
'Live in Berlin' has been recorded in the venue Lido, Berlin (DE) on October 14, 2017. The live album will be released on March 1 in both digital and various physical formats. The album will be available HERE.
DER WEG EINER FREIHEIT are available for interviews via Skype or email. Get in touch with Katy Irizarry at Katy@Season-of-mist.com for availability. Additional assets, such as hi-rez photos, can be found HERE.
The cover artwork and tracklist of 'Live in Berlin' have previously been unveiled and can be found below.
Tracklist:
1. Einkehr – Live in Berlin (06:17)
2. Der stille Fluss ‐ Live in Berlin (08:05)
3. Repulsion ‐ Live in Berlin (08:59)
4. Skepsis Part I ‐ Live in Berlin (05:08)
5. Skepsis Part II ‐ Live in Berlin (06:07)
6. Ewigkeit ‐ Live in Berlin (07:09)
7. Zeichen ‐ Live in Berlin (13:15)
8. Aufbruch ‐ Live in Berlin (11:58)
9. Lichtmensch ‐ Live in Berlin (05:30)
10. Ruhe ‐ Live in Berlin (06:13)
DER WEG EINER FREIHEIT
have previously announced a tour in celebration of their 10th anniversary, with CELESTE, AU-DESSUS and THE DEVIL'S TRADE. For interview and press-list requests during this tour, contact
Katy Irizarry
at
Katy@Season-of-mist.com
.
DER WEG EINER FREIHEIT Euro Tour:
with AU-DESSUS and CELESTE and THE DEVIL'S TRADE
03/28: Paris (FR) @ Le Petit Bain *
03/30: Toulouse (FR) @ Le Metronum *
03/31: Barcelona (ES) @ Bóveda *
04/01: Lyon (FR) @ Rock n Eat *
04/02: Esch/Alzette (LU) @ Kulturfabrik *
04/03: Cologne (DE) @ Luxor *
04/04: Tilburg (NL) @ Little Devil *
04/05: Dresden (DE) @ Beatclub *
04/06: Hamburg (DE) @ Knust *
04/07: Nuremburg (DE) @ Hirsch **
04/08: Prague (CZ) @ Futurum  **
04/09: Vienna (AT) @ Arena **
04/10: Munich (DE) @ Backstage **
04/11: Stuttgart (DE) @ Universum **
04/12: Berlin (DE) @ Lido **
04/13: Wiesbaden (DE) @ Schlachthof **

AU-DESSUS (03/28. – 04/6) **
CELESTE (04/07 – 04/12.) *
THE DEVIL'S TRADE (all dates)

DER WEG EINER FREIHEIT festivals
04/20: Oslo (NO) @ Inferno Metal Festival
Having reaped critical acclaim for their latest album 'Finisterre' (2017) and solidifying their position as one of the best live bands out there,
DER WEG EINER FREIHEIT
are about to release their first ever live album, recorded in Lido, Berlin (Germany) on October 14, 2017. The set, featuring songs from the band's entire discography, is a testimony to the technical prowess of these musicians and the fine craftmanship in songwriting that the German band is widely known for.
Over the relatively short period of 10 years, the sound of DER WEG EINER FREIHEIT has clearly progressed, making each piece fit more seamlessly. 'Finisterre' flows together into a coherent picture that stresses the Germans' unique approach and sound. This album marks the point where DER WEG EINER FREIHEIT turn their various influences into a work entirely of their own expression despite never trying to cover up their roots. This impressive maturity has been reached through several stages.
Founded in 2009 by guitarist Nikita Kamprad and vocalist Tobias Jaschinsky, DER WEG EINER FREIHEIT garnered early attention with their self-released debut 'Der Weg einer Freiheit' (2009), which quickly sold out and was re-issued with new drum tracks a year later. Following the 'Agonie' EP (2011), their second album 'Unstille' (2012) already cored international acclaim. In the aftermath of this record, co-founding member Tobias left and main songwriter Nikita Kamprad took over his vocal duties.
The frontman was first heard on third full-length 'Stellar' (2015), which sawDER WEG EINER FREIHEIT gaining traction across the pond as well as expanding their European base. Having performed along such diverse acts as WOLVES IN THE THRONE ROOM, NEAERA, THE BLACK DAHLIA MURDER, AMENRA, CRIPPLED BLACK PHOENIX, and DOWNFALL OF GAIA as well as playing prestigious festivals such as Graspop, Hellfest, Resurrection, Roadburn, Summer Breeze, and Wacken has honed the band's songwriting skills to razor-sharp precision.
For more on DER WEG EINER FREIHEIT, visit their OFFICIAL WEBPAGE and FACEBOOK.
Current line-up
Nikita Kamprad: guitars, vocals
Tobias Schuler: drums
Nico Rausch: guitars
Nico Ziska: bass