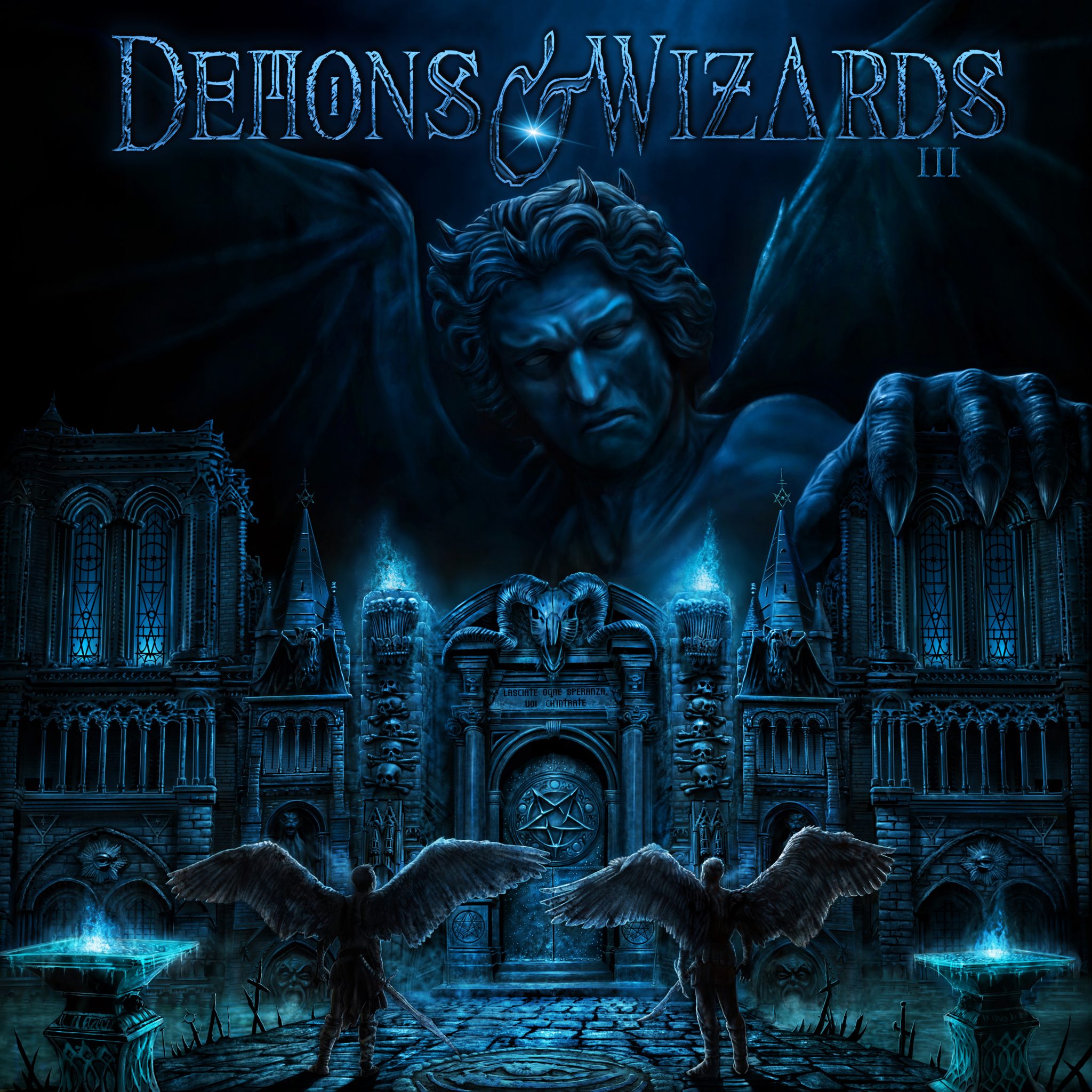 When you combine the dark melodic guitar melodies of Jon Schaffer with the dominant high-powered vocals of Hansi Kürsch, the result can only be described as the magic that is Demons and Wizards. The duo formed the side project back in 1999 and have released two albums in those years. In February of 2020, they are releasing the third installment of their legacy, fittingly titled III.
The epic journey starts with "Diabolic." The evil hymn slowly crescendos into a full conjuring of epic proportions. An eight-minute voyage takes the listener through the epic battle of betrayal.
The album takes a more modern metal sound with "Invincible," but then goes back to primal beginnings with "Wolves in Winter." The guitar work is outstanding in this song and has the feel of a hunting pack in the snow. The call of the beast can be heard throughout the song. "Final Warning" is another song that Schaffer's guitars shine throughout. The pounding drums in the song deliver a beat that carries the song.
The call of the wild continues in "Timeless Spirit." Hansi's vocal performance in this nine-minute transformation is enough to blow anyone away. The essence of the song's lyrics makes it one of my favorites on the album. "Dark Side of her Majesty" carries a theatric tone and the spoken-word like lyrics give the song a mini movie-like form.
Midas Disease brings a heavy melodic beat coupled with some gritty lyrics:
"Hey, are you coming for Jesus?
Or are you coming to meet me for real?
You better pray for the world's redemption
Repent your modern sins
All your lies, you better pay my price"
The song carries an early Accept like beat with classic Hansi vocal poetry. This is a song that should not be missed on III. When it comes to favorites on the album I have to say that "Universal Truth" is the song for me. The beat is true and the guitar is mixed with a little orchestration giving it a Blind Guardian sound. Yet the overall sound of the song could easily be a missing track from the Iced Earth Dystopia days. The underlying guitar work has a sound that carries the song from start to finish. I have found myself continually going back to this song for more.
III finishes with "Children of Cain." A ten-minute extravaganza that draws from all aspects of the album, giving it a grand finale that will make any Demons and Wizards fan happy.
Demons and Wizards defiantly choose to put out albums that concentrate on quality over quantity. With fifteen years since their last album, we can only hope that we don't have to wait for another fifteen for the next epic journey from the duo. Demons and Wizards III will be released on February 21, 2020, via Centaury Media.