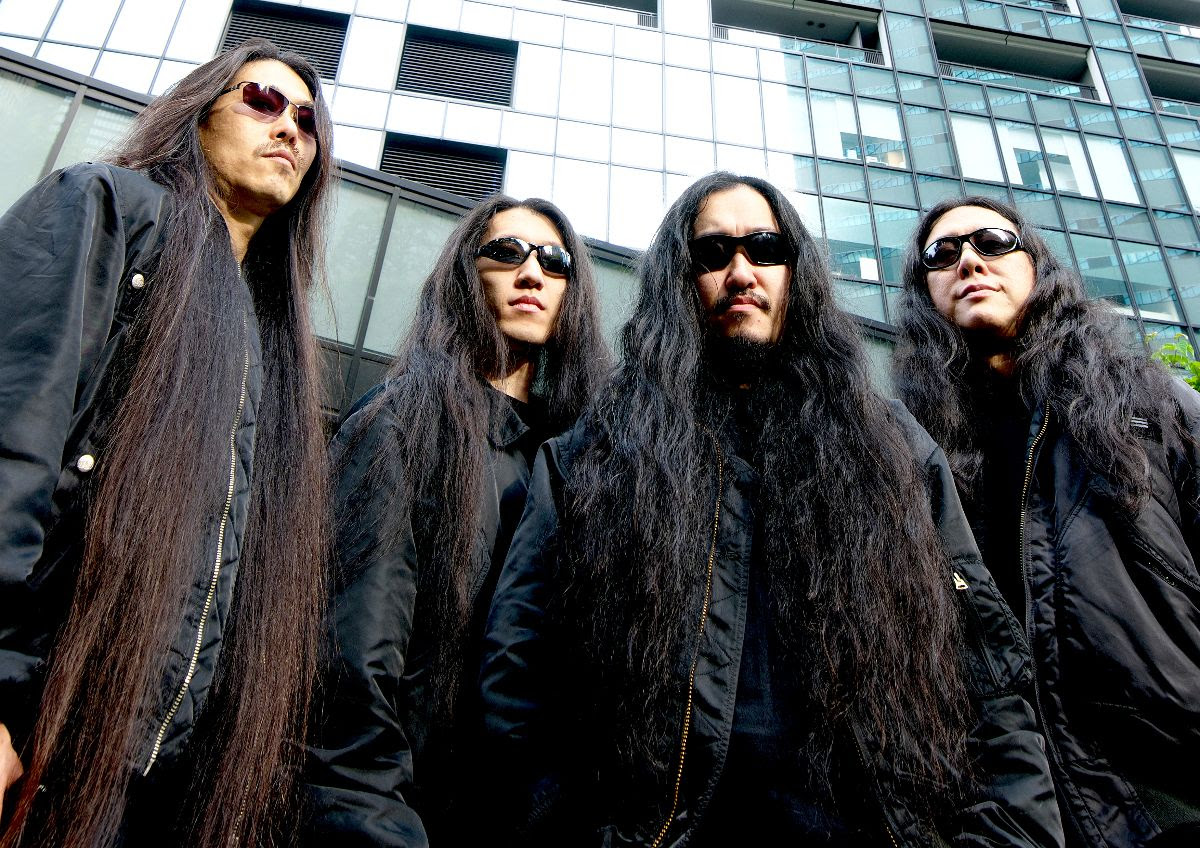 Death metal maniacs DEFILED have shared "Centuries," the second single from their upcoming release, 'Infinite Regress.' "Centuries" can be heard at THIS LOCATION!

DEFILED comment on the new track: "Here is another oddball from our new album for you to chew on while waiting for the official release! This song represents pretty much our own 'out-there' style, if you know what we mean! We hope you enjoy! You guys rock, Cheers!"

'Infinite Regress' will be released on January 24 and can be pe-ordered HERE.
DEFILED – 'Centuries' (official track premiere)
DEFILED
previously announced new European tour dates in support of VADER. A full list of confirmed shows can be viewed below.
DEFILED previously commented on the tour: "We're thrilled to announce our next European tour with the mighty Vader! We actually opened for Vader back in 1998, on their first show ever in Tokyo; so not only is it a great honor for us to be a part of their anniversary tour and have the chance to share the stage with them again, but it also brings back so many souvenirs and good memories… Saying that we're excited would be a strong contender for the understatement of the year! Now about the tour itself, you guys should expect a lot of new songs from our upcoming album 'Infinite Regress.' Looking forward seeing you all on the road. Thanks!"
DEFILED Japan Headlining Tour:
02/07: Osaka (JP) @ Hokage
02/08: Nagoya (JP) @ Daytrive
02/09: Yokohama (JP) @ El Puente
02/10: Tokyo (JP) @ Earth DOM
02/11: Sendai (JP) @ K's studio
02/21: Hiroshima (JP) @ Spider
02/22: Sapporo (JP) @ Crazy Monkey
02/23: Okinawa (JP) @ Remy's
02/24: Fukuoka (JP) @ Graf
DEFILED Europe Dates supporting VADER (w/ Chronosphere +Fallcie):
03/07: Osnabruck (DE) @ Bastard
03/08: Arlon (BE) @ l'Entrepot
03/09: London (UK) @ Underworld
03/10: Rotterdam (NL) @ Baroeg
03/11: Lokeren (BE) @ Sport & Jeugdcomplex
03/12: Amersfoort (NL) @ Fluor
03/13: Leipzig (DE) @ Stadtbad
03/14: Marsberg (DE) @ Metal Diver Festival
03/15: Mannheim (DE) @ MS Connexion Complex
03/16: Martigny (CH) @ Sunset
03/17: Martigny (CH) @ Sunset
03/18: Milano (IT) @ Slaughter House
03/19: San Dova di Piave (IT) @ Revolver
03/20: Zagrzeb (HR) @ Mochvara
03/21: Wien (AT) @ Viper Room
03/22: Kosice (SK) @ Colloseum
The artwork of 'Infinite Regress,' which has been created by Wes Benscoter, can be viewed together with the album details below.
Track-list
1. Intro (00:23)
2. Divide and Conquer (02:30)
3.
Tragedy
(05:21)
4. Systematic Decomposition (02:33)
5. So Blind (02:48)
6. Legacy (01:58)
7. Masses in Chaos (02:01)
8.
Centuries
(04:17)
9. Aftermath (03:02)
10. Invisible War (01:45)
11. Ignorant (02:28)
12. Slaverobot (02:57)
13. Infinite Regress (02:48)
14. Outro (00:33)
Total playing time: 35:24
DEFILED
come yet again, barging in like some crusty Godzilla made out of the stuff polished tech death nightmares are made from. The revered Samurai of death metal crush through the spiral ganglion with a sound rawer than shark sushi that still bites.
This time it took the Japanese three years to deliver a follow-up to the critically acclaimed 'Towards Inevitable Ruin' (2016) which was not pretty, nor pretending to be. Instead, they reduced death metal to the bare bones and with this, showing its naked brutality.
'In Crisis' (2011), which came out eight years after 'Divination' (2003) shook the world awake to the band from the Land of the Rising Sun. DEFILED climbed to the top of Asia's death metal scene with the release of their self-financed EP 'Defeat of Sanity' (1994) two years after their inception. Founded in Tokyo, they quickly combined the brutal and technical aspects of this mad metropolis into their own unique sound. Their first album 'Erupted Wrath' (1999) was mixed by genre legend Jim Morris in Tampa, Florida, who returned to work on sophomore opus 'Ugliness Revealed' (2001) as well as third full-length 'Divination'. The Japanese opened for extreme metal legends such as CANNIBAL CORPSE, MORBID ANGEL and toured with INCANTATION and MAYHEM to name but a few.
DEFILED are back with a bang. 'Infinite Regress' is not for the faint of heart or intended for easy listening, but when giving the new monster some spins, the apparent fragments start to drift together once more– starting from a catchy fill, riff or grating grunt that morph into a strange hook relentlessly driving its spike into the brain.
Style: Old School Death Metal
Line-up
Shinichiro Hamada: vocals, guitar
Yusuke Sumita: guitar
Takachika Nakajima: bass
Keisuke Hamada: drums
Recording studio: Blackroom Studio Naha, Okinawa (JP)
Mixing & Master: Morrisound Studio, Tampa, FL (US) by Jim Morris
Cover art: Wes Benscoter
Available formats:
CD Digipak
LP Vinyl in various colours
For more on DEFILED, visit their official FACEBOOK, WEBSITE, TWITTER, and INSTAGRAM.