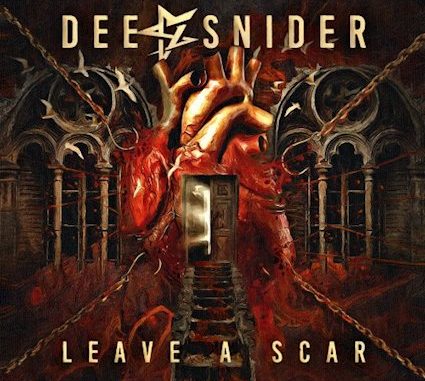 Most rock stars lose their intensity as they age. Think about it. No one really wants to hear Axl Rose or Vince Neil anymore. (Sorry guys) Every frontman that once filled arenas in the 1980s just doesn't have the chops anymore. That is everyone except Dee Snider. The lead vocalist of Twisted Sister has put out several solo albums in the last twenty years, but each one continues to sound better than the previous release. The 66-year-old is now releasing his fifth solo record, "Leave a Scar" on July 30 through Napalm Records.
"Leave a Scar" brings the same ferocity as his 2018 album, "For the Love of Metal," probably due to the album's same producer (and vocalist of Hatebreed), Jamey Jasta. Dee teamed up with Nick Petrino (guitar), Russell Pzutto (bass), Charlie Bellmore (guitar), and his brother Nick Bellmore (drums) who also mixed and mastered the album. This quintet has worked hard on this project- bringing the tension and aggression they have felt over the last year and a half- a feeling that we can all relate to. "Leave a Scar" is chock-full of contentious hits that is sure to please.
The album starts out with "I Gotta Rock (Again)," which was also released May 27th as the band's first single. The song features unbelievable riffs and some of the best dueling solos I've heard on any metal record. In a recent interview, Dee says of the new single, "[It was] the starting gun for this album and the driving motivation behind me returning to the studio to record 'Leave A Scar'. At the end of 2019, I had felt my recording and live performing was over, but I didn't announce it to the world. I mentally had decided I was done. But the state of things in 2020 had other plans for me. Between COVID and the political state around the globe, I found myself yearning (yes, I yearn) to get back in the studio. In the immortal words of Ice Cube, 'I got somethin' to say!'" When Dee sang "I Wanna Rock" on Twisted Sister's 1984 album, "Stay Hungry," who would've guessed that he would be screaming "I gotta rock until I die" 37 years later?
The second single to be released was "Time to Choose" Snider's previous album featured several guest musicians (Howard Jones, Mark Morton, Alissa White-Gluz, Joel Grind) while "Time to Choose" is the only song on this release to feature a guest. Between Dee's singing is none other than George "Corpsegrinder" Fisher of Cannibal Corpse. The song also features melt-your-face-off riffs, machine gun-like double kicks, and incredible solos. This single is heavy- both musically and lyrically. The official lyric video for the song was released on June 24th and received extremely positive reviews. If you need to get pumped up for weightlifting or if you just need some motivation to face your boss at your boring job, rock this single!
As I mentioned earlier, this album is full of bangers. "All or Nothing More" is a fast-paced, hard-driving metal song with killer bass lines, guitar squeals, and a catchy chorus. "Down But Never Out" is a great metal song but has a flair of that "tough-guy hardcore" sort of feel due to the presence of gang vocals. "S.H.E." has great riffs and an absolutely unbelievable guitar solo. "Before I Go" is less of an assault but is heavy nonetheless and is one of my favorite tracks on the album. "Open Season" is a nearly four-minute taunt that would've been exactly what I needed to face my bullies back in junior high. Although I hesitate to call it a ballad, the last track, "The Stand," closes by slowing down to a powerful tempo and etching the listener's ears with the most meaningful lyrics on the album.
Dee Snider is one of the most underrated vocalists of all time. Next year marks fifty (yes fifty!) years that this New Yorker has been entertaining the world. Two years ago he was ready to retire, but when COVID told the world to stop, Dee wasn't going to take it. The kid is back, tearing it loose. "Leave a Scar" lives up to its name- Dee Snider has forever inscribed his mark as one of the best.