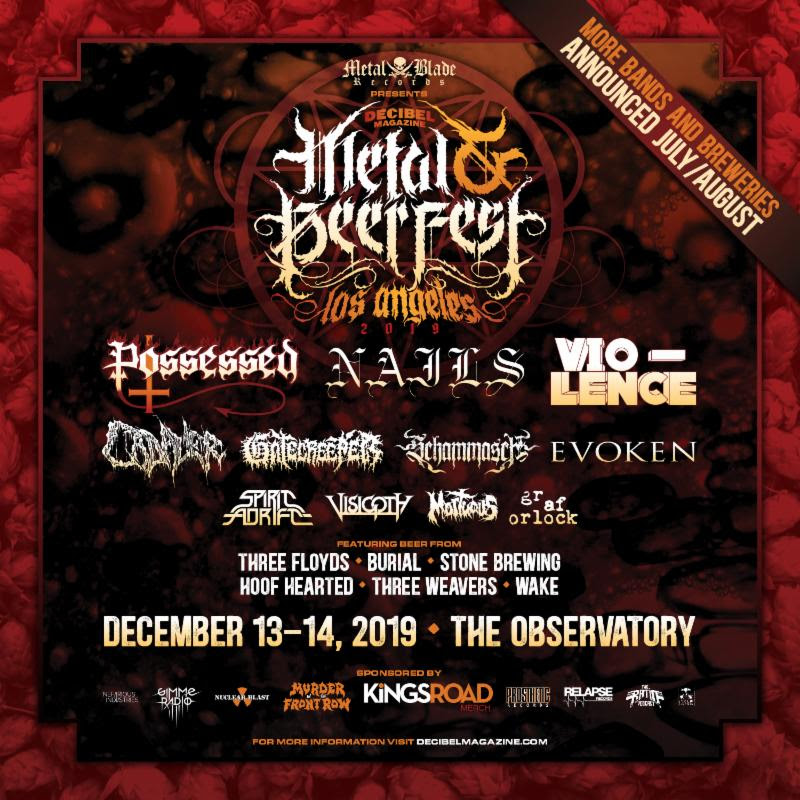 Get ready to swill on command on Friday and Saturday, December 13-14, 2019, as Decibel, North America's only monthly metal magazine, brings the loudest, heaviest, most extreme craft beer festival to the Observatory in Santa Ana, California!

Rare appearances confirmed include death metal progenitors Possessed, recently reunited thrash metal heroes Vio-lence and grinding death machine Nails. Both Norwegian death metal legends Cadaver and Swiss black metal progressives Schammasch will make their U.S. debut performances at Metal & Beer Fest, while east coast doom metal kings Evoken will perform for the first time ever in California.

Classic metal-inspired quartet Spirit Adrift, Utah power metal warriors Visigoth, Arizona death dealers Gatecreeper, cinematic grind-crushers Graf Orlock and death/doom new jacks Mortuous round out the first wave of bands on the bill with another headliner and more major acts to be announced in August!

Decibel Magazine Metal & Beer Fest is presented by (for the second consecutive year) one of the most influential record labels in heavy metal history, Metal Blade Records. "We always love working with Decibel and this fest," says Metal Blade CEO Brian Slagel. "With all the great bands and beers, it should be great fun!"

Not to be outdone by the bands, the country's most metal breweries will converge in a maelstrom of malt madness! Three Floyds (IN), Burial (NC), Wake(IL), Hoof Hearted (OH), Stone (CA) and Three Weavers (CA) comprise the first round of breweries on hand to pour, with many more to be announced in mid-July.

Special discounted early-bird weekend "Metal & Beer" tickets, which include samples from all breweries all weekend long, will be on sale at 10 AM PST this Friday, June 21st at this link: https://www.ticketweb.com/event/decibel-magazine-metal-beer-the-observatory-tickets/9583815?pl=observatory

Evil warriors of Los Angeles unite!